Women are claiming this Lush product is helping to 'heal' their pregnancy stretch marks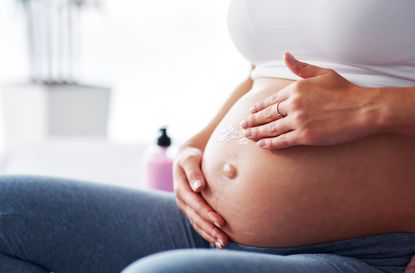 Stretch marks can leave new mums feeling self conscious, and there are a lot of products out there claiming to help reduce them. But people are swearing by one particular Lush massage bar.
High street cosmetics store Lush is known for its colourful bath bombs, shower gels and shampoos, but this time it's their massage bars that are being hailed by customers for helping with stretch marks.
Many have taken to the reviews section on Lush's website to praise Therapy Massage Bar (opens in new tab), with one mum-to-be writing: 'I bought this to use on my bump and some old scars, I've only been using it a few weeks and there's such a difference already.
'I so wish I'd known about this at the start of my pregnancy, I've spent so much on expensive oils and creams but this is the best thing I've used for stretch marks, would definitely recommend.'
Read more: The benefits of water: Do you know how much water to drink every day? (opens in new tab)
Another added: 'I bought this as a recommended product to use on my bump for pregnancy. I loved the nourishing effects on my skin, the product slowly sank into the skin which helped with reducing stress marks'
One shared their routine, adding: 'I used it on fresh stretch marks and within a matter of weeks they had reduced in size and appearance. My skin feels less tender and thoroughly moisturised. I used every night before bed and every morning after showering.'
Despite impressing expecting mums, there's nothing on the Lush website to suggest that this was its intended purpose. Instead, the company have described it as 'A 100% organic massage bar to soften the skin and soothe the mind' and is intended to be used for massaging the skin.
Read more: What is mastitis? Everything you need to mastitis symptoms and treatments (opens in new tab)
Therapy Massage Bar costs £7.50 each, and is made with relaxing ingredients such as cocoa butter, orange oil, lavender oil and shea butter. Sounds dreamy!
So even if you aren't after it for stretch marks, it sounds like the perfect product to help you relax and unwind!
Recently, new mums have been embracing their bodies, such as Stacey Solomon who was praised for this post-partum bikini picture (opens in new tab).
In the Instagram update, the star was trying to normalise cellulite and help new mums feel more confident in their own bodies.
Have you tried Lush's Therapy Massage Bar? Let us know how you got on!