Line of Duty's Vicky McClure opens up on her grandmother's 'tricky' battle with dementia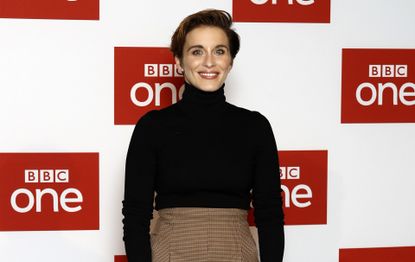 (Image credit: Getty)
Vicky McClure has opened up on her grandmother's battle with dementia.
The Line of Duty actress discussed her late grandmother when she appeared on today's episode of This Morning, opening up about her 'extremely sad' battle with dementia (opens in new tab).
The award-winning actress, who plays Detective Inspector Kate Fleming in the popular BBC TV series, said that it was 'tricky' when her grandmother Iris was diagnosed with dementia before passing away back in 2015.
'When anything hits your family or hits your real life you want to know everything, you need to know everything,' she said.
'So then all of a sudden it was like what do we do where do we go from here,' she continued.
'It was tricky but then it meant that I wanted to do as much as I could.'
The 35-year-old revealed how she and her family would get a 'little glimmer of hope' when her mother sang music to her grandmother.
'Towards the end of her life she'd just be singing 'Qué Será Será' or whatever and all of a sudden she'd just spark up a little bit and you'd just get a little glimmer of hope', she said.
Vicky is now involved with BBC series Our Dementia Choir, which shows the extent to which music can help people going through dementia.
'There's no cure for dementia,' said Vicky, 'so what we're trying to do is say you can live really well with dementia.
'If you're having a dark day or a down day or it's a tough day if you put on music it will uplift me and you – that's a similar effect for people living with dementia.'
Speaking about how she got involved with the project, Vicky said: 'Obviously it's extremely sad that it [dementia] was in my family, but I've become really close to everybody now with the choir.
'It was emotional because I could see them challenging themselves doing incredible things – and they're raising so much awareness.'
Our Dementia Choir with Vicky McClure will air on BBC One on Thursday at 8pm.