Aldi is selling a Frozen 2 range with prices starting at £1.99 - including costumes, bedding and toys
The collection includes a whole host of Disney delights.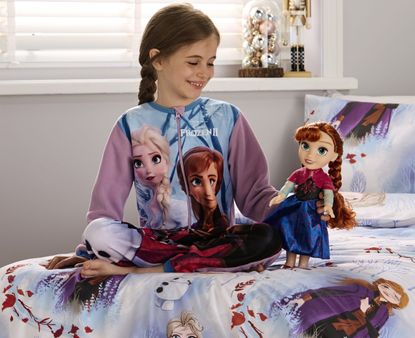 Frozen 2 is landing in cinemas next week and one supermarket has launched a new collection to mark the occasion.
Aldi has just released a Frozen 2 range to celebrate the release of the much-anticipated film sequel.
The collection features a variety of toys, bedding and accessories, all at purse-friendly prices.
The Frozen goodies will be available to pre-order from 24 November and will arrive at stores on 1 December - just in time for the Christmas shopping.
Dolls of Frozen favourites Anna and Elsa feature in the collection, alongside cuddly Frozen teddies of Olaf and Sven - for just £6.99.
Fancy dress costumes and cosy onesies are also available for £9.99 and £6.99, respectively.
Films fans can get comfy in a whole host of themed lounge-wear, including slippers at £3.99 and pyjamas for £4.99.
The Disney delights continue with a bedding set for £12.99, which features film favourites Anna, Elsa and Olaf on the duvet cover.
Puzzles and games also make up the collection - with prices starting from as little as £1.99.
Kids can also get their hands on a £3.99 backpack to store all their goodies in.
Another bargain piece is the three-piece tea party set, which costs less than £5. Kids will love eating and drinking from the cup and plate, which have characters splashed across the front, along with inspirational quotes from the film, which read "time for adventures" and "stronger together".
Little ones can also draw their own Frozen characters with Aldi's learning story book, priced at £6.99.
Items are only available until stocks last and, with this many Disney delights, we're guessing that won't be too long.
MORE: Aldi is bringing back its sell-out £50 wine advent calendar (opens in new tab)
Affordable Frozen merchandise can be found across other supermarkets, too.
Earlier this week, Asda announced it was selling Frozen Christmas Eve boxes for just £2.50. Shoppers have also gone crazy for the George at Asda's light-up Frozen heels.
Meanwhile, supermarket rival Iceland is selling a Frozen 2 advent calendar, which reveals Olaf and Elsa's favourite things about the holiday season.
Which Frozen merchandise will you be picking up?
With a BA hons in English from the University of Liverpool Lizzie has over 7 years' experience writing all things lifestyle for national titles such as Evening Standard, Woman and Home and the Metro.