Amy Childs reveals two stone weight loss, opening up on how she slimmed down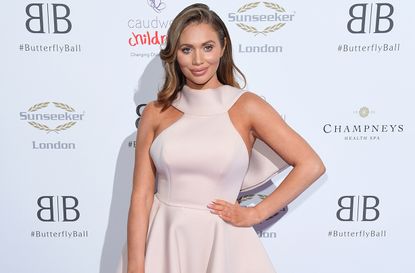 (Image credit: Getty)
Amy Childs has opened up on her two stone weight loss.
The former The Only Way Is Essex star revealed how she went from a size 14 to a size 10 after using her new plan mum.fit for 30 minutes a day, saying that she's got her 'mojo back' since splitting from her partner.
'I've got my mojo back,' she told the Sun Online. 'When you're a mum you have to have time for you - to go out with girls for a couple of hours because being a full time mum is hard. There are times you feel quite lonely.
'I've always been a strong character,' continued the 29-year-old. 'Maybe too strong at times. But I do it all for my kids . You have to be strong for them. I've got the support of mum and dad who have been brilliant.'
Speaking about her work-life balance, the mum-of-two said: 'I am loving working and have so much going on it's great but it always has to fit round the children.'
She also revealed that she has been following her mum.fit workout plan to lose the weight, as well as the Academy masterplan healthy eating program.
'It's a weight loss program with delicious meals,' she explained. 'I'm a busy full time mum, working and in between cooking fresh meals. I love my children eating healthy, and I've lost weight doing that - you can even eat chicken pie and pancakes made from scratch.'
'I was size 14,' she continued. 'I had two babies close together so my body didn't have time to get back.
'So 7 months ago I met with personal trainer to come up with this - took my time to lose the weight. I've been training everyday. I get up 5.30am - just 30 minutes - even though I'm tired.
More: TOWIE star Amy Childs reveals she's training to be a midwife
'I'm a real mum, and with the second baby it's s so much harder to lose weight. I'm now a size 10 and have lost nearly 2 stone.
'I've still got a bit of a belly,' she added. 'I'm not perfect but I feel so confident in myself now that I feel I'm a different person. I'm finally happy with my body. I've word so hard. I set myself a routine.'
Aleesha Badkar is a lifestyle writer who specialises in health, beauty - and the royals. After completing her MA in Magazine Journalism at the City, the University of London in 2017, she interned at Women's Health, Stylist, and Harper's Bazaar, creating features and news pieces on health, beauty, and fitness, wellbeing, and food. She loves to practice what she preaches in her everyday life with copious amounts of herbal tea, Pilates, and hyaluronic acid.