Are the Hairy Bikers Dave Myers and Si King married?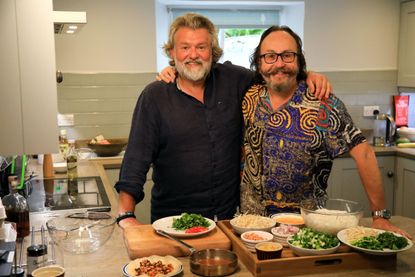 (Image credit: BBC/South Shore Productions/Jon Boast)
As our favourite cooking duo return to our screens, many are wondering are the Hairy Bikers married?
It's their friendly nature and no-nonsense approach to cooking that has earnt the Hairy Bikers - aka Dave Myers and Si King - a legion of foodie fans. With their delicious Hairy Bikers recipes (opens in new tab) often focusing on classic comfort food and British dishes done well.
It's safe to say that the two spend a great deal of time together in the kitchen and abroad filming their popular travelogue food shows. So much time, it seems, that many question whether the Hairy Bikers are a couple themselves.
Are the Hairy Bikers married?
Yes, the Hairy Bikers have both been married. Dave Myers is still married to second wife Liliana Orzac, whilst Si King is divorced and recently split from his Australian fiancée.
Dave married his Romanian-born wife in 2011 and is step-dad to Liliana's two children from a previous relationship.
They currently live in the Loire Valley, France, but their nuptials took place in Dave's home town in England.
Reflecting on their wedding, Dave joked: "I didn't propose – she's still waiting! There was all this kerfuffle about papers so we talked about it and decided we should get married to secure the relationship.
"We were dead sure it was right and her mum and dad were coming over so we did it. We did end up having 400 people there. It was an epic. It was off the cuff, it just grew."
Meanwhile fellow Hairy Bikers star Si King parted ways with his long-distance fiancée this year.
Si was engaged to Australian cook Michele Cranston, whom he met whilst filming over there in 2018.
The two were set to wed this year. And Si, who was flying back and forth to Australia every month, revealed that he was planning to move there permanently to join his wife.
The Mirror (opens in new tab) reported the split in September, though Hairy Bikers star Si has not confirmed the news.
Prior to Michele, Si was married to first wife Jane, with whom he shares two children.
He credits his career as the reason for the breakdown of his first marriage. "We lost each other," he said in 2016. "Jane was focused on the family and I was focused on work."
Where are the Hairy Bikers from?
The Hairy Bikers are both from the North of England.
Dave grew up in Barrow-in-Furness, a town in Cumbria, North-West England. Whilst Si originates from Kibblesworth in County Durham which is in North-East England.
In their new BBC series The Hairy Bikers Go North (opens in new tab), the two return to their hometowns whilst exploring Lancashire, Yorkshire, Cumbria, Northumberland, The Peak District and Newcastle.
Dave notes how "mine was Barrow-in-Furness... I've been away for a number of years". And Si said that the experience was "the most personal, emotional and enlightening journey we've undertaken", visiting "the places and culture that formed who we are".
"We wanted to be a bit more personal" in this series, adds Dave. "That was an opportunity for us to let the viewers into our lives and our madness, and reflect a bit more".
How old are the Hairy Bikers?
Dave is 64-years-old and Si is 54-years-old. This means there is a ten-year age gap between the Hairy Bikers.
The two have birthdays a month apart from each other, with Dave born September 8, 1957 and Si born on October 20 1966.
The two first met in 1995 when Dave was nearing his forties and Si was in his late twenties.
Though it wasn't until 2004 that the Hairy Bikers partnership began. This was the year that the two appeared on BBC with their first cookery show The Hairy Bikers Cookbook.
Their programme proved so popular that it went on for a further four series.
Since then the pair have gone on to star in 30 more shows together. And that's in addition to the incredible 22 cookery books they've released - including their Hairy Bikers diet (opens in new tab) books which saw the two lose seven stone between them.
Are the Hairy Bikers trained chefs?
No the Hairy Bikers are not formally trained chefs and brand themselves as cooks instead.
On the Hairy Biker website (opens in new tab), the duo are described as "big hearted, down-to-earth cooks" who share "a love of good food."
Si told The Press and Journal (opens in new tab) that becoming chefs was never the original plan:
"A food programme wasn't really what we intended to do, we thought we would ride motorcycles and chat to people and look at the culture of a place through food. We never thought the food would become such a focus but now we're 20 or so books in!"
Prior to the Hairy Bikers partnership, Si and Dave both worked in TV production.
Dave Myers originally trained as a professional make-up artist, specialising in prosthetics. And he worked behind the scenes of shows like Prime Suspect and Spooks.
Si King worked as a First Assistant Director and Locations Manager for several film and television projects. And this included the first two Harry Potter films.
Si was working as a second assistant director on a show titled The Gambling Man in 1995 when he met Dave. And the rest as you say is history.
How much are the Hairy Bikers worth?
The Hairy Bikers have a reported net worth of £87,641.
This is according to data from Company Check (opens in new tab) who analysed filings from Hairy Bikers Limited which is registered at Companies House.
The Hairy Bikers are both registered as directors of this firm. With records showing their full names Mr David James Myers and Mr Simon James King.
Of course this net worth is just an estimation. And the two are likely to have different individual fortunes owing to different projects and deals.
Emily Stedman is the Features Editor for GoodTo covering all things TV, entertainment, royal, lifestyle, health and wellbeing. Boasting an encyclopaedic knowledge on all things TV, celebrity and royals, career highlights include working at HELLO! Magazine and as a royal researcher to Diana biographer Andrew Morton on his book Meghan: A Hollywood Princess. In her spare time, Emily can be found eating her way around London, swimming at her local Lido or curled up on the sofa binging the next best Netflix show.