5 things you didn't know about Dr Hilary - daytime TV's most popular medical expert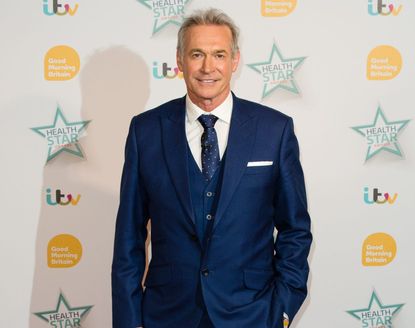 (Image credit: Getty Images)
Goodto Newsletter
Parenting advice, hot topics, best buys and family finance tips delivered straight to your inbox.
Thank you for signing up to GoodTo. You will receive a verification email shortly.
There was a problem. Please refresh the page and try again.
Dr Hilary has become a regular fixture on our screens since the coronavirus pandemic hit, giving calm advice on Good Morning Britain and Lorraine.
But how much do you know about the popular TV doctor?
Dr Hilary qualified as a doctor at the Royal Free Hospital, North West London, in 1976, and he became the resident doctor on TV-AM in 1989.
So what else is there to know about Dr Hilary Jones?
5 things you didn't know about Dr Hilary
1. How old is Dr Hilary?
Today (19th June), the much-loved medic is celebrating a special day - his birthday! And fans of his have been left stunned by his age, after his birthday was revealed by GMB's Charlotte Hawkins and Ben Shepherd.
Dr Hilary turns 67 today - and has never looked better!
Ben and Charlotte embarrassed Dr Hilary by sharing some old pictures of him on live TV throughout his career, before joking about his birthday.
After his co-star wished him a happy day, he responded, "Yep, I'm in my prime now,", before Ben joked, "Yes you are in your prime, how many primes is it?".
Laughing in response, Dr Hilary said, "Quite a few."
2. He's viewed as a bit of a TV pin-up - and his wife loves it
Thanks to his appearances with Lorraine Kelly and Piers Morgan, he's become quite the pin-up on social media, with many naming him the 'Silver Fox Doc' and 'Delicious Doctor'.
And his wife, Dee, couldn't be prouder of her husband's new heartthrob status.
She told The Sun: "I love that people are admiring his looks. Good for him. He's 67 and still turning heads.
"It's quite funny because he's been doing his own make-up and dressing himself instead of having a stylist, so he's not even looking his best."
She added: "Of course I think he's very attractive and he's such a lovely man. He is charming and caring. I admit I tease him about it. He just rolls his eyes and gets straight back to work."
"I might not get as much of his attention as normal, but I'm happy to share him. I'm the proudest wife in the world."
Dee - who has been personal trainer to the likes of Charlie Brooks and Natalie Cassidy - met Dr Hilary on GMTV in 2008 when she was the fitness expert and he was giving out medical advice. They married in 2016.
3. He might be on TV a lot - but he still practises as a doctor off-screen
Despite regular TV slots discussing health issues such as coronavirus and beyond, Dr Hilary still consults with members of the public as a GP.
He still currently practises part-time as an NHS general practitioner, and is doing live consultations during the pandemic.
His wife Dee told The Sun, "I respect his passion for what he does. He knows how much people rely on him to report the latest news and he knows how much comfort people get when they see his familiar face on TV talking through their questions.
"If he's not on TV, he's talking to medical advisors on the phone, or doing live consultations with patients."
4. Dr Hilary kicked off his TV career back in the 80s
Everyone's favourite doctor first because a junior doctor at Basingstoke Hospital, and from 1982, became a full-time Principal General Practitioner in the area. In 1987, he also became a GP trainer.
But it was in 1989 that he transitioned into television, taking up the position of TV-AM doctor that year, and become the resident GMTV doctor from 1993.
Dr Hilary has continued to work on ITV's daytime shows since then, staying with the channel when GMTV changed into Daybreak and Lorraine as Health Editor.
He's since continued that role on Lorraine and on to Good Morning Britain.
Hilary has also taken part in TV shows unrelated to the medical field - including Dancing on Ice in 2010, and The Chase in 2013.
5. He's written a series of bestselling books
Alongside his TV and medical career, he's written a number of health related books too.
One of his most popular books is called A Day in Your Life, and answers all the everyday health queries you may have, while his first book, I'm Too Busy To Be Stressed, shares all you need to know about the symptoms of stress.
Dr Hilary has also penned a book on children's health, as well as a guide to diagnosing common symptoms.
Parenting advice, hot topics, best buys and family finance tips delivered straight to your inbox.
Amy is Senior Digital Writer across Woman & Home, GoodTo and Woman, writing about everything from celebrity news to health, fashion and beauty features. When she isn't obsessing over the latest dress drop from Marks & Spencer, you'll most likely find Amy out running, or with a cup of tea in hand ready to dive into a gripping new Netflix series.