Ed Sheeran confirms he and Cherry Seaborn are married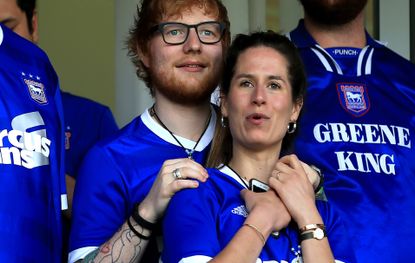 (Image credit: Stephen Pond)
GoodTo newsletter
Sign up to the GoodTo Newsletter. You can unsubscribe at any time. For more information about how to do this, and how we hold your data, please see our privacy policy
Thank you for signing up to . You will receive a verification email shortly.
There was a problem. Please refresh the page and try again.
Ed Sheeran is officially a married man, as he has confirmed he and his partner Cherry Seaborn are husband and wife.

His new album No. 6 Collaborations Project is out now, and he spoke about the more personal lyrics in one particular song during a recent interview with Charlamagne The God.
In the song Remember The Name, featuring rappers Eminem and 50 Cent, there's a lyric that goes 'Watch how the lyrics in the songs might get twisted / My wife wears red, but looks better without the lipstick.'
Speaking about it, Ed Sheeran said 'It was actually before me and Cherry got married and I knew that we'd be married by the point that the song came out.
'Someone's gonna hear that and be like, 'Oh, they're married!' I didn't know how that would be construed, but obviously it's already come out.'
The couple got married in December, at their home in Suffolk. It was a small affair, with the couple tying the knot in front of 40 friends and family members.
Ed's new album '=' (opens in new tab) is set to be released in Ocotber of 2021 and is predicted to feature nods to his and Cherry's married life and their daughter Lyra (opens in new tab), as it will be the first major body of work he has launched since the two huge milestones of becoming a husband and a father.
Read more: Ed Sheeran stars in a new Heinz TV advert – and fans are loving it
According to The Sun, the event was 'very quiet — just Ed's oldest school pals, limited family and the priest.'
The newspaper also reported that Ed 'wanted no fuss and he wanted it to be something entirely for them – just a tiny winter wedding'.
Interestingly, Cherry had some input in his song I Don't Care, featuring Justin Bieber, which is one of the most popular tracks on the album, reaching the top of the Official Top 40 Singles Chart.
Speaking about the song's meaning, Ed said: 'Bieber just got married. I'd just got married.
'That song is about being at an industry event with the woman you love, or the person you love, and kind of being like, 'F— this, let's just have fun ourselves.'
'It was actually Cherry's idea, because she was like, 'Oh, why don't you get Bieber? Like, he'd be perfect for this … it just fits.'