What languages can Emma Raducanu speak and does she speak Mandarin?
The talents of the British tennis ace just keep adding up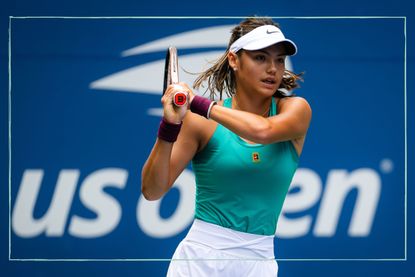 (Image credit: Getty Images)
As the world settles in to watch her defend her US Open title, we reveal the many other strings to Emma Raducanu's bow.
From where Emma Radicanu is from (opens in new tab), to details of her family life and parents (opens in new tab) and her net worth. There's lots of information people are itching to know about Britain's bright young tennis star. The 19-year-old rose to prominence after becoming the first-ever qualifier to win a grand slam and claim the US Open in September 2021. The incredible sporting achievement led to a Sports Personality of the Year award, plus outpourings of support online from many fans across the globe for the new champion.
She's now back at Flushing Meadows defending her title, along with other British tennis stars Cameron Norrie and Andy Murray, and tennis fans in the UK will be eager know how they can watch the US Open (opens in new tab) and the 19-year-old tennis pro - who we have found has many skills beyond the court.
What languages can Emma Raducanu speak?
Emma Raducanu can speak English, Mandarin and Romanian. The 19-year-old's first language is English having grown up in Britain from the age of two. Whilst her ability to speak Mandarin and Romanian is linked on her multi-cultural heritage.
Emma's parents are Renee, originally from Shenyang, China, and Ian, born in Bucharest, the capital city of Romania. The tennis star has demonstrated her ability to speak both languages well in public and on social media, additionally sharing what helps her to learn them.
"I can speak three languages," Emma recently confirmed in an interview with Harper's Bazaar (opens in new tab). Asked about what one of her guilty pleasures would be, Emma revealed she enjoyed watching "Taiwanese drama shows" on Netflix.
"I try to improve my Mandarin and I learn it from that. I think listening passively is one of the best ways to improve," she said.
Does Emma Raducanu speak Mandarin?
Yes, Emma Raducanu speaks fluent Mandarin. The 19-year-old showed off her Mandarin language skills shortly after her US Open victory in September 2021.
One media outlet asked if the star if had anything to say to her fans in Asia. To which Emma replied in Mandarin: "Hi, everyone. I wanna say thank you to you guys and I hope you could enjoy my tennis. I'm thrilled to win. Love you all, see you."
It's not just the language that Emma loves about China. In an interview with a Chinese state media outlet (opens in new tab) she shared (in Mandarin) that she also enjoys playing table tennis and eating Chinese cuisine.
"I love eating everything when I was in China," she said. "Chinese food is so delicious that I enjoy having all of them. But if I have to choose one of my favourite, they must be spinach salad, hot pot and barbecue... When I eat hot pot, napa cabbage is definitely my favourite."
The athlete also added that Chinese tennis player was one of her "idols". "I want to play like her," she said.
Mandarin is the language spoken in mainland China and Taiwan as well as in Singapore, Hong Kong, Macau, Tibet and Malaysia.
Emma Raducanu speaking Romanian
Emma showed off her Romanian language skills whilst competing in the Transylvannia Open last October. According to News 18 (opens in new tab), the tennis player has a close relationship with her Romanian grandmother Niculina Raducanu (or 'Mamiya') and visits her twice a year in her Bucharest apartment.
Following the Transylvania Open, she shared her joy at playing in her father's home country: "It means a lot to play in my dad's country I have great memories here, and I am glad I have the chance to play here," she said. "Thank you very much for your support. Now I am a little bit shy to speak in Romanian but once I stay here longer I can speak better."
Emma was additionally asked to share her favorite Romanian dishes, to which she answered: "ciorba de perisoare" a type of meatball soup. "I'm also waiting for a little more sarmale (stuffed cabbage rolls), and the mamaliga (polenta) is very good, and the papanasi (traditional pastry)," she added.
It seems that Emma has made some famous Romanian friends since her US Open victory last year. "I got a direct message from Simona Halep, it means a lot," she said in a previous interview, referring to the female Romanian tennis player.
Emma's Romanian grandmother 'Nina' reckons it was Emma's father and his own experiences with tennis that led her to take up the sport. In an interview with the Mirror (opens in new tab), she said of her son: "He would play tennis whenever he could and used to go to train.
"But there wasn't much time for him to practice as he was too busy with school and the Communist regime did not give you too much time to pursue your hobbies," she said.
She credits her granddaughter's success as down to both Emma and her mum and dad's influence: "This is the result of all her hard work, along with her parents, who invested a lot of time in her with rigorous training."
Video of the Week
Emily Stedman is the Features Editor for GoodTo covering all things TV, entertainment, royal, lifestyle, health and wellbeing. Boasting an encyclopaedic knowledge on all things TV, celebrity and royals, career highlights include working at HELLO! Magazine and as a royal researcher to Diana biographer Andrew Morton on his book Meghan: A Hollywood Princess. In her spare time, Emily can be found eating her way around London, swimming at her local Lido or curled up on the sofa binging the next best Netflix show.