A Disneyland-style theme park is set to open in the UK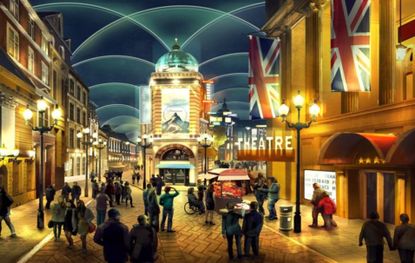 The UK is set to get its own film theme park, so you won't need to travel to Disneyland Paris to enjoy movie attractions.
Paramount Pictures are leading the project, which is due to launch in London.
Plans for the theme park have actually been in the works for a while, but stalled due to disagreements over film rights.
Attractions are set to include tributes to the Mafia film The Godfather, action series Transformers, and even Tom Cruise's stunt locations from Mission: Impossible. We're already excited!
The theme park is set to be across 872 acres and will include rides, experiences and thousands of hotel rooms.
The resort's Chief Executive PY Gerbeau has also worked on the Millenium Dome, more commonly known as The O2, so it sounds like it's definitely in good hands.
In a statement, Gerbeau said: 'The new partnership with Paramount is fantastic news for everyone. Now the best of Hollywood will be joining the best of British from BBC Studios and ITV Studios, to create amazing and unique experiences for the whole family.
'I am delighted to join The London Resort and to play my part in helping to create a world-class destination to rival all others.
'Central to that strategy is to partner with the best brands from across TV, film, music and entertainment.'
Read more: Your old Disney VHS tapes could be worth THOUSANDS of pounds (opens in new tab)
While the full list of attractions is yet to be confirmed, the team behind it have promised some great collaborations. As well as the titles listed above, visitors can also enjoy Oscar-nominated horror A Quiet Place, so there'll be fun for all ages.
Kevin Suh, President of the Themed Entertainment and Consumer Products for Paramount Pictures said: 'The London Resort represents a truly global resort opportunity and we're delighted to be playing our part in bringing iconic movies to life in truly immersive experiences and rides.
'We're also delighted, as the most iconic studio in Hollywood, to be sharing our unparalleled catalogue of instantly recognisable films and characters.'
The theme park is set to open until 2024. We hope it'll be worth the wait!