Geri Horner devastated after beloved pet dog Hugo dies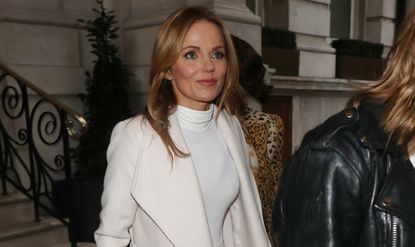 It's been a sad weekend for animal lover Geri after she revealed that her beloved pet dog Hugo passed away.


Geri Horner posted a moving tribute to the family pooch on Instagram, sharing a video of some of her favourite moments with Hugo, as well as an adorable picture of his sweet face.
In the video, Geri tells Hugo she loves him as he gives her his paw on demand. The pooch also nuzzled into Geri's face while softly growling at her, which she explained was 'affectionate'.
The Spice Girl captioned the snap, 'Goodbye Hugo my special friend - sadly past away to Doggie Heaven.'
Geri's husband, Team Principal of the Red Bull Formula One Racing Team Christian Horner, was among the first to comment.
He said, 'Hugo we will miss you so much but thank you for being such a good friend.'
Many of Geri's other followers sent messages expressing their sadness over her loss, with one writing, 'So sorry RIP Hugo Sending love and a big hug ️.'
MORE: Geri Horner shares her new additions to her family during lockdown
Another said, 'So sorry for your loss, G! He was lucky to have you as his family. You gave him the best life!'
Geri and Christian are big animal lovers and also own a West Highland White Terrier named Flav, another Airedale Terrier called Margo, a cat called Venus, and donkeys called Bobby and Nelly.
They also own many other pets including goats, chickens, horses, and canaries at their country home in Banbury. The family also own a second luxury property in Hertfordshire.
In June, Geri revealed she'd expanded her family once again as she adopted a pony called Zebi.
Taking to Instagram, the mum-of-two beamed as she cuddled her new pet in a field near her country estate.
Introduced Zebi to her followers, she wrote, 'Hello! This is zebi. - very friendly. (He's a rescue pony - we've adopted him).'
A Freelance Writer and Content Editor, Jenni has been working on the women's lifestyle team at TI-Media on and off for over three years. She writes about your favourite celebrities and TV shows so you never miss an update. Jenni also writes beauty news and features - so for all of your skincare and make-up needs, drop her a line.