Gogglebox fans in uproar after controversial comment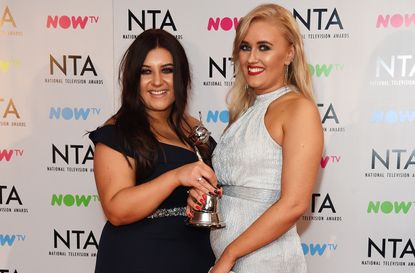 (Image credit: Dave Benett/Getty Images)
Gogglebox fans are in uproar after a controversial comment was aired.
Sisters Ellie and Izzi Warner, who have been taking part in the Channel 4 programme since 2015, have been slammed after making a controversial comment on this week's show.
The hit reality show, which sees groups of friends and families around the country comment on the week's news and entertainment, has been urged to remove the Leeds-based siblings from the show after they had an 'irresponsible and sickening' conversation on Friday's episode.
The backlash was caused when Ellie admitted that she and her friends made up a 'tag' game that was inspired by the #metoo movement.
She explained that they would have to grab each other's 'boobs or bum' and then shout at 'me too' instead of 'tag'.
And viewers took straight to Twitter to express their outrage at the comment.
'Wow. Disgusted with the woman on Gogglebox who made a game out of the #metoo movement,' wrote one viewer.
'Even more disgusted that Gogglebox included that in the episode.'
'Can't believe someone made a joke game out of #metoo where you play Tag and grab each others breast or bottom,' added another. 'Izzy and Ellie need removing from #Gogglebox'.
Another commented: 'Making a joke out of the #metoo movement to play 'tag'. F*** that.
'@C4Gogglebox, should hold the people on your show to a higher standard. Completely irresponsible and sickening #Gogglebox'.
'@Channel4 Cannot believe that clip of #Gogglebox was even allowed to air,' agreed another. 'How can that woman be taking the pure piss out of the #metoo movement? Insensitive and disgusting to joke about something used to bring victims of sexual abuse together'.
However, others argued that it was just a joke, claiming that the sisters hadn't done anything wrong in making light of the subject.
'Why's everyone being so sensitive over the Izzy and Ellie situation on #Gogglebox last night?' wrote one viewer. 'It wasn't even a "joke" about the #MeToo movement, it was simply just a game among friends which was played while they were all probably drunk.'
Another added: 'If you're crying about Ellie on #Gogglebox then just switch over.
'Nobody says metoo isn't valid just because she made a JOKE (assuming all participants consented).
'More damaging than helpful because it just make people think you're a professional whinge'.
Aleesha Badkar is a lifestyle writer who specialises in health, beauty - and the royals. After completing her MA in Magazine Journalism at the City, the University of London in 2017, she interned at Women's Health, Stylist, and Harper's Bazaar, creating features and news pieces on health, beauty, and fitness, wellbeing, and food. She loves to practice what she preaches in her everyday life with copious amounts of herbal tea, Pilates, and hyaluronic acid.