There's a MAJOR twist in this year's Great British Bake Off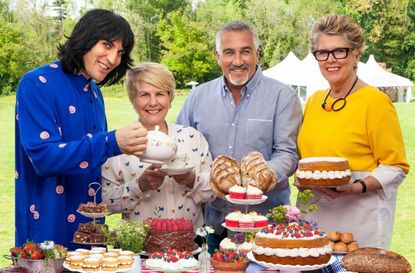 (Image credit: Channel 4)
The nation's favourite baking show is back on our screens, but the team have announced a big change to the series.
When the new Great British Bake Off line-up was announced, viewers already started talking because this year's bakers are the youngest ever. Many of them are in their twenties, proving that young people still love baking.
Read more: The contestants for this year's Great British Bake Off have been revealed – see them here
But that's definitely not the biggest change. To mark ten years of the iconic baking show, there's 13 contestants instead of the classic 12 (otherwise referred to as 'the baker's dozen'), meaning a double elimination could happen at any time - oh dear.
The entire line-up was shared on the official Instagram account, with the simple caption: 'A baker's dozen of bakers'. We wonder which one will reign supreme this year?
Explaining the decision, Paul Hollywood said: '[For the] tenth year, we're bringing back the baker's dozen, there could be any point over the next nine weeks when two people leave.'
If the show wasn't already stressful enough, neither contestants or viewers will know when the double elimination will strike, so we're definitely going to anticipate some tears. Better stock up on tissues, just in case!
Read more: Great British Bake Off contestants: Where are they now? (opens in new tab)
However, we're sure the baker's dozen will make things more exciting, so we're keen to see when the elimination will actually happen. That's one way to keep viewers on their toes. We just hope the judges aren't too harsh when the time comes…
Now that we've got a whole new series ahead of us, why not try some of the classic Great British Bake Off recipes (opens in new tab) from the likes of Mary Berry, Paul Hollywood, and even winners such as Jo Wheatley and Edd Kimber.
After all, snacks are required for Bake Off watching...
Are you excited Bake Off is back? Head over to our Facebook page and let us know who you're rooting for!