Holly Willoughby reveals fears for her family surrounding coronavirus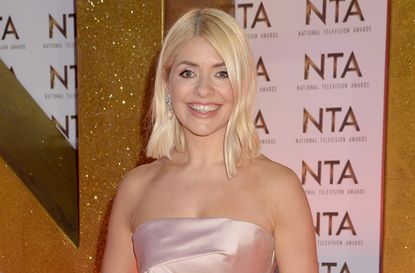 (Image credit: Getty)
Holly Willoughby has spoken out about the coronavirus revealing her 'panic' at the situation.
Holly Willoughby has spoken out about the coronavirus (opens in new tab), revealing that she is concerned for her family amid the sudden outbreak that has hit, not only the UK, but many other countries across the globe.
As she hosted yesterday's episode of daytime talk show This Morning alongside co-presenter Phillip Schofield, Holly spoke about her mum Linda to the programme's expert Dr Claire.
Expressing her concerns, Holly said, "My mum is older than me, she's 72, so she's creeping into that age bracket and my dad".
MORE: Coronavirus and schools: everything you need to know – plus how to talk to children about the health crisis
She then appealed for advice as to what she doing to help her parents, asking, "As a daughter, because I want to look after them, should I be making sure they've got enough food in? But you don't want to add to this panic of stockpiling.
"What does the infrastructure around that look like?"
Dr Claire reassured Holly, explaining that at the moment stockpiling supplies isn't completely necessary.
https://www.instagram.com/p/Bx17kGdHtSF
"Our chief medical officers say people need to take precautions but they don't need to isolate themselves," she said.
"It might not be long until people with underlying conditions may need to isolate themselves and we need to make sure these people are supported."
Advising Holly on what she and others who are concerned about the virus could do to prepare, Dr Claire said that it could be useful to have plans in place in case any close family members do become ill.
MORE: You need to make sure your hand sanitizer has this in order to protect against coronavirus (opens in new tab)
The expert suggested sharing phone numbers around so that people are all easy contactable in case of emergency and she also said that it could be helpful to decide on a friend or family member who can help to do food and essentials shopping in the case that somebody needs to self-isolate.
The government are expected to escalate the UK's coronavirus response later today, moving on from trying to contain the virus to trying to delay its spread.
Aleesha Badkar is a lifestyle writer who specialises in health, beauty - and the royals. After completing her MA in Magazine Journalism at the City, the University of London in 2017, she interned at Women's Health, Stylist, and Harper's Bazaar, creating features and news pieces on health, beauty, and fitness, wellbeing, and food. She loves to practice what she preaches in her everyday life with copious amounts of herbal tea, Pilates, and hyaluronic acid.