Peter Andre lands new family cooking series for ITV's Lorraine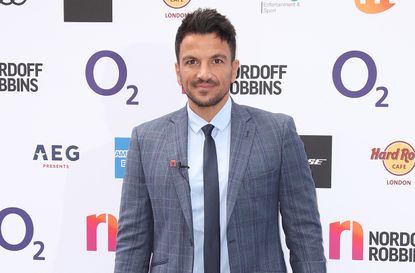 (Image credit: Getty)
Peter Andre has shared news of an exciting cooking series he will be hosting soon.
The musician and TV star will be returning to ITV's Lorraine next month to take part in a cooking series.
He will be hosting the series, called Peter's Family Food Adventure, with children 14-year-old Junior and 12-year-old Princess, as well as his brother Michael.
The dad-of-four, who shares his older two children with ex-wife Katie Prince, has taken to Instagram to share sweet photos of him his children over in Croatia where he has been teaching them cooking skills for the show.
Speaking about the local food, he said: 'We are using all local produce and we are showing all kinds of food from the Adriatic and the Mediterranean, fish dishes, lamb dishes, there are some amazing stuff.
'One of the things I love is that it's so healthy and it's still part of the Mediterranean diet, even though it's the Adriatic,' he continued, 'it almost reminds me of my parents cooking when we were a kid. It's really in my blood.
'I'm trying to get my kids into it,' he added. 'The kids who were here holidaying are actually getting involved in the cooking, we do a dessert that is so beautiful and the kids get stuck into that – which is great.'
On filming his second cooking segment for Lorraine – after releasing Peter & Emily's Cyprus Kitchen earlier in the year, he joked: 'It's a hard job I'm not going to lie but someone has to do it…. The water is crystal clear, it's just stunning. We are having the time of our lives.
Read more: Peter Andre's wife Emily praised for first solo TV job on Lorraine (opens in new tab)
'We've done water sports and all sorts of stuff,' he added. 'It's fantastic and I've been cooking up a storm.'
Speaking of why wife Emily, with whom he shares younger children five-year-old Amelia and two-year-old Theo, can't take part in the new series, he said: 'Emily, because she works for the NHS, she can't say I'm just going to leave for a few days.
'So we are both working, I'm just in a slightly nicer place at the moment.
'I miss her,' she continued. 'We are both providing for the family, right? I really wish she was here. It's somewhere I really want to bring her, she will love it.'
Peter's Family Food Adventure starts on ITV's Lorraine this September on weekdays 8.30am – 9.25am.
Aleesha Badkar is a lifestyle writer who specialises in health, beauty - and the royals. After completing her MA in Magazine Journalism at the City, the University of London in 2017, she interned at Women's Health, Stylist, and Harper's Bazaar, creating features and news pieces on health, beauty, and fitness, wellbeing, and food. She loves to practice what she preaches in her everyday life with copious amounts of herbal tea, Pilates, and hyaluronic acid.