Rochelle Humes breaks down live on This Morning after surprise guest appears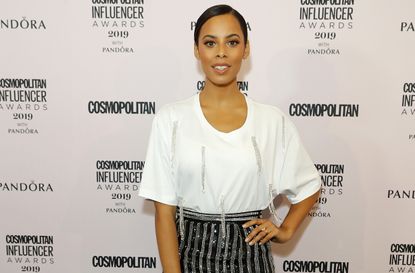 (Image credit: Getty)
Rochelle Humes broke down in tears live on This Morning during an emotional family reunion.
The This Morning regular was standing in for Holly Willoughby yesterday, alongside Phillip Schofield, when she became overwhelmed by the appearance of a couple of surprise guests.
During the show April McGilligan was talking about a crowdfunding campaign her family has started to try and raise money to buy a gravestone for her son Michael.
April, who has been given just months to live after facing a terminal cancer diagnosis, was left heartbroken when Michael unexpectedly passed away from Sclerosis at the age of only 24.
Due to her own battle with cancer, April was forced to give up her job as a music teacher and after spending her savings on Michael's funeral, was left without enough money to buy him a headstone.
'When I lay in bed each night, that was always on my mind, that he needs a gravestone,' said April.
To try and help with this, April's daughter, who lives in Texas with her two granddaughters, set up a JustGiving page to raise the money to pay for the headstone.
https://youtu.be/6-C40H7EQD4
'It's really tough,' April said of her family over in Texas. 'I miss them. I would selfishly love her to move home but they're having a good life in Texas...I'd love my babies with me.'
Phillip went on to ask when the last time was that she saw them.
'They surprised me at Christmas, which they knew it was going to be hard because it was the first Christmas without Michael and I didn't know how I was going to get through it,' replied April.
'I was in the kitchen cooking, my youngest daughter found out the week before but apparently they'd planned it from the August.
'And, they came past the window. And we live in the middle of nowhere and I was like, 'Who are these people?''
Phillip then said to April that it's a good idea to keep your door open, as you never know who might walk through them, before April's daughter and granddaughters walked in, surprising the grieving mother.
The proud grandmother was obviously overcome with emotion at seeing her family, but one person who couldn't contain their emotions was presenter Rochelle, who broke down in tears at the surprise appearance.
Twitter users followed suit, with viewers taking to the social media website writing: 'How has #ThisMorning got me crying like this before work'.
Another added: 'Awww #ThisMorning I'm sobbing. That was a lovely surprise for her. I hope she gets the money to get her sons headstone. What a precious family.'
April and her family's JustGiving page has now exceeded the target that they were aiming for, with £2,800 raised by the end of yesterday's This Morning show, more than double their £1,000 target.