David Attenborough's Seven Worlds, One Planet leaves viewers in tears and 'recoiling in horror' over walrus scene
The BBC show left viewers heartbroken after showing a scene of walruses falling from a cliff.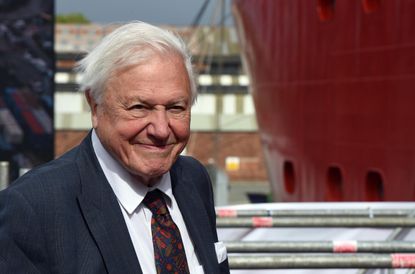 Sunday night brought us another installment of Seven Worlds, One Planet - but one particular scene left viewers emotional.

The BBC docu-series, narrated by David Attenborough, focused on Asia this week but viewers were saddened by a walrus scene less than ten minutes into the show.
The footage showed thousands of walruses on an Asian beach, trampling over one other.
Attenborough explained that climate change is causing ice to melt in the summer months. This forces walruses to stay on the only available beaches - hence the overcrowding.
Walruses are forced to find space and safety from predators on high cliffs but, as a result, tragic accidents occur.
The programme showed a number of the walruses plummeting from the cliffs and falling for 80 metres. The footage also revealed devastation on the beach, with hundreds of dead walruses at the bottom of the cliffs.
Shocked viewers took to Twitter to express their heartbreak, commenting on the emotional scenes from the episode.
One said, '12 mins in to David Attenborough's Seven Worlds, One Planet and I am CRYING. Poor Walruses.'
While another tweeted, 'It's Sunday and I'm crying, recoiling in horror and screaming at the TV hoping that the walrus won't throw himself to his death.'
Others commented on the show's important message surrounding climate change.
One user said, 'David Attenborough is not messing about this season. He's like 'climate change is melting all the ice and all these animals are displaced now here's a walrus throwing itself off a cliff to escape a polar bear.''
While another commented, 'Just seen this David Attenborough clip of a walrus having to climb a 80 foot cliff just to survive and end up dying cause it falls off the cliff. Climate change is serious! We need to do something to save this planet.'
This is the second time Attenborough has shown walruses falling from clifftops.
Netflix's Our Planet - which aired earlier this year - shows footage of Arctic walruses falling from heights in northeast Russia.