Is Babylon based on a true story: Ending explained
The 2023 blockbuster has been making headlines across the globe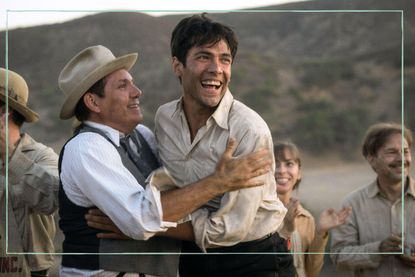 (Image credit: FlixPix / Alamy Stock Photo / Future)
Since its release on 20 January 2023, Damien Chazelle's much anticipated 2023 film, Babylon, has dominated headlines. The movie is filled with some of the biggest names in Hollywood; Brad Pitt, Margot Robbie, Tobey Maguire and Olivia Wilde being just a few of the high profile actors featuring in the film.
The 3-hour-epic chronicles the rise and fall of the film's multiple characters during the golden age of cinema, the 1920s. With no shortage of spectacle and Hollywood decadence, the shocking and often gruesome storylines have many fans wondering if Babylon is based on a true story. As well as offering an explanation for the film's confusing ending, here we answer the question 'is Babylon based on a true story?'
Is Babylon based on a true story?
Babylon is, and is not, based on a true story. While the intricacies of the film's storyline are not based on a singular and exact account of someone's real experience in 1920's Hollywood, the movie was inspired by the true and exploitative history of cinema and the film industry.
For example, as reported by Time Magazine, Margot Robbie's character, LaRoy, was based on the stories of a combination of silent film stars who, like LaRoy, struggled with addiction and failed to make the transition from silent films to 'talkies'.
Speaking to Time Magazine, director Damien Chazelle explained, "The more I researched those early days of Hollywood, the more I became aware of just how insane that time period was. It was this sort of larger-than-life assemblage of misfits who came together and built a city and a new industry from nothing.
"I didn't feel like that kind of crazed behaviour had been accurately captured on film before, and I wanted to present their lives and lifestyles in an unvarnished and totally unsanitized way."
Why is the Babylon movie called Babylon?
The 2023 film Babylon takes its name from the real ancient city of Babylon, which was the capital city of the ancient Babylonian Empire in Mesopotamia. In the Bible's Book of Genesis, the famous Tower of Babel is constructed in Babylon, and it's from this tower that God separates people across the earth and confuses their language. Because of this story, Babylon has come to be a symbol of a wicked city.
Babylon also has associations with the Hebrew word Balal, which, according to Screen Rant, means to confuse by mixing. Using Babylon as the film's title has led many to speculate that the director, Damien Chazelle, is making it clear that Hollywood is, in his eyes at least, a city of confusion and sin.
Babylon ending explained
The ending of Babylon attempts to wrap up multiple characters' journeys in one, neat closing scene. But, as the film which follows a myriad of storylines with a myriad of characters, the ending leaves a lot of confusion.
What happens to Manny Torres at the end of Babylon?
At least one of Babylon's leading characters gets a somewhat happy ending. Upon returning to Los Angeles after being forced to leave Hollywood and spending several years away from the film industry, Manny Torres finds that his contribution left a lasting imprint on Hollywood - just as he'd hoped it would.
While showing his family where he used to work, Manny realises that his efforts, alongside those of Nellie LaRoy and Jack Conrad, were worth all the hardship even though their names had been forgotten.
What happens to Nellie LaRoy at the end of Babylon?
Unable to escape from the glitz and fame promised by Hollywood, the debts she had accumulated, and the terrifying James McKay who she owed her debts too, Nellie LaRoy fails to give herself a better life and get clean from drugs.
Viewers learn from a newspaper clipping shown on screen that she was found dead in a hotel room aged just 34 years old. While the death of shrouded in mystery, the suggestion is that she died from an overdose.
Why did Jack Conrad commit suicide in Babylon?
At the end of Babylon, Jack Conrad dies by suicide after being unable to cope with the suicide of his friend George and the reality of his dwindling acting career.
What happened to Sidney Palmer at the end of Babylon?
After Sidney Palmer left Hollywood behind due to the racism he faced, he forged a successful career playing in a jazz band at clubs and lounges. While he never returned to movies, Screen Rant speculate that he likely went on to lead his own jazz band, playing in cities across America.
Royal News and Entertainment writer
Charlie Elizabeth Culverhouse is royal news and entertainment writer for Goodto.com. She began her freelance journalism career after graduating from Nottingham Trent University with an MA in Magazine Journalism, receiving an NCTJ diploma, and earning a First Class BA (Hons) in Journalism at the British and Irish Modern Music Institute. She has also worked with BBC Good Food and The Independent.