Loose Women's best (and most shocking) moments!
The Loose Women panellists recently celebrated 20 years since the launch of the hugely popular ITV show.
Over the years, the best Loose Women moments have included some disastrous celebrity falls, hilariously outfit changes, bonkers moments, and, of course, plenty of sexual innuendo.
Speaking on the show to mark their two decades of fun and laughter recently, Andre McClean told viewers, "They say that laughter is the best medicine so we've made it our mission to bring you a laugh at lunchtime every single day. And I think we've been doing a pretty good job over the last 20 years we've been on your screens."
Though, all this fun would not be the same without the shocking moments in between.
We've rounded up the explosive arguments, the hilarious gaffes, awkward temper tantrums, and those controversial instances that left us wincing at our TV screens. Watch our favourite videos below which are all taken from Loose Women's official YouTube channel.
1. Reflecting on 20 years of breaking boundaries
As any dedicated viewers will know, there's absolutely nothing the Loose Women panel won't talk about - and we mean, nothing! They use their platform to speak out about issues and subjects which are still considered to be a taboo. To mark their anniversary the panel reflected on their groundbreaking conversations they have had over the past 20 years. From bladder control and smear tests, to mental health issues and sexual abuse, they've tackled it all.
In this clip, Saira Khan heartbreakingly recalls the time she admitted on live TV that she was sexually abused at just 13-years-old. And, Nadia Sawalha explains how, "Something happens to guests on Loose Women, they feel really safe."
https://www.youtube.com/watch?v=9p55BCToo7U
2. Stacey Solomon's introduces baby Rex
To mark the show's 20th anniversary celebration, Loose Women panellist Stacey Solomon brought along a very special guest for her fellow presenters to coo over - her baby son Rex.
As Stacey talked about life with her young son, tiny Rex wriggled in her arms. Perhaps the lovely ladies' chatting was boring the little one, as he gave a cute yawn, which was of course soon followed by an 'awww' from presenters Saira Khan and Kaye Adams.
https://www.youtube.com/watch?v=y4UUrfQC5oc
3. Paddy McGuiness left speechless after discussing wedding vows in the bedroom
During one memorable call-in, a couple rang the show to suggest reciting wedding vows while having some fun in the bedroom. This saucy suggestion left guest Paddy red-faced as Ruth Langsford acted out the idea with some rather raunchy talk. The Loose Ladies then went on to discuss how talkative their partners have been, with Coleen confessing a previous lover was always completely silent while they were at it.
https://www.youtube.com/watch?v=1hhi64jzD-Q&t=38s
4. John Barrowman sports ruby red heels
John Barrowman left the Loose Women panellists in stitches when he dramatically fell off his swivel chair while attempting to show off his shiny red stilettos. Channelling Dorothy not so elegantly, John fell off the back of his chair and disappeared behind the table. By the look on the presenters' faces - this was definitely not planned.
https://www.youtube.com/watch?v=BS3TjCMMyDM
5. Keith Lemon falls through a desk
Featuring on Loose Women a number of times, Keith Lemon never fails to entertain the audience. His most hilarious moment came in 2014 when he climbed onto the iconic Loose Women desk, flashing his crotch area to Denise Welch and Carol McGiffin, and falling through the table. Oops! The audience burst into giggles while Denise and Carol looked absolutely stunned.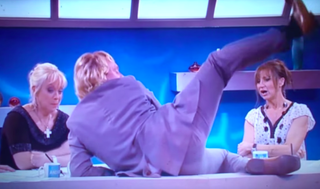 6. Whoopi Goldberg finds out Nadia Sawalha starred in EastEnders
Whoopi Goldberg's excitement after she found out Nadia starred in one her favourite soaps was an utterly hilarious Loose Women moment. The pair recreate a scene from the soap between Adam Woodyatt who plays Ian Beale and Nadia - who in the late '90s played Annie Palmer.
"I am not your mother!" belted Nadia. To which Whoopi replied, "I am, I am, I am." The classic EastEnders' theme tune soon followed and the pair erupted into hysterics.
http://www.youtube.com/watch?v=biAyxE8fAvc
7. Joey Essex gives a Loose Women panellist a pie in the face
In 2017, while playing a truth or dare game, Joey was dared to give Andrea McLean a full pie in the face. Though, Andrea didn't give up the pie fight easily, and came back at Joey smashing the remainders right back at him.
https://www.youtube.com/watch?v=SThCLUlZ0zs
This would not be the last time the TOWIE star pied one of the Loose Women presenters. Dressed as Santa in 2018, Joey tried to pie Andrea again, and accidentally pied Stacey Solomon instead. A priceless moment and a lucky escape for Andrea. The pie feud continues…
https://www.youtube.com/watch?v=N7-Gj2kc1dk
8. Nadia Sawalha is transformed into Kim Kardashian
Nadia Sawalha transforming into Kim Kardashian, with perfectly contoured makeup, was an unforgettable daytime TV moment.
Admitting wearing four sets of false eyelashes, Nadia revealed her makeover took two hours to complete and sent viewers into absolute meltdown on social media. Though, some harsh viewers compared Nadia's new look to a halloween dress-up, while others were more sympathetic saying, 'I think Nadia looks lovely! It may not be to her taste either but she's been a great sport!'
https://www.youtube.com/watch?v=jOoqqbcZmfs
9. Robbie Williams confronts Ayda for admitting
Robbie Williams shocked guests and the Loose Women panel (including his wife Ayda Field) by making a surprise appearance on the show. Ayda was left cringing with embarrassed as Robbie jokingly confronted her for admitting she fakes her orgasms in the bedroom.
Robbie exclaimed, "You have been faking it, with me Robbie Williams, pop star, 18 Brits! That's okay darling, I love you." Andrea asked Robbie, "Have you ever faked it?" . Robbie replied, "No, I wouldn't know how, perhaps we could try it tonight?"
http://www.youtube.com/watch?v=HPwl_ggzAx8
9. Most embarrassing Loose Women stories compilation
Take a look at the Loose Women's most embarrassing stories and funniest slip-ups with this compilation on Loose Women's official YouTube channel. One of our favourite funny moments in this clip is when Linda revealed her mortifying moment after not closing the door properly in one of the train toilets. After pressing all the buttons and locking the doors, disaster struck.
Linda Robson said the toilet automated message kept repeating, "The toilet door is not locked". Linda further explained , "Mid stream I jumped up, panicked, went to press the lock on the door and pressed open, the door opened I had my knickers round my ankles and the ticket man standing there put his hands over his face. There was a mess all over the floor." Oops!
The clip also includes lots of other embarrassing moments, including Linda's raunchy text messages that she accidentally sent to her daughter, instead of her husband.
https://www.youtube.com/watch?v=5UCk1MjFF4k
10. Loose Women's funniest innuendos
https://www.youtube.com/watch?v=Dg3VDdDWru4&list=PL7_DbYQISyoXEpdweUN0xBNFHF54zCTVc&index=7
It doesn't take much to start the Loose Women panel off giggling. Drop a sexual innuendo into conversation and they really can't stop. This clip reveals the panel's funniest innuendoes. One of our favourites is when Ruth Langsford, while describing her new denim dungaree outfit, accidentally said, "Oops, my flap's come down". The panel and audience were left howling.
11. Katie Hopkins upsets Coleen Nolan
On to the most controversial moments, and it's no surprise Former LBC presenter Katie Hopkins has made the list. She's left viewers wincing at their TV screens a number of times. Panellist Coleen confronted Katie about her nasty comments directed towards her sister, Linda Nolan, while the pair appeared on Celebrity Big Brother in 2014.
Coleen politely asked Katie is she regrets any of the distasteful comments made, though Katie stood by her remarks about Linda's "droopy breasts" and "fat arm" claiming, "I wasn't the biggest fan of your sister." It's safe to say the panel and viewers were distraught at Katie's controversial comments.
https://www.youtube.com/watch?v=Ee17MgdP31s
12. Coleen Nolan's shocking remarks about Amsterdam's Red Light District
In 2016, Coleen was forced to defend her flippant remark that her 17-year-old son could visit Amsterdam's Red Light District if he passed his GCSE's, a remark that shocked the rest of the panel. While discussing that she and her children have a very open relationship, Coleen notes it was very 'sensible' of her son, Shane, to discuss his curiosity with the Red Light district.
Coleen advised him to go with an adult and have "very controlled and very clean controlled sex, not backstreet prostitution the part of Amsterdam that is very controlled". Though, the panel were left quite confused as Coleen allowed Shane to explore Amsterdam, but would not allow him to go to Magaluf for a week with his mates from school. It all got a little heated...
https://www.youtube.com/watch?v=R7tu2W8pvzE
13. Miss Great Britain fall out
Zara Holland who was stripped of her title as Miss Great Britain after having sex on ITV's Love Island show, appeared on Loose Women alongside her replacement, pageant runner-up Deone Robertson. What should have been an easy girl chat turned into a cat fight clash.
Zara explains how she has refused to give her crown up and tells the panel, "Deone didn't win on the night". When asked if Deone deserved the crown, Zara blunted stated "no". Awkward...
https://www.youtube.com/watch?v=Dnp-34jP1fU
14. Coleen Nolan's special message for Kim Woodburn
Cleaning sensation Kim Woodburn called her former fellow Celebrity Big Brother housemate Coleen Nolan "a two-faced maggot", which by no surprise was soon followed by a echo of booing from the audience.
Though, Coleen has a special message for her former fellow Celebrity Big Brother housemate in response. She said, "When we were in that house it was an absolute pressure cooker and people were boiling over on daily basis. But now we are out in the real world I want to wish you all the best..."
Despite Coleen's kind words, Kim sourly rejected the offer.
https://www.youtube.com/watch?v=f04nFhfC0lc
15. Jamelia calls for plus-sized fashion to be removed from the high street
Discussing the market of plus-sized fashion on the high street, and whether this will normalise obesity in 2015, Jamelia rejects plus-sized fashion claiming it facilities an unhealthy lifestyle for teenagers.
Loose Women fans were outraged when Jamelia controversially claimed, "I don't believe they [the high street] should be providing clothes below that range or above that range. You should feel uncomfortable if you are unhealthy..."
https://www.youtube.com/watch?v=_Vv-U644E2Y
16.Loose Women panellist left horrified by viral parenting technique
This was one issue the panel decided was too shocking to show on TV - a bizarre viral video, sharing a technique for parent's struggling to feed their babies on social media. In order to convince their children to eat parent's were pretending to feed the child's teddy bear instead, after rejecting the food as a cuddly toy would, they proceeded to punch the bear in the face.
While the Loose Women panelists decided it was too shocking to show the video on the talkshow, they instead documented their reactions. The panellists described the videos as traumatising to watch.
https://youtu.be/VJJ8_q8VIX0
Which is your favourite or most shocking Loose Women moment? Head over to our Facebook page and let us know.
Parenting advice, hot topics, best buys and family finance tips delivered straight to your inbox.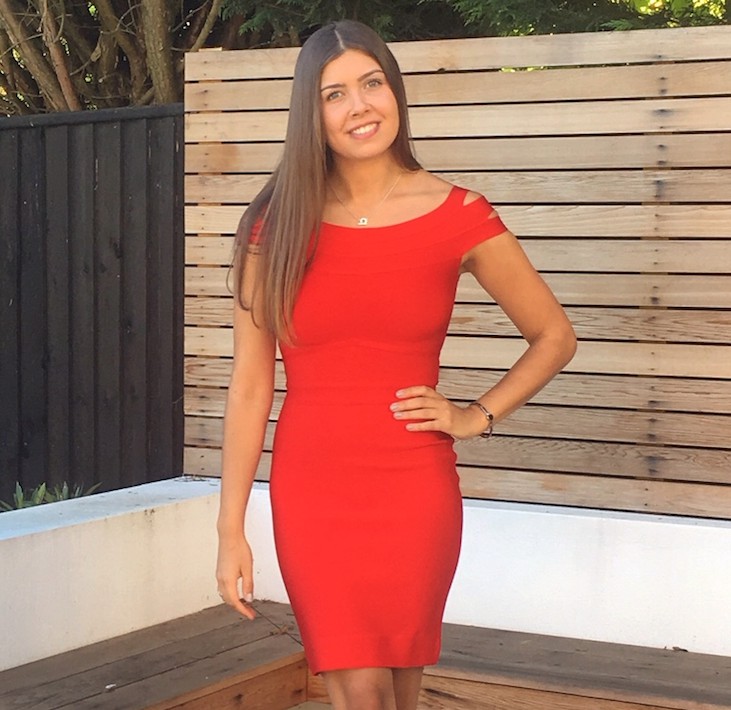 Sibelle Mehmet is a Junior Digital Writer at Goodto.com. She joined the team in April 2019 and was her first job since completing a MA in Magazine Journalism at City, the University of London in the summer of 2019. Sibelle previously interned at a number of national titles including OK!, Heat, Closer, Mother & Baby, and The Times Newspaper magazine. She's written extensively about the latest celebrity, showbiz, and royal news.