Kate Middleton has a 'bone crusher handshake' but the greeting is a fairly new family tradition that royals were once banned from doing
Royals may be photographed shaking hands with millions of well-wishers each year, but the handshake only became commonplace in the 70s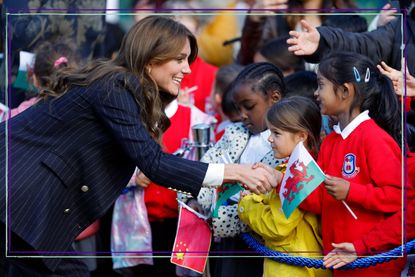 (Image credit: Max Mumby:Indigo:Getty Images)
A body language expert has shared that Kate Middleton has a 'fantastic handshake' but she can only greet royal fans with the gesture thanks to a change implemented by the late Queen Elizabeth in the 1970s
Members of the Royal Family must shake thousands of hands every week with all the engagements undertaken by those within The Firm. It's an important greeting and, while it may seem like simple common sense, royals learn exactly how to shake a hand properly with plenty of royal etiquette training and practice.
According to Grant Harrold, a royal expert and the director of the Royal School of Etiquette, "A royal handshake should consist of two-to-three pumps, with your palms open and thumbs down."
Kate Middleton has perfected this technique in the 12 years since she married Prince William, became one of the Royal Family's most senior members, and began preparing for her future role as Queen. This fact was highlighted by a body language expert after Kate's recent trip to France for the Rugby World Cup where she met with the England team and shook many hands following the game.
As reported by PEOPLE Magazine, "She appeared unfazed by the post-game scene in the locker room. She shook hands with players in their dirt- and grass-stained uniforms, some even standing without shoes in their socks during the visit. Kate even stood near a pair of muddy cleats on the locker room floor."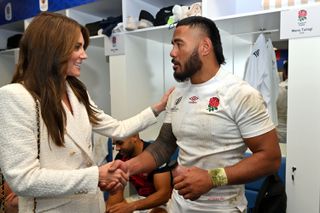 But while many focused on the juxtaposition of Kate's clean, white suit and the grass-stained rugby players, body language expert Darren Stanton singled out Kate's 'real bone crusher handshake' that left one of the rugby players looking somewhat 'overwhelmed.'
Speaking to The Daily Express, he shared, "There's a fantastic picture of Kate in the dressing room, where she's shaking the hands of the rugby players. If you zoom in on that you can see it's a real bone crusher handshake, which is in a positive sense. It's not a weak handshake. She's got a really good grip.
"She went on to place her right hand on one of the rugby players. This is normally seen as a power gesture, but we know Kate isn't like it. It's a general gesture of respect and rapport from her towards the other person."
He added, "[Kate] also placed her left hand on the top of his arm, which is her way of saying she is genuinely happy to meet him. The rugby player appeared a little bit overwhelmed."
Watching Kate easily converse and shake hands with the England rugby team, it's surprising to learn that the gesture is a relatively new one that the Royal Family have adopted. Considering that the Royal Family is a centuries old institution, they've only really adopted the tradition of shaking hands since the 1970s.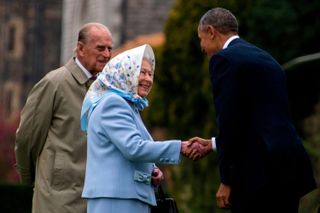 Recalling the change in protocol, Princess Anne revealed in the documentary Queen of the World that she thought it was 'absurd to start shaking hands' when her mother, the late Queen Elizabeth, decided to begin the tradition.
Speaking about why the family never used to greet well-wishers with a handshake, she said, "The theory was that you couldn't shake hands with everybody, so don't start," before adding that this historic avoidance of shaking hands still lingers for her. "So I kind of stick with that, but I noticed others don't.
"It's not for me to say that it's wrong, but I think the initial concept was that it was patently absurd to start shaking hands. And it seems to be that it's become a shaking hands exercise rather than a walkabout if you see what I mean."
But while Princess Anne avoids shaking hands with those she meets, many other royals enjoy the gesture. However, the amount of people they have to greet means that the approach to handshaking is 'short and sweet,' as the royals attempt to greet everyone they can.
Because of this, Queen Elizabeth developed a nifty trick to politely free herself from certain greetings, as actress Kate Winslet revealed after she had received an honour from the late monarch. Speaking on the Graham Norton show, she shared, "She did this most extraordinary thing. Of course, there is a system and she is very well rehearsed and very well practised at this.
"You are told what to do and you step forwards and curtsy or bow or whatever fumble, terrible thing I probably did. And then you put out your hand to shake it and she sort of gives you this suggestive nudge backwards, like 'you're done, that's it. Go back again.'"
Looking for more family content? We've rounded up the best Black Friday toy deals.
Parenting advice, hot topics, best buys and family finance tips delivered straight to your inbox.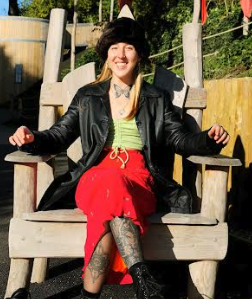 Royal News and Entertainment writer
Charlie Elizabeth Culverhouse is royal news and entertainment writer for Goodto.com. She began her freelance journalism career after graduating from Nottingham Trent University with an MA in Magazine Journalism, receiving an NCTJ diploma, and earning a First Class BA (Hons) in Journalism at the British and Irish Modern Music Institute. She has also worked with BBC Good Food and The Independent.