Kate Middleton looks incredible in chic red trouser suit as she launches special initiative close to her heart
Kate Middleton wowed in a bright red suit as she launched a special initiative with Prince William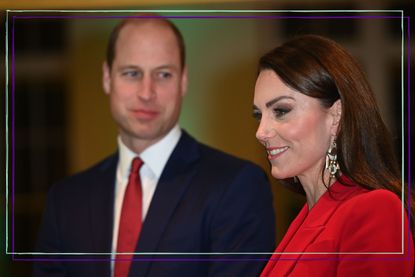 (Image credit: Getty Images)
Kate Middleton looked stunning in a bright red suit as she and Prince William attended an event in London to mark her new Shaping Us campaign.
The Prince of Wales sported a red tie to match his wife's outfit as she launched her new campaign.
The new initiative, from The Royal Foundation Centre for Early Childhood, aims to boost public understanding of the importance of a child's first five years.
---
Kate wowed in the red Alexander McQueen suit, costing £1,980, as she headed to BAFTA's headquarters with Prince William to launch her new early years initiative.
Celebrities including Fearne Cotton, Giovanna Fletcher and Rochelle Humes all attended the event, and the Prince and Princess of Wales shared a selection of photos from the evening on their Instagram page.
The glitzy event comes after an open letter from Kate was released on Saturday, January 28, in which she urged people to think about how they can make the world a "more supportive and loving place" for children.
Kate, who has open about her passion for promoting the importance of children's early years, wrote that "healthy, happy children shape a healthy, happy future" in the letter.
She wrote of her upcoming campaign, "During our very early childhood, our brains develop at an amazing rate - faster than any other time of our lives. Our experiences, relationships, and surroundings at that young age, shape the rest of our lives.
"It is a time where we lay the foundations and building blocks for life. It is when we learn to understand ourselves, understand others and understand the world in which we live.
"But as a society, we currently spend much more of our time and energy on later life. I am absolutely determined that this long-term campaign is going to change that."
She added: "We all need to know the critical importance of our early childhood. They really are years like no other in our lives.
"I urge everyone reading this, to take the opportunity to learn more about this incredible time of life, to think back to your own childhood and how it shaped you, and most importantly, to ask yourselves what you can do to make the world a more supportive and loving place for our children.
"Because healthy, happy children shape a healthy, happy future."
Kate also wore red last week when she visited a food bank to learn about the cost-of-living crisis and help pack food parcels with Prince William.
Arriving at Windsor Foodshare at Dedworth Green Baptist Church, Kate made a subtle yet dismissive gesture towards her husband that, according to a body language expert, showed her boosted confidence.
Speaking to The Mirror, body language expert Darren Stanton said, "As the couple were seen exiting the car, I noticed that Kate got out from the offside of the vehicle and did not look for William. This does not mean she is not interested, it just means she has a lot of reassurance in herself."
Entertainment writer - contributor
Robyn is a freelance celebrity journalist with ten years experience in the industry. While studying for a degree in Media and Cultural Studies at London College of Communication, she did internships at Now and Heat magazines. After graduating, she landed a job at Star magazine, where she worked her way up to features editor. She then worked at Future as Deputy Celebrity Content Director across Woman, Woman's Own, Woman's Weekly and Woman & Home magazines.