Kate Middleton and Prince William's 'extremely rare public display of affection' revealed by body language expert
The Prince and Princess of Wales couldn't keep their eyes off each other during their recent Birmingham visit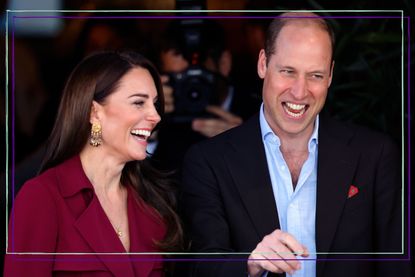 (Image credit: Max Mumby/Indigo/Getty Images)
Kate Middleton and Prince William were showing off 'good signals' during their recent Birmingham visit according to a body language expert who has analysed their 'extremely rare public display of affection.'
During The Prince and Princess of Wales' recent trip to Birmingham, the royal couple's body language showed off their happy and healthy relationship with lots of 'good signals.'
According to one expert, the pair illustrated three new 'extremely rare' and 'affectionate' actions that prove how well they know and love each other.
---
Following Prince William and Kate Middleton's recent visit to Birmingham, the couple's 'extremely rare public display of affection' has been revealed by a body language expert.
Jesús Enrique Rosas, who goes by the pseudonym The Body Language Guy on YouTube, has shared a video to his channel The Royal Rogue, revealing and explaining the meaning behind the new and 'extremely rare' body language behaviours he spotted in footage of Kate and William during their Birmingham trip.
According to the expert, the royal couple shared three specific exchanges with both each other and the public that signify just how happy and healthy their relationship really is.
The first thing Rosas noticed was William placing a hand on Kate's waist, an action he claims is a 'rare' form of PDA' for the pair. He explained, "The first one stands out just because it's an extremely rare public display of affection, in the form of William's hand on Kate's waist".
While William has used a similar, gentle hand signal with Kate before, the expert points out that he usually places a hand on her lower back, not on her waist. Rosas claims this is a 'gesture of reassurance' and that seeing the language is a "good signal" to let your partner "know that consciously and subconsciously, you are there with them, present and in the moment".
But comparing this interaction with ones seen on previous royal engagements, Rosas noted that William used to place his hand on Kate's back "more". In his opinion, the gesture is needed less often now as Kate doesn't need the 'subtle reassurance' from her husband anymore as she has completely settled into royal life.
So now Kate needs less protective and reassuring measures, William has developed a new hand signal, placing his hand on her waist as we saw in Birmingham, to show affection. "What stands out about this new public display of affection is that even though William's fingers are not fully extended (around Kate's waist), they form a cup of protection," Rosas explained. "This more than reassurance, is a gesture of possession and protection.
"This is a masculine and loving gesture," he added before clarifying that this does not mean William is "controlling Kate with a possessive gesture", but simply that he is more "relaxed and confident than usual".
The second new signal highlighted by the expert was the "the way Kate exposes her neck while turning to William and smiling at him." According to Rosas, this gesture, which was held "for more than a couple of minutes," is a "very feminine gesture" that suggests Kate "feels comfortable with him, protected and she likes him a lot".
When Kate was looking at her husband, eagle-eyed Rosas observed a "tiny detail" which he claims "is easy to miss." Specifically, he pointed out, "Kate's eyes are directed to William's mouth". He said that it is "fairly common to catch her looking at his mouth," and the action is just "another signal of attraction" between the couple.
The moment that had everyone talking and laughing both during and after Kate and William's visit was when William picked up the ringing phone at a restaurant they were visiting to take a customers table booking. Both William and Kate couldn't stop giggling and the whole ordeal set the restaurant staff and owners at ease in the presence of royalty.
Speaking of the light-hearted moment, Rosas commented, "This was the real deal. The way they are laughing… the energy is just there for everyone to see."
Royal News and Entertainment writer
Charlie Elizabeth Culverhouse is royal news and entertainment writer for Goodto.com. She began her freelance journalism career after graduating from Nottingham Trent University with an MA in Magazine Journalism, receiving an NCTJ diploma, and earning a First Class BA (Hons) in Journalism at the British and Irish Modern Music Institute. She has also worked with BBC Good Food and The Independent.