What did Gary Lineker say on Twitter? The controversy surrounding the Match of the Day presenter explained
The tweet criticised government policy on immigration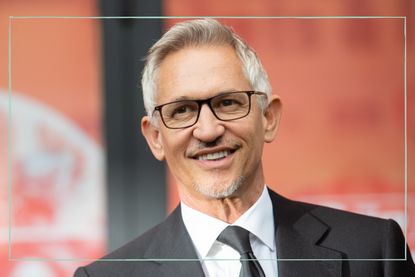 (Image credit: Getty Images)
The former footballer and sports broadcaster caused controversy last week with a tweet about the government's Illegal Migration Bill. But what exactly did Gary Lineker say?
Gary Lineker has presented Match of the Day since 1999, but after more than 20 years at the show's helm his future as a sports broadcaster was called into question, following a tweet that hit out at the government. The BBC has a strict policy when it comes to impartiality, so the presenter's comments left many wondering about his future with the corporation and asking questions about Gary Lineker's BBC salary (opens in new tab).
He's not the only BBC presenter that has landed themselves in hot water recently, after Fiona Bruce's comments about Stanley Johnson (opens in new tab), but following a tense weekend that saw the football star temporarily suspended, Match of the Day air without any presenters and the BBC's weekend sports coverage decimated, things seem to have returned to normal. Still, many want to know how it all happened, and what Gary Lineker said that caused such controversy for the BBC.
What did Gary Lineker say on Twitter?
Gary Lineker's tweet criticised the government's Illegal Migration Bill, which bans migrants who arrive on small boats from claiming asylum in Britain. Lineker said that the language used in the Bill is comparative to that used by Nazi Germany.
In response to a video in which home secretary Suella Braverman unveiled the government's plans to stop migrants crossing the Channel, Lineker wrote "Good heavens, this is beyond awful." When replying to another Twitter user, who described Lineker's comment as "out of order", Lineker responded: "There is no huge influx. We take far fewer refugees than other major European countries. This is just an immeasurably cruel policy directed at the most vulnerable people in language that is not dissimilar to that used by Germany in the 30s, and I'm out of order?"
Good heavens, this is beyond awful. https://t.co/f0fTgWXBwpMarch 7, 2023
See more
Lineker's comments were criticised by Suella Braverman, who told the BBC's Political Thinking (opens in new tab) podcast: "To kind of throw out those kind of flippant analogies diminishes the unspeakable tragedy that millions of people went through, and I don't think anything that is happening in the UK today can come close to what happened in the Holocaust."
Karen Pollock, the chief executive of the Holocaust Educational Trust, has also hit out at Lineker's comments, writing in an op-ed for The Times (opens in new tab), "However passionately we feel about important and pressing issues of the day, it seems to me that comparing those current concerns to the almost unimaginable horrors of the Nazi period is wrong."
Lineker refused to back down, however, taking to Twitter again a day later to say: "I have never known such love and support in my life than I'm getting this morning (England World Cup goals aside, possibly). I want to thank each and every one of you. It means a lot. I'll continue to try and speak up for those poor souls that have no voice. Cheers all."
What have the BBC said?
The BBC said in a statement: "We consider [Lineker's] recent social media activity to be a breach of our guidelines." They added: "We have never said that Gary should be an opinion-free zone, or that he can't have a view on issues that matter to him, but we have said that he should keep well away from taking sides on party political issues or political controversies."
The statement came as the BBC announced that Lineker would not be returning to his long-time presenting role "until we've got an agreed and clear position on his use of social media."
The BBC's editorial guidelines say that impartiality must be "adequate and appropriate to the output, taking account of the subject and nature of the content, the likely audience expectation and any signposting that may influence that expectation."
They add that social media is "now part of everyday life" and that all of its staff are free to "engage in social media activities if they wish", but all activity, "whether it is in a 'professional' or 'personal' capacity", should be informed by the Editorial Guidelines.
Breaking: Gary Lineker to return to #MOTDStatement from Director-General of the BBC, Tim Davie:⁰⁰"Gary is a valued part of the BBC and I know how much the BBC means to Gary, and I look forward to him presenting our coverage this coming weekend." pic.twitter.com/nA3O4od0D4March 13, 2023
See more
On Monday 13 March, it was confirmed that Gary Lineker would return to the BBC. The BBC Board said in a statement: "The Board welcomes the fact that the executive has reached an agreement following the disruption of the weekend.
"Impartiality is a cornerstone of the BBC. We believe this is the right time to look at the clarity of the BBC's social media guidance and how it is applied.
"We will support the executive in its continuing work to ensure the organisation delivers world-class, impartial content for all audiences."
Why wasn't Gary Lineker on Match of the Day?
It was announced on Friday 10 March that Gary Lineker would not be appearing on Match of the Day the following day due to his Tweet being deemed to breach BBC guidelines.
The Independent (opens in new tab) reported that the decision was made after the broadcaster couldn't get Lineker to agree to a public statement in which the presenter would apologise and promise to be more careful on social media. The publication claimed that sources close to the situation said the statement would have seen the presenter "humiliating himself".
Shortly after it was announced that Lineker had been suspended from his presenting role, his colleagues Ian Wright and Alan Shearer pulled out from appearing on the show in solidarity.
Later that day, Alex Scott, Micah Richards and Jermaine Jenas all said they would not be appearing, and the BBC announced that the show would go ahead, but with the unprecedented scenario of there being no presenter or pundits.
As a result, Saturday's episode of Match of the Day was just 20 minutes long. It was watched by 2.6 million viewers - up by nearly half a million on the show form the week before.
BBC Radio 5 Live was also impacted, with the station replacing three hours of scheduled live broadcasting with pre-recorded podcasts, and Football Focus and Final Score were pulled from the BBC's afternoon schedule due to presenters pulling out.
The disruption forced the BBC to apologise for "limited sport programming this weekend", with Director General Tim Davie facing calls to resign.
Gary Lineker controversy: Timeline of events
Tuesday 7 March: Gary Lineker criticises the government's immigration policy on twitter, following a video posted by the Home Office.
Wednesday 8 March: The Prime Minister's press secretary told reporters it was "disappointing" to see "that kind of rhetoric" from someone whose salary is paid by the licence fee.
Thursday 9 March: Lineker says he will still be appearing on Saturday's Match of the Day, tweeting, "Well, it's been an interesting couple of days. Happy that this ridiculously out of proportion story seems to be abating and very much looking forward to presenting @BBCMOTD on Saturday."
Friday 10 March: The BBC announces Lineker will step back from Match of the Day until his use of social media is agreed, resulting in several other football presenters and pundits pulling out of BBC programming in solidarity with Lineker.
Saturday 11 March: Match of the Day goes ahead without accompanying commentary or analysis from pundits, while Football Focus and Final Score were pulled from the BBC schedules as well as Radio 5's 5 Live Sport and Fighting Talk. The BBC apologises for the limited programming.
Sunday 12 March: Sunday's Match of the Day 2 aired with a similarly stripped-back version, showing only short clips from earlier football matches with no accompanying commentary.
Monday 13 March: It's announced that Gary Lineker will return to presenting sport on the BBC, and an independent review into the corporation's social media usage guidelines will be held. Director general Time Davie apologises for disruption the the weekend's sports programming.
Video of the Week
Ellie joined Goodto as a Junior Features Writer in 2022 after finishing her Master's in Magazine Journalism at Nottingham Trent University. Previously, she completed successful work experience placements with BBC Good Food, The Big Issue and the Nottingham Post, and freelanced as an arts and entertainment writer alongside her studies. In 2021, Ellie graduated from Cardiff University with a first-class degree in Journalism.