Where is The Dog Academy filmed on Channel 4? Filming locations
Bad dogs have a behaviour do-over in this new series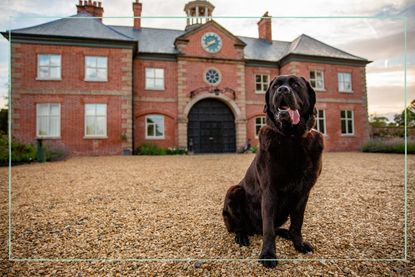 (Image credit: Future/Channel4)
Wanting to sign your unruly pooch up? Here's where The Dog Academy is filmed in real life.
From the British bulldog to Queen Elizabeth II's corgis, we're a nation known for our love of furry friends. Social media is often inundated with cute dog selfies and funny viral videos - but what about those dogs that are less well-behaved?
Viewers are about to find out in new Channel 4 show The Dog Academy which sees some of the country's unruliest doggies and their owners sign up for a behavioural makeover with The Dog Academy experts. We've shared details of what audiences can expect from the new show - which comes from the same creators as The Dog House - giving you information on where The Dog Academy is filmed and how many episodes are in store.
Where is The Dog Academy filmed?
Channel 4 show The Dog Academy is filmed in Shropshire, based in the West Midlands, England. The production team transformed a stately home there into the canine training house seen on screens.
Adam Chapman, executive producer at Five Mile Films, who produced the series, explained that the specially designed academy was fitted with "40 remote cameras, a 360-degree training pen and remote monitoring rooms for our trainers to watch their new students."
Chapman told Broadcast that the expertly designed studio made it easier for trainers to monitor the dogs. "Watching on remotely, they were able to analyse every micro-detail of the dog/human dynamic," he said. "And while it once took north of two hours for a secret indoor wee-er called Dexter to finally relieve himself on an outdoor pee post – the euphoria in the gallery when it finally happened was akin to an England penalty shootout."
Five Mile Films employed the same art team from the First Dates Hotel to transform the country house into the professional centre. "Every detail was pored over, from the non-slip rating of the rubber floors to the type of grass planted in the training pen."
Animal Welfare protocol was adhered to at all times during filming of The Dog Academy.
What is The Dog Academy about?
The Dog Academy sees expert dog trainers come up against some of Britain's naughtiest dogs, who work with them and their owners to transform their bad behaviours. Each episode will see a different dog's journey and training progress.
The official Channel 4 synopsis reads: "The Academy will help our most difficult dogs and their most desperate owners. A crack team of Britain's top specialist trainers will instruct beleaguered owners in dog management skills and dog psychology.
"Dogs and their owners will receive separate training designed to help owners build long-lasting, positive relationships with their furry friends. And audiences will be offered a chance to see how dog and owner fare as they try to put their new skills to use. Can the experts help them leave The Dog Academy happy, healthy and better placed to enjoy the rest of their lives together?"
How many episodes of The Dog Academy?
The Dog Academy consists of eight episodes in total. Each week, a new episode airs on Thursday nights at 8pm on Channel 4. You can also catch any missed episodes on All 4 after it's broadcast.
The Dog Academy: Episode guide
Episode 1: Bear and Gina
Ferocious cockapoo Bear is driving a wedge between owners, Paul and Louise. With their marriage under stress, trainers Victoria and Adam must tame Bear's aggressive behaviour before it's too late. Meanwhile, 11-year-old chihuahua Gina is a pocket rocket with a large chip on her shoulder. Her penchant for attacking other dogs has left mum and son, Cindy and Cory, carrying her around in her very own zipped up "safety bag". Can the trainers really teach an old dog new tricks?
Episode 2: Lupin and Mya
Destructive Dalmatian Lupin and owners, Kelly and Emilien, arrive in desperate need of help. Responsible for tens of thousands of pounds of damage at home, trainer Victoria must take both canine and couple under her wing. Jack Russell-cross Mya has a violent phobia of windscreen wipers, and retired owners, Gill and John, worry about the effect it's having on their health. As storm clouds gather over the Academy, can trainers Nanci and Jo fix the problem before the heavens open on the long drive home?
Episode 3: Bertie and Freddie
Jack Russell, Bertie, loves to bark, and brothers Sherlock, Dobbie and Gizmo are only too eager to join the chorus. The incessant barking is a cause of worry for husbands Andy and Rich. Can trainers Nanci and Jo calm this cacophonous quartet and begin some much-needed training? When it comes to being scared of canines, 18-month-old cockapoo Freddie isn't alone. His owner Ken is also terrified of dogs - including his own! Ken's wife, Debbie, is hoping the trainers can fix both husband and dog and restore some harmony to the family home.
Episode 4: Maggie, Cody and Marvin
Two new students arrive with a bad case of sibling rivalry - cockapoo Maggie, and German shepherd Cody. Escorted by later-in-life lovebirds, Diane and John, the couple have grown tired of Maggie's 'diva' ways. First, the trainers must unlock the mystery of why she really hates her baby brother. Meanwhile, muzzled collie, Marvin, has left owners, Laura and Dave, at their wits' end. Concerned by Marvin's lunging and nipping, they fear he'll bite someone and have to be put down. As trainer Jo begins the delicate process of earning Marvin's trust, there's no knowing how he'll react.
Episodes 5 to 8: TBC
Video of the Week
Emily Stedman is the former Features Editor for GoodTo covering all things TV, entertainment, royal, lifestyle, health and wellbeing. Boasting an encyclopaedic knowledge on all things TV, celebrity and royals, career highlights include working at HELLO! Magazine and as a royal researcher to Diana biographer Andrew Morton on his book Meghan: A Hollywood Princess. In her spare time, Emily can be found eating her way around London, swimming at her local Lido or curled up on the sofa binging the next best Netflix show.