Where was Your Place or Mine filmed? The dreamy locations featured in Netflix's latest rom com
While you may not bump into Ashton Kutcher visiting the film's backdrop, the views are stunning enough on their own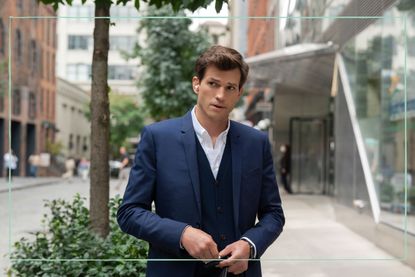 (Image credit: JoJo Whilden/Netflix/Future)
Just in time for Valentine's Day, Netflix's Your Place or Mine has viewers swooning. The streaming platform's latest rom com stars romantic comedy virtuosos Reese Witherspoon and Ashton Kutcher and follows the pair as they navigate life in the cities utilised time and time again in romantic comedies; New York City and Los Angeles.
Written and directed by Aline Brosh McKenna, Your Place or Mine follows single mother Debbie, played by Witherspoon, as she spends a week in New York City, away from her son, in order to finish up her business degree.
But the story takes a twist when her babysitter cancels on her. Stepping in to save the day, Debbies best friend Peter, played by Kutcher, offers to spend the week at her house in Los Angeles with her son, letting Debbie spend the week at his bachelor pad in New York.
While for viewers the distance seems to forgo any possibilities of romance between the pair, their friendship blossoms into romance and, much to viewers' delight, they end up falling in love.
As the film's synopsis explains, "Debbie and Peter are best friends and total opposites. She craves routine with her son in Los Angeles; he thrives on change in New York. When they swap houses and lives for a week they discover what they think they want might not be what they really need."
While the storyline is heartwarming on its own, the beauty of both cities featured throughout the movie act to enhance the plot. Both LA and New York City became their own characters, drawing much attention from the audience and leading many to wonder, 'Where was Your Place or Mine filmed?'
Where was Your Place or Mine filmed?
Peter's home in Brooklyn
Peter's New York City bachelor pad can be found in the Brooklyn neighbourhood of Dumbo. More specifically, the exterior shots of his home show its location as the luxury waterfront apartments of 60 Water Street. The film's production designer, Bill Arnold, described the location in an interview with Production Notes, saying, "Dumbo, once an area of old waterfront warehouse buildings, has transformed into million-dollar lofts and condos. It's a very hip and trendy place, which Peter would be attracted to. At the last minute, we found this very beautiful building that would allow us to film inside their lobby and on their garden roof deck while the city would permit us to film outside on the sidewalks."
While the Water Street apartments were used for shooting exterior scenes, the inside of Peter's apartment was actually a production built set. The film's production designer wanted to ensure they could get a stunning New York City view from the apartment windows and decided the best way to do so was to recreate the ideal setting. He explained, "It's a striking location right between the Manhattan and Brooklyn Bridges and we wanted to take advantage of that in our set. We determined what floor he was living on and what he saw out of his window. What kind of architecture? Is it a brick building, or is it steel?"
Debbie's home in LA
The exterior shots of Debbie's kitsch LA home were filmed in the LA neighbourhood of Echo Park at the top of one of the area's iconic 100-step hillside walkways. Just like with Peter's apartment, the interior of Debbie's home was created on a soundstage.
In an interview for Production Notes, the film's writer and director, Aline Brosh McKenna, said of the home's interior, "Debbie bought the house in her 20s so there are all those layers that make it cozy and inhabited. We filmed the exterior at the actual house and garden, then Bill built the interior on stage. We even duplicated the garden on stage."
LAX
As the film's main characters spend most of their time apart in differing American cities, a pivotal location in the film is the LA airport LAX. Two short yet vital scenes are set at the iconic airport, but for the scenes in Your Place or Mine the building's interior was recreated on a soundstage - a huge soundstage.
Because of its bustling nature, shooting at LAX was logistically impossible. Instead, the airport was recreated at Sunset Gower Studios using a stage which was originally built for The Three Stooges.
It was a massive undertaking to build the airport set. The film's special effects supervisor, Ron Bolanowski, and his team constructed the people mover from scratch, shipping it out to Sunset Gower Studios when it was finished.
Speaking about the logistical nightmare, the director of photography, Florian Ballhaus, said in an interview for Production Notes, "That final scene really was a bit of a challenge. It's a long, two-and-a-half-page scene on the moving sidewalk with hundreds of background artists milling about. Considering the restrictions at real airports, building the set at the studio was the correct way to go, although we were concerned because it just barely fit on the stage. We only had a few inches on either side for us to jam the lighting in."
Debbie arrives in New York
When Debbie arrives in New York for the first time, she is seen walking down 25 Everit St in Brooklyn, New York. The street is just two minutes away from the famous 1 Hotel Brooklyn Bridge, a sustainable and pet-friendly 10-storied waterfront hotel.
Debbie meets Theo
Debbie meets Theo, played by Jesse Williams, in the now closed NoMad Hotel in Los Angeles. The pair bump into one another in the lobby of the hotel, located at 649 South Olive Street in Los Angeles.
Despite only opening its doors in early 2018, The NoMad Hotel closed in 2020, as many other hotels across the globe did, due to the pandemic. But while other business opened as restrictions lifted, NoMad did not. And, in March 2021, it was announced the hotel would remain closed permenenantly.
Royal News and Entertainment writer
Charlie Elizabeth Culverhouse is royal news and entertainment writer for Goodto.com. She began her freelance journalism career after graduating from Nottingham Trent University with an MA in Magazine Journalism, receiving an NCTJ diploma, and earning a First Class BA (Hons) in Journalism at the British and Irish Modern Music Institute. She has also worked with BBC Good Food and The Independent.