Why are Noel Gallagher and Sara Macdonald getting divorced?
After 22 years together, the couple have announced their seperation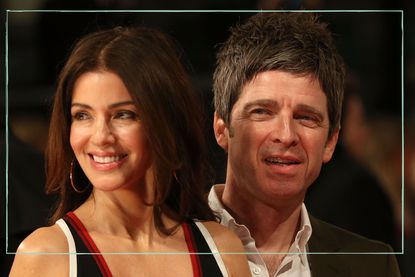 (Image credit: Danny Martindale/WireImage/Future)
After 22 years together, Musician Noel Gallagher has announced his split from wife, Sara MacDonald. It's believed that the former Oasis star has moved out of the family's home in Hampshire and is now living in London following the separation with The Sun reporting that 'in time,' Sara may also want to move to the city.
A spokesperson for the couple confirmed the seperation in a statement to the Mail Online, saying that they intend to divorce soon. They said, "Noel Gallagher and Sara Macdonald [have] confirmed that the couple are to divorce. Noel and Sara will together continue to look after their children who remain their priority. Noel and Sara ask the media to respect their privacy and that of our family at this time."
A source close to the couple told The Sun that the split is a 'great shame' but that the couple are trying to remain 'civilised.'
Why are Noel Gallagher and Sara Macdonald getting divorced?
Any reason for Noel Gallagher and Sara Macdonald's seperation has yet be announced publicly, with the couple asking for 'privacy' during this time. The pair met back in 2000 while Noel was still married to his first wife, whom he divorced in January 2001.
After being in a committed relationship for 10 years, Noel and Sara were married in a private ceremony in June 2011. The ten year courtship was a result of Sara's belief that Noel was 'too immature' to marry.
Who is Sara MacDonald?
Sara MacDonald is a Scottish publicist, known for being married to Noel Gallagher. She was born on October 22 1971 in Edinburgh, Scotland. In 2018, she drew rare media attention to herself after The Sun reported that she told Noel's brother, Liam Gallagher, to "Drop dead".
The comment came after Liam said in a newspaper interview that he "didn't care" if Sara, Noel or Noel's daughter, who he referred to as his "f****** kid", were abused on social media.
Sara commented on a fansite Instagram page, writing, "His f****** kid"? You mean your gorgeous niece, you deplorable w*****. Please god (you) have dropped dead by the time my kids are on social media."
The comment marked the first time Sara spoke out on the iconic rivalry between Noel and his brother, Liam.
Who was Noel Gallagher's first wife?
Noel Gallagher's first wife was the socialite Meg Matthews. The couple met in 1994 through Meg's flatmate, the MTV presenter Rebecca de Ruvo, whom Noel was dating at the time. He left Rebecca for Matthews and the pair tied the knot three years later in Las Vegas in June 1997.
Writing about the awkward meeting for The Guardian, Meg said, "I first met Noel [Gallagher] in London in 1994. 'Definitely Maybe' [the Oasis song] was out but it hadn't gone crazy yet. He was going out with my flatmate at the time, which made it all a bit difficult."
The couple divorced in 2001, with Matthews later admitting that she suffered from PTSD after the split. In an interview with The Mirror she said, "I came through the marriage. Everything was public. At the end of the day I did not have the cog or the PR world that [Noel] had.
"I was just the ex-wife. I had nobody. I didn't know what to do. I didn't have a press agent, wasn't famous, I just had a daughter. I used to get terrible PTSD. In 1997 I was the third most written about woman. It was Lady Diana, The Spice Girls and me."
She later wrote in The Guardian, "I never got over my divorce. That's what I discovered in rehab. I was trying so hard to be strong and say 'I'm fine' and it caught up with me. It's still the longest relationship I've had.
"Me and Noel are fine now. I couldn't see myself growing old with him... not the happiest of people."
Did Noel Gallagher cheat on his first wife Meg Matthews?
Noel Gallagher and Meg Matthews were divorced in 2001, with Matthews filing for divorce on the grounds that Noel was unfaithful. She claimed Noel cheated on her with his soon-to-be second wife, Sara Macdonald. Noel publicly denied cheating but did not object to a divorce on the grounds of infidelity. He later claimed that he lied about the cheating in court in order to speed up the divorce proceedings.
Noel claims that he left his wife because he could no longer 'tolerate' her behaviour and has continuously denied reports that he cheated on her while they were together.
Who are Noel Gallagher's kids?
Noel Gallagher has three children. Anais Gallagher, 22, his only daughter and only child with his first wife, Meg Matthews, and two sons, Sonny, 12, and Donovan, 15, who he had with his second wife, Sara Macdonald.
Anais recently made headlines as she spoke out against those who accused her of being unaware of her privileged upbringing. Speaking to the Mail she said, "I'm really, really, extremely grateful for the situation my parents have been able to give me, and I'll be grateful until the day I die. Whether it's being able to attend university or have job opportunities, I'm incredibly grateful for everything they've given me."
Though Noel and Sara Macdonald have just announced their seperation and upcoming divorce, the couple's spokesperson said that they 'will together continue to look after their children who remain their priority.'
Royal News and Entertainment writer
Charlie Elizabeth Culverhouse is royal news and entertainment writer for Goodto.com. She began her freelance journalism career after graduating from Nottingham Trent University with an MA in Magazine Journalism, receiving an NCTJ diploma, and earning a First Class BA (Hons) in Journalism at the British and Irish Modern Music Institute. She has also worked with BBC Good Food and The Independent.