Best baby-led weaning foods - how to serve them safely and what type of foods to avoid
Baby-led weaning can be overwhelming - here are the best foods to get you and baby started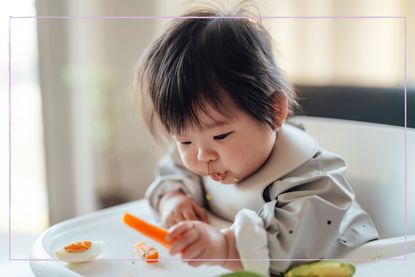 (Image credit: Future)
Baby-led weaning is a method where baby is encouraged to feed themselves, right from the beginning.
When choosing baby-led weaning (BLW), parents can sometimes feel overwhelmed as it throws up questions of safety and not only what to feed their curious baby but how to. With BLW it's best to go with soft, easy-to-squash foods in thick finger-size pieces, this way it's easy to hold and has a low choking risk. For Aisha's Award-winning nutritionist Priya Tew advises; "Keep finger foods mushy and soft until you are sure they can manage, and never leave your little one unattended whilst eating. A little tip - cut up grapes and tomatoes into quarters. Remove the skins and pips."
Mum-of-one, Steph tells us, "We chose baby-led weaning - much to the disapproval of my spoon-feeding mum, but I wanted my son to have a good relationship with food from the start, I didn't want mealtimes to become a battle ground. The autonomy that comes with BLW was why we chose it. But, wow, was I underprepared for how to actually do it."
Best baby-led weaning foods
One of the many reasons that people prefer BLW is, it's just easier - and cheaper. Nutritionist Priya Tew tells us; "You can modify foods you're already making to share with your baby with little to no separate cooking. It also allows a baby to have autonomy and control over what goes into their mouths, and when, letting them eat intuitively from the start." Priya's top list of foods is;
Avocado wedges (skin on and make sure its ripe and soft)
Banana (with some peel left on)
Toast fingers
Cooked peppers
Boiled carrots
Melon slices
Steamed broccoli florets (big enough to hold)
Chicken (dark meat large enough to hold and suck on)
Fruits for baby-led weaning
Soft can be served raw, while harder ones like apples should always be cooked.
Strawberries
Halved or smushed-between-thumb-and-forefinger blueberries
Orange wedges (seeds and tough membranes removed)
Steamed, peeled apple slices
Pear slices (steamed or peeled if hard, but can be served raw if soft)
Avocado wedges
Vegetables for baby-led weaning
Steamed or baked sweet potato or butternut squash fries
Steamed carrot halves
Steamed green beans
Steamed broccoli heads
Steamed or roasted zucchini or summer squash strips
Steamed beet strips
Proteins for baby-led weaning
Shredded poached chicken
Hard-boiled eggs, quartered
Shredded boiled beef
Baked or grilled flaked fish, bones removed
Squashed beans
Hummus
Raw or lightly baked tofu strips
Whole grains for baby-led weaning
Whole grain toast strips
Whole grain pita strips
Whole grain English muffin strips
Baked oatmeal strips
Whole wheat pasta, cooked until very tender
Whole grain pancake strips
Dairy for baby-led weaning
Plain, full-fat yogurt (regular or Greek-style)
Ricotta cheese
Cottage cheese
Mozzarella cheese
Swiss and cheddar cheese
Child Nutritionist Charlotte Stirling Reed tells us; "As a mum and a Nutritionist, I know that weaning can be a very confusing and overwhelming time for parents. You can start with single vegetables and fruits that are mashed or blended. I've always found preparing food from scratch is the easiest and cheapest way to create healthier meals for my children, and have used the Start for Life Weaning Hub for great recipes which are really easy to make and nutritious."
Nutritionist Priya Tew agrees; "It's great to start with veggies that are well cooked and easy to squash. You can also offer peeled fruit that's been cut up and had the pips removed. Toast fingers, sliced boiled eggs, pasta shapes, porridge fingers and pancakes cut into strips are also great first finger foods."
The food should be soft enough to squish between your fingers - effectively their little gums. If baby gums piece down into a smaller piece, replace it with a larger one to avoid them putting a chunk of food into their mouth.
Foods to avoid in Baby-led weaning
Remember you know your baby, and there is no 'right way' to do this. The man aim for first foods is that they're introduced to flavors, nutrients, and foods they can easily eat or suck on. It should be an enjoyable milestone.
Any food that is hard or crunchy (such as raw carrots or apple slices, or crackers)
Slippery foods (such as banana without skin - as can be frustrating to hold)
Cow's milk (infants under 1 struggle to digest this)
Honey (to avoid botulism)
Whole grapes (up until the age of 5 years)
Popcorn (up until age of 5 years)
Mum-of-twins, Dionne tells us; "I was so nervous that my two weren't getting enough from BLW. But then I started following SR_Nutrition and realised that 'food before one is fun', and that my girls were still getting most of their nutrients from their formula milk."
Priya asks that parents try to make the foods chosen for BLW as healthy as possible; "Babies can definitely have a preference for sweeter foods, so it is important to offer a range of flavours and tastes to help them broaden their palates. Also worth remembering that Babies younger than 12 months should have no more than 1g of salt a day."
How to cut and serve baby-led weaning foods
The basic rule to follow is that the food needs to be big enough that it would be difficult for baby to put the entire thing into their mouths.
Cut foods to roughly the size of a finger, so about a 4-inch stick.
Keep foods in large shapes that are easy to pick up (it's not until 9 months that the pincer grip develops and they can pick up smaller things)
Foods that with grip (wash and leave some of the peel on fresh foods like bananas, avocado, and mango.)
If in doubt go bigger - Half of a slice of bread or a big chunk of watermelon.
Baby-led weaning - how to serve a banana
A banana is a classic weaning food, the best way to serve to a baby is to first keep the skin on and wash well, then slice it in half. Without cutting through to the banana, cut off an inch or two of the peel, leaving the rest of the peel on so it's not slippery for baby to hold. They'll suck on the top like a little lollipop. You can also help them hold the banana if needed.
Baby-led weaning and choking
Know that you are not alone in fearing this. Mum-of-one, Grace shares her BLW journey; "My anxieties set in; How would I keep her safe? Can baby's choke on baked beans? How would I make sure she was eating enough?" In fact, these fears are one of the main reasons parents choose not to go with this method. And while there are some incidences of choking, what's more likely is that a baby will gag on a piece of food that gets into their mouth that they weren't expecting, you have to remember this whole experience and feel is all so new to your baby.
Gagging is a sign that baby is doing what she needs to in order to move the food around in their mouth as they learn to eat. It usually sounds more dangerous than it actually is. Why not sign up for a first aid class and follow some baby safety brands on Instagram for helpful information, such as Daisy First Aid.
With baby-led weaning will my baby eat much?
We'll be honest, no probably not at first. The first few tries will likely be more tasting of food than eating it and that is okay. Baby will still rely on breast milk or formula at this age for their main nutrition, so don't expect them to suddenly start eating full meals. Priya tells us; "While babies may not meet all their nutrition needs from food at this stage, they still have additional needs that they cannot meet from milk alone. It's a fast stage of growth and development so energy and protein is important to help them meet their needs."
By 12 months they should be eating normal family meals. There are several nutrients baby has increased needs for: iron stores laid down in pregnancy have been used up by around 6 months. Priya advises; "Iron rich foods such as red meat, spinach and lentils are important. Omega 3's are also key and need to come from diet, oily fish are the main source. Several vitamins are also key ones to have in a baby's diet - vit A and C. So you can see what you feed the baby before 12 months is definitely important but it can also be fun as well."
Related features:
Video of the Week:
Stephanie Lowe is Family Editor at GoodTo covering all things parenting, pregnancy and more. She has over 13 years' experience as a digital journalist with a wealth of knowledge and experience when it comes to all things family and lifestyle. Stephanie lives in Kent with her husband and son, Ted. With his love of choo-choos, Hey Duggee and finger painting he keeps her on her toes.