Baby food meal planner: Weaning at 7 - 9 months
Now's the time to get your baby used to a few lumps, bumps and new textures for stage 2 of baby weaning...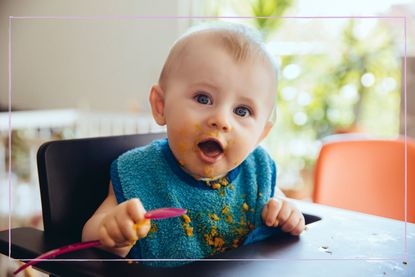 (Image credit: Getty Images)
All babies are different, some will have sprouted a couple of teeth by now and some won't have any yet.
Either way, now is the time to get your baby used to a few lumps and bumps for stage two of baby weaning, remember it's always okay to introduce some baby-led weaning (opens in new tab) tactics too during this journey.
Try using a baby food mill or masher instead of a baby food maker (opens in new tab) to blend your baby's meal to a smooth puree. If feeding your baby lumpier meals isn't going smoothly and your heart skips a beat every time they gag or choke on another spoonful, go back to pureeing your baby's meal and try a lumpy version again in a couple of days time.
As your baby becomes hungrier you can add snacks and even desserts to their 3-meals-a-day diet. Snacks and desserts are a great way for your baby to experiment with new foods and you can use them to add more dairy, grains, fruits and vegetables to your baby's day. And if your baby's teething they'll love our banana yogurt pops (opens in new tab) to help cool their gums.
Some babies will naturally eat more or less than others and you should never force feed your baby, but there's no harm in offering extra snacks and desserts incase they're having a hungry day.
This is the perfect stage in your child's development for them to experiment with different textures of food, tastes, color. Of course, all babies progress at different stages so don't feel down-hearted if your little one takes longer to eat the lumps and bumps. They'll soon get the hang of it!
Baby food meal planner 7 - 9 months
Click to download, print and keep your baby food meal planner 7 - 9 months (opens in new tab) - it'll look great on the fridge!
All of the recipes in the baby food meal planner 7 - 9 months above can be found in our baby food recipes collection (opens in new tab) including apple sauce, banana porridge, turkey puree, jacket potato ideas and more.
Other recipes featured in the baby food meal planner 7 - 9 months:
Important: When weaning offer water with every meal and throughout the day, otherwise they might get baby constipation (opens in new tab). Each day contains at least 3 portions each of carbohydrates, fruit and veg, 2 portions of protein and some dairy. Morning and evening milk feeds are not included on this planner but should still be offered. This meal plan has no measurements as it varies baby to baby. Feed according to your baby's needs and cues.
Every baby is different and this baby food meal planner 7 - 9 months should only be used as a guide. Always go at your baby's pace and never force feed them. If you're worried about your baby's weight or have any questions, ask your health visitor.
Teaching your baby to chew
During this stage in your child's development it's important to encourage and teach them how to chew properly. Baby-safe objects such as chewing toys, teething rings etc. are a great way to encourage this, especially when your little one starts teething - they'll naturally want to bite.
Another way to encourage the chewing notion is to play face games to build up their jaw muscles. Get them smiling and pulling funny faces to work their jaw muscles. Opening and closing their mouths is a great way of doing this.
Related features:
Video of the Week