Breastfeeding: 'Am I doing it right?'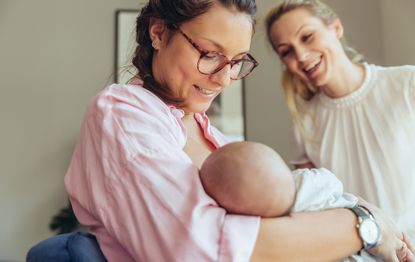 (Image credit: REX/Shutterstock)
The right way to feed your baby is the one that works best for you and your child.
As we all know, babies don't come with a how-to manual (if only) and new parents are often confronted with an overwhelming amount of unanswered questions and worries about caring for their newborns.
Breastfeeding (opens in new tab) is a huge area of concern for most new mums and dads. The National Childbirth Trust tell us they receive thousands of calls every year from worried parents, in real need of advice on breast, breastfeeding pain (opens in new tab) and formula-feeding.
To mark World Breastfeeding Week (1-8 August 2018), NCT tutor and breastfeeding counsellor, Fran Bailey, answers some of the most commonly asked questions received by the charity's helpline.
https://www.youtube.com/watch?v=Kw7EnoSPV0M&feature=youtu.be
1. Am I holding my baby in the right position while breastfeeding?
When it comes to choosing the 'correct' position for breastfeeding (opens in new tab), the most important thing is for mum and baby to be comfortable.
'Initially many mums find it best to lie back, holding the baby very close, giving lots of skin- to-skin contact and allowing the baby to use his or her own reflexes to bobble about and find the breast,' says Fran.
'The "cross cradle" hold or "tummy to mummy" is another good way to start. Some women try the rugby ball hold with the baby tucked in to one side under an arm while, for those who have had a Caesarean birth and still have sore stitches, lying in bed to feed may work best.'
Fran added that all the close contact positions also work really well for mums who have decided to formula feed their babies as they cuddle them near their body while looking into their eyes.
2. How often should I breast or bottle feed my baby and how do I know if they're hungry?
According to Fran, 'New mums will soon start to recognise their babies' feeding signs. Their hands will start to start waving about, legs will start moving, eyes will flicker, they will start to wriggle and they are likely to start chewing their fists, or dribbling. These are really good early feeding cues.
'If you wait for them to start crying it is often a lot more difficult to feed so try to catch it early on and it will be a lot easier for everyone concerned!'
3. How long should a breastfeed last?
'Feeding times will vary completely, from one day to the next and from one feed to another,' says Fran. 'Babies may just need a quick drink for a few moments or of course to feed for much longer.
4. How long does it take to express breast milk?
'Women may express their breast milk when they want someone else to take over for just one feed, or if they're returning to work,' says Fran.
'It is very easy for some women and very difficult for others.
'It can be done with the hand or with a manual or electric breast pump, depending on how often you need to express. Some women find it easier to do it first thing in the morning when hormones have had a chance to recover overnight, while others may find they can encourage the milk to flow just by looking at a picture of their baby.'
Anna Bailey is the editor of GoodTo. She joined the team in June 2018 but has been a lifestyle writer and online editor for more than 14 years. Anna graduated from Bournemouth University in 2004 with a degree in Multimedia Journalism and went on to gain her NCTJ and NCE journalism qualifications. She began her career in local journalism, working as a reporter for the Basingstoke Gazette in Hampshire. As Lifestyle Editor for ITV.com she managed the websites for the broadcaster's best-loved shows including This Morning, Loose Women, Coronation Street, Emmerdale, Coleen's Real Women, and Britain's Best Dish. Before joining Goodto.com she was also a Features Editor at MSN UK and Digital Lifestyle Editor for the broadcaster UKTV. She's also contributed to The Mirror, The Sun, LoveFood, LoveExploring, and TBSeen.