Celebrity baby names A-Z
Here's our A-Z list of the weird and wonderful baby names celebrities have given to their offspring!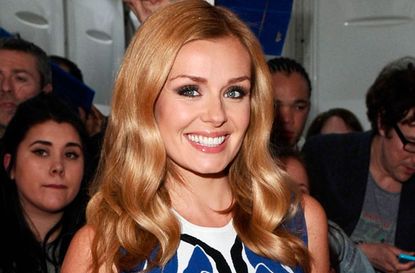 Here's our A-Z list of the weird and wonderful baby names celebrities have given to their offspring!
Here's our A-Z list of the weird and wonderful baby names celebrities have given to their offspring!
With lots of newborn-sized additions to the world of celebrity over the past few years, we've put together a gallery to celebrate the best celebrity baby names - and they're handily ordered from A-Z for your browsing pleasure.
From traditional names like Ethel (Lily Allen's little girl) and Pearl (Jack Osbourne's eldest) to the more, erm, unique ones like Audio Science (the name actress Shannyn Sossamon picked for her son), we've loved seeing all of the unusual celebrity baby names that have been picked, and gathered plenty of ideas for our own future offspring too.
If you're expecting and haven't decided on a name for your little bundle of joy, then click through our gallery and take inspiration from these utterly original celebrity baby names. From soap stars to Hollywood A-listers, there's baby boy and girl name ideas from celebs from the worlds of film, modelling, music, television and more, and all have lovely unique meanings so you can make an informed decision. Celebrities are pretty good at standing out from the crowd, so it's no surprise that their choices won't be found on any lists of most popular baby names (opens in new tab) either!
Our favourites have to be the names that Desperate Housewives star, Marcia Cross, chose for her twin girls: Eden and Savannah. So pretty! And the (unofficial) award for Best Celebrity Dad has to go to chef, Jamie Oliver, whose four kids have the cutest names; Poppy, Daisy, Petal and Buddy. We bet they have the best packed lunches in the country!
However, we're big fans of pretty much all of these celebrity baby names, especially once we'd heard the personal stories behind them.
What do you think of the celebrity baby names in this collection? If you have a favourite (or least favourite), let us know your thoughts by posting a comment in the box below.
Celebrity baby names: Aaliyah
Katherine Jenkins welcomed baby girl Aaliyah Reign in September 2015.
The singer announced the birth by sharing a picture of Aaliyah's hands and feet on her Instagram account, writing alongside:
'Introducing our daughter Aaliyah Reign Levitas, who came loudly into the world weighing almost 7lbs and surrounded by love. We are absolutely besotted with her & grateful for the beautiful blessing of this happy, healthy, little miracle. Cwtches all round @AndrewLevitas'
The name Aaliyah is of Hebrew origin and means 'going up' or 'ascending'.
Celebrity baby names: Abel
Parks and Recreation actress Amy Poehler is mum to son Abel, born August 2010, and Archie, born October 2008, with now ex-husband Will Arnett.
Abel is a Hebrew baby name meaning 'breath', 'son', 'breathing spirit'. It is also used in the Old Testament of the Bible - Abel is the son of Adam and Eve.
Celebrity baby names: Ace
Ace was the name given to Emma and Matt Willis' baby boy, born in November 2011. He plays younger brother to their daughter Isabelle, born in 2009, and older brother to second girl Trixie, who was born in 2016.
They're not the only celebs to choose this unusual name - Jessica Simpson named her second child, son Ace Knute.
The meaning of the name Ace is often interpreted as: 'one who excels', although it is also an English surname which means 'noble'.
Celebrity baby names: Adalaide
American actress Katherine Heigl and her husband, Josh Kelley, adopted a baby girl in April 2012. The couple named their second child Adalaide Marie Hope Kelley.
They also adopted, Naleigh, their elder daughter named after the actress's mother and sister, from South Korea in 2009. In 2016, they also welcomed a biological son named Joshua.
Adalaide is a French baby name meaning 'nobility'.
Celebrity baby names: Agnes
Jennifer Connelly and Paul Bettany have two children together: son Stellan, born 2003, and daughter Agnes Lark, born 31st May 2011. Jennifer also has an elder son from a previous relationship named Kai.
The name Agnes derives from Greek and means 'pure' or 'holy'.
Celebrity baby names: Apollo
Apollo Bowie Flynn is the name of Gwen Stefani's youngest son with her ex-husband Gavin Rossdale. He was born in February 2014, and Gwen described him a 'miracle' after one of his big brothers prayed for his appearance.
'He has a direct link to God, basically. He asked me, "Mum, are you gonna have a baby? I want you to have a baby," the singer explained during an appearance on Late Night. '[He prayed] Dear God, please let my mum have a baby. Please, God! Please let my mum have a baby! Four weeks later, I was pregnant!'
The pair are clearly fans of unusual baby names, as their other boys are named Kingston James McGregor (born in May 2006) and Zuma Nesta Rock (born August 2008).
It sounds pretty contemporary, but Apollo is actually a classic Greek baby name meaning 'manly beauty'.
Celebrity baby names: Arpad
Australian supermodel Elle Macpherson definitely went for unique names for her children, sons Arpad Flynn Alexander, born February 1998 (named after her first husband) and Aurelius Cy Andrea, born February 2003.
In Hungarian, the name Arpad means 'wanderer'.
Celebrity baby names: Arlo
It was a 2000s TV dream when Leighton Meester of Gossip Girl and Adam Brody of the OC got married and became parents to little girl Arlo Day, whom they welcomed in August 2015.
Arlo was the first child for the couple, although if Adam has his way, she won't be the last.
In a Reddit interview in 2015, he was asked how many babies he'd like with Leighton.
'I say 12,' he replied. 'And I decide.'
Arlo, meaning 'army' or 'hill', is traditionally a baby name for boys, but we agree with Leighton and Adam - it's a lovely choice for a daughter too!
Celebrity baby names: Art
Chris O'Dowd and his TV presenter wife Dawn O'Porter revealed their baby name as they shared the news that their first child had been born in February 2015.
'It's a boy! @hotpatooties & I would like to introduce Art O'Porter, our gorgeous baby. Well, I'm pretty sure he's ours' the Bridesmaids star tweeted.
Art is usually short for Arthur but in Ireland it is a seperate name that comes from an ancient word for 'a bear,' used in the sense relating to the terms 'warrior' or 'champion'.
Celebrity baby names: Astala
The late Peaches Geldof is mum to sons Astala Dylan Willow, born April 2012, and Phaedra Bloom Forever, born April 2013, with husband Thomas Cohen.
When asked about her unusual choice of baby name for her first child, Peaches explained: 'We found Astala in a baby name book - quite an obscure one. This is going to be a very stylish baby.'
'I wanted a Jewish name because my fiance is a Jew and the name is the male version of Esther.'
When Peaches passed away in 2015, Thomas released a statement saying: 'My beloved wife Peaches was adored by myself and her two sons Astala and Phaedra and I shall bring them up with their mother in their hearts every day.'
Celebrity baby names: Atom
Gone Girl actress Rosamund Pike gave birth to her second son in December 2014, and a few months later, a close friend revealed that the new bundle of joy was named Atom.
Apparently, Rosamund chose the name after finding her home birthing experience 'so easy and elemental'.
Her first child, Solo, was born in 2012.
Celebrity baby names: Atticus
Jennifer Love Hewitt and husband Brian named their second son Atticus James.
The actress didn't confirm the reasoning behind her choice, but it's possible that she took inspiration from the classic novel To Kill A Mockingbird, as Atticus is the name of the book's central character. The name is Latin and traditionally means 'man of Attica'.
The couple are clearly big fans of A names, as they are also parents to daughter Autumn.
Celebrity baby names: Audio Science
Audio Science - believe it or not that's what A Knight's Tale actress Shannyn Sossamon called her son!
She explained, 'We wanted a word not a name, so my boyfriend read through the dictionary three or four times. We were going to call him Science, but thought it might get shortened to Sci, as in Simon.'
Shanyn later welcomed a second son, Mortimer.
Celebrity baby names: August
Actress Charlize Theron adopted an African-American baby girl in August 2015 and named her, rather appropriately, August.
August is the star's second child. In 2012, she adopted a son, Jackson, from South Africa. August is thought to have been born in the US.
Charlize adopted the baby girl just over a month after calling off her engagement from fellow actor, Sean Penn.
Celebrity baby names: Augustus
In December 2015 Smashing Pumpkins musician Billy Corgan called his son Augustus Juppiter Corgan. Augustus' mother is Chloe Mendel, the daughter of fashion designers Gilles Mendel and Jenny Mui.
Notoriously quiet in the media and on social sites, the couple made no comment on the reason behind the name, but in Latin it means 'great' or 'venerable'.
Celebrity baby names: Axl
Black Eyed Peas singer Fergie gave birth to son Axl Jack in August 2013 - and says that the name came to her in a dream!
'I had this dream, and I was in the audience at this festival,' she recalled during an appearance on The Ellen DeGeneres Show later that year. 'It was outdoors and it was all grimy and nobody knew who I was. I was just one of the fans. It was like the old days. It was so cool. And onstage singing was Jim Morrison. And then came Bob Marley, and then Axl Rose.'
'I mean, I was in heaven in this dream. And I'm dancing and just getting into the music, and then all of a sudden, boom boom! And I wake up, and it was the first time my son kicked me in the stomach.'
'It was like he was feeling the music with me. It was amazing.' she gushes. 'I woke Josh [Duhamel, her husband] up and I said, "Honey, honey, honey -- he kicked me. He finally kicked me." And I told him my dream, and he was like, 'Wow.''
Celebrity baby names: Barbara
Comedian David Mitchell and his writer and broadcaster wife Victoria Coren are known for keeping their private life underwraps, so we're not surprised that when their daughter Barbara arrived in May 2015, the pair were exceptionally low-key about their news.
Victoria announced the birth on her Twitter account, writing: 'We've got a daughter!!! Barbara Elizabeth June Mitchell, very small and sweet. All three of us are extremely happy and sleepy' - sounds like an accurate description of motherhood to us...
Barbara is an English name derived from the Greek 'barbaros', meaning 'foreign' or 'strange', 'traveler from a foreign land'.
Celebrity baby names: Bay
Bay Atlas is Kirstie Allsopp's eldest son, born in 2006 and he plays big brother to her second son Oscar Hercules.The baby name Bay is of French origin and means 'auburn haired'.
Celebrity baby names: Bear
Bear is the name Kate Winslet and her third hubby, Ned Rocknroll, gave to their first child together.
When asked whether Bear would take Ned's surname, Kate told Glamour magazine that the baby would be taking her surname instead. She said, 'Of course we're not going to call it Rocknroll. People might judge all they like, but I'm a f****** grown-up.'
Kate has two other children from previous relationships, Mia and Joe.
Bear is a popular name with other celebs too - Bear Blu is Alicia Silverstone's son with husband Christopher Jarecki.
Celebrity baby names: Betsy
Baby Betsy was born on May 2010 to parents Denise Van Outen and Lee Mead. With those genes she's sure to have some star potential when she's older!
In Hebrew the meaning of the name Betsy is: or Elizabeth, from Elisheba, meaning either oath of God, or God is satisfaction.
Celebrity baby names: Bingham
Kate Hudson and Matt Bellamy named their baby boy Bingham 'Bing' Hawn Bellamy in July 2011.
The British rocker tweeted 'Mum and baby are strong and healthy. Mum was a warrior, Bing popped out after 4.5 hours of intense pushing!'
Bingham is generally used as a surname, but for Kate and Matt, it has special family significance.
'For those wondering, Bingham is my mum's maiden name,' the Muse frontman, 33, tweeted after baby Bingham's birth. 'Bing Russell was also Kurt [Russell's] dad.'
Kate also has an elder son, Ryder, from a previous relationship.
Celebrity baby names: Blue Ivy
Beyonce gave birth to her first child, daughter Blue Ivy, in January 2012.
It's been rumoured the colourful name was chosen after husband Jay-Z's favourite colour (he's had several albums including the name Blueprint) and Ivy after Beyonce's lucky number, four, which is IV in Roman numerals. Get it?
Celebrity baby names: Bluebell
Geri Halliwell's daughter Bluebell
Madonna was born in May 2006.
Bluebell is a traditional flower baby name, and Geri told Hello! magazine the flowers had seemed to be everywhere she looked towards the end of her pregnancy.
She added that her mother had told her that the bluebell was growing rare, and as something 'precious', it seemed appropriate for her daughter's name.
In January 2017, Geri gave birth to a son, whom she named Montague.
Celebrity baby names: Bowie
Take That's Howard Donald announced the arrival of his third child in 2016 - and his name was a touching tribute to a late, great musician: Bowie, who passed away in January of the same year.
'Bowie Taylan Donald came into this world on Tues 12th Jan,' Howard told his fans on Twitter. 'Mummy and daddy suffering sleep deprivation but life is wonderful, he is divine.'
Earlier in the same week, Howard shared his thoughts about the loss of singer David Bowie on the same account. 'Feel very honoured that I have a photo of me and Jay with David Bowie. When we did TOTP. What a genius and a great loss. RIP,' he wrote.
Howard has two daughters, Grace and Lola, from previous relationships.
Celebrity baby names: Bronx
In November 2008, Ashlee Simpson and Pete Wentz welcomed first son Bronx Mowgli into the world. Pete revealed shortly after the birth that his son's middle name was chosen because of The Jungle Book character with the same name.
Pete and Ashlee later ended their relationship. She went on to have daughter Jagger Snow with new partner Evan Ross in September 2015, while Pete and girlfriend Meagan Camper announced the arrival of son Saint Lazlo in August 2014.
Celebrity baby names: Brooklyn
Brooklyn Joseph is the eldest of David and Victoria Beckham's clan, born in March 1999. He was followed by brothers Romeo James, born in September 2002, and Cruz David, born in February 2005. In July 2011, the Beckhams welcomed their first daughter, Harper Seven.
The name Brooklyn originates from the English phrase for 'water' or 'stream', but rumours flew that David and Victoria chose the name as Brooklyn was the place they concieved.
Victoria later put the record straight in her autobiography, Learning to Fly, where she explained that she'd liked the name Brooke, but knew she was having a boy, and liked the name because it felt 'very multi-cultural, very grounded'.
Celebrity baby names: Bunny
Bunny is the youngest of glamour model Katie Price's five children, born in August 2014. She's also mum to Harvey, born in May 2002, Junior Savva Andreas, born June 2005, Princess Tiaamii Crystal Esther, born in June 2007, and Jett Riviera, born in August 2013.
Katie revealed the name of her youngest daughter during an interview with Now magazine, and admitted that her and husband Kieran had struggled to choose a name for their little one.
Names that didn't make it were Duchess Kate, Lady, Disney, Precious, Bambi, Ethel and Peggy, with Bunny eventually coming out as the favourite.
The star said: 'I considered it being spelt "Bunni" with a heart above the 'i', but I don't think that's really a part of the English language!'
Celebrity baby names: Buzz
Tom Fletcher (of McFly fame) and his wife Giovanna welcomed a bouncing baby boy into the world on 13th March 2014, and called him Buzz Michelangelo.
Many fans assumed that Buzz was named after a certain Disney character, but Giovanna put those rumours to rest in an interview later that year.
'We liked the name for a few years, but actually we went off it when I was pregnant,' she said on ITV's Lorraine. 'Then in the last month, it came back on the table. I know everyone thinks we named him after Buzz Lightyear but we haven't.'
The pair later welcomed a second son, Buddy Bob.
Celebrity baby names: Carey