A real life Play-Doh restaurant is coming to London, and it's a game changer for fussy eaters
Mixing food and play, the Play-Doh restaurant will have your kids focused on food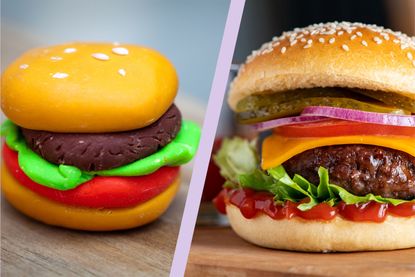 (Image credit: Getty Images)
A Play-Doh restaurant is coming to London and kids can make meals from the modelling clay and have their creations transformed into edible food by chefs.
When looking for things to do with the kids or perhaps you're looking to save money on food this half-term and want to know where kids eat free, then you might like this family dining experience with a twist.
The brand-new pop-up will combine Play-Doh compound creations with culinary magic for a creative, theatrical, and nutritious mealtime like no other in a bid to curb fussy eaters.
It comes after more than half (53%) of parents say their children are less picky when they get to help choose what's for dinner, and nearly a third (32%) claim that involving kids in the preparation process is a positive experience.
And now young attendees will be encouraged to decide what's for lunch as they create fantastical meals out of Play-Doh compound using the brand's new Busy Chef's Kitchen set.
But there'll be no need to hide veggies in the food at the Play-Doh Restaurant of Imagination, as a team of real-life busy chefs will take the colourful creations made by Play-Doh compound and 'transform' them into edible and nutritious meals on site, in a bid to battle the beige, and inspire young tastebuds to try something new.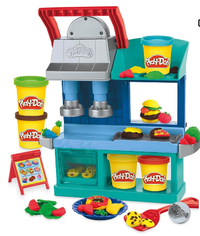 Play-Doh Busy Chef's Kitchen Set, was £29.99 now £20.98 |Amazon.co.uk
Little aspiring chefs can feel like they're running their own restaurant with this play kitchen for kids. Create, customise and share amazing Play-Doh food creations including pretend burgers, pizza, chicken or spaghetti. It comes with kitchen accessories perfect for making and serving the play food. It includes 56-g cans of red, yellow, green, blue and brown Play-Doh compound. Contains wheat.
Play-Doh: Restaurant of Imagination
Date: 27th October 2023
Time: 2.5 hour time slots throughout the day
Address: The Art House, 30-36 Pritchards Road, London, E2 9AP
Play-Doh's Mealtime study results
The study – which involved more than 1,000 parents of children aged 0-13 – revealed the trying nature of mealtimes in many households with nearly one-third (30%) of parents branding mealtimes as 'stressful' and 'frustrating'.
Of the foods that parents most struggle to convince their kids to eat are Brussels sprouts (45%) - but you could try these 10 ways to make Brussels sprouts actually taste nice, also mushrooms (43%), and spinach (35%) were the least popular, whilst pizza (40%), pasta (30%) and the traditional Sunday roast dinner (28%) stand tall as family favourite meals among those surveyed.
Most parents will admit that they've gone to great lengths to make their kids eat healthy food with popular tactics including threats to withhold dessert (41%), eating undesired foods enthusiastically (40%), the classic airplane trick (26%) and even hiding vegetables in other food (17%) - how many are you guilty of?
It will come as no surprise, then, that nearly three quarters (74%) of parents quizzed want to inspire their children to be less fussy eaters when it comes to new foods.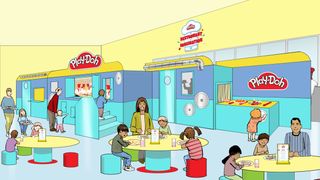 But it's not just picky eating causing drama at mealtimes, other bugbears include;
Having to cook different meals for different family members (31%)
Tantrums at the dinner table (20%)
Having to juggle food prep whilst keeping a watchful eye on the kids (20%)
Of those surveyed, 50% also admitted that their child's picky eating tendencies prevent them from wanting to dine out in restaurants all together.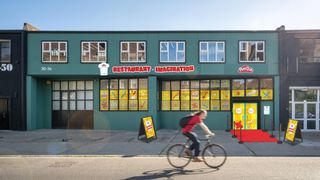 Speaking ahead of the launch, Hasbro UK and Ireland spokesperson, said, "This research clearly shows that many parents across the UK are struggling at mealtimes due to picky eaters at the table, something many of us can also admit to when we were younger! As a brand with imagination at its heart, we know that unleashing creativity in children can be a valuable tool in expanding young horizons, encouraging them to think outside of the box, and consider new things, which is the reason for launching our Play-Doh Restaurant of Imagination."
They continued: "Whilst we can't promise you that your child will come away from our dining experience with an expanded palette and a new favourite food, we can most certainly guarantee that our busy chefs and staff will ensure that parents come away from at least one mealtime this half-term without having to juggle childcare and meal prep, without washing up, and (hopefully) without any tantrums."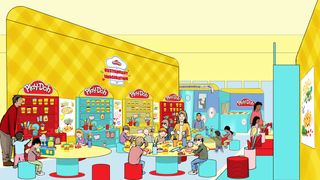 The Play-Doh Restaurant of Imagination will be open for one day only on Friday 27th October, in London. The service is free to attend, however booking is essential. To find out more about the event, and book your table, head to book online.
In other Family news, if you're looking to get ahead with Christmas you might wonder when does Tesco release its Christmas delivery slots?