When does Tesco release its Christmas delivery slots?
When does Tesco release its Christmas delivery slots? We have all the information you need to secure your festive grocery order this year.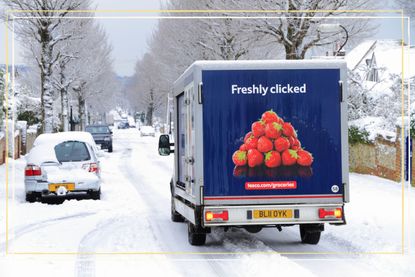 (Image credit: Matthew Fry/Alamy)
When does Tesco release its Christmas delivery slots? As soon as we get Halloween done and dusted, our thoughts immediately turn from handing out sweets, to our what will be on our Christmas dinner plates.
As Autumn turns to Winter and thoughts turn to Christmas, there's a few things that make the festive period special that require intensive early planning. Some might be looking to book a special day out for the little ones, with many asking if Lapland UK is worth it, and how to get tickets. Then there's which presents might end up on letters to Santa, with the top Christmas toys often selling out quickly.
Love it or hate it, that pesky elf might make a return or introduction to your home - this could mean families are on the hunt for ingenious Elf on The Shelf ideas to add to the yuletide fun. One of the biggest considerations in the run up to the big day is food; and with Tesco's Christmas delivery slots always in hot demand, we have everything you need to know about grabbing one to ensure you don't have to queue for your cheese selection and pigs in blankets.
When does Tesco release its Christmas delivery slots?
Tesco Christmas food delivery slots will open from 6am on November 7 for Anytime Delivery Saver customers, except those with off peak plans. For non-Delivery Saver and off-peak customers, Christmas slots open November 21 at 6am. These slots cover both Click+Collect and home deliver options, and delivery dates are dependant on location.
Within certain areas, there will also be same-day Whoosh slots available, for any last-minute or forgotten Christmas goodies. Christmas Eve and Boxing day slots will be made available, with food delivered to your door in as little as 20 minutes. However, this service doesn't run everywhere, and food options can be limited.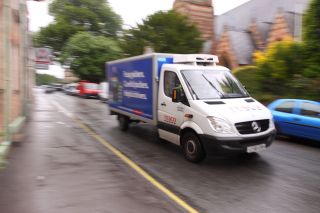 What time do Tesco add new delivery slots?
Tesco adds new slots to the Tesco website at midnight all year round. While booking a regular slot it's best to keep checking the website as new times are released. For Christmas, you'll need to book quickly to secure the perfect slot for the big day as they fill up fast.
With many shoppers looking into the cheapest supermarkets in the run up to Santa's arrival, Tesco are urging customers to use their Clubcard points to save money, and have announced other budget-friendly helpers for Christmas. This includes an Aldi price match - they've matched over 500 products with the fellow supermarket giant, and marked them with an 'Aldi Price Match' bubble in-store and on the website.
Tesco have also promised price cuts across hundreds of items - online, these are listed under a price cuts tab, where customers can filter by any particular product they're hoping for a discount on.
How far in advance are Tesco delivery slots?
Tesco customers can order deliveries or Click+Collect up to 3 weeks in advance. Once you've selected your slot, it will be held for 2 hours while you complete your shopping and check out. Should you need extra time, this can be extended by a further 2 hours.
Booking a delivery slot costs between £3 and £7, with Click+Collect slots costing between £0-£2, depending on your location. Click+Collect runs at over 500 locations across the country, so you're sure to find a convenient, great-value slot that fits around your schedule. When it's your slot time, Tesco will have your shopping ready and waiting for you.
How many Christmas slots do Tesco have this year?
Tesco is yet to announce how many Christmas Delivery slots it has available this year, but reportedly had over 1.2 million slots available in the run up to Christmas in 2022.
For those looking to get a few Christmas goodies in early, Tesco already have some festive treats available. These range from advent calendars and Christmas chocolate tubs, to frozen party food and savoury snacks - frozen turkeys are also on sale for those getting ultra prepared.
For more preparation ideas, we have the lowdown on the Argos top Christmas toys for 2023, and have tried and tested the best Christmas games for the family to come together and enjoy. Of course, it wouldn't be Christmas without the Cbeebies Christmas Panto, and we reveal which story the beloved presenters will be telling this year.