Where do kids eat free near me? All the places children can get free food this summer
'Where do kids eat free near me?' is a popular search term at the moment...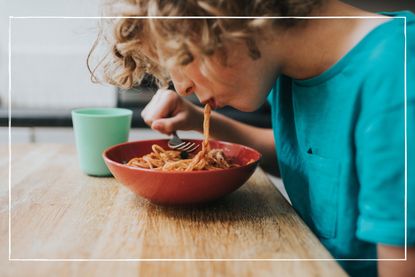 (Image credit: Getty / Future)
GoodTo newsletter
Sign up to the GoodTo Newsletter. You can unsubscribe at any time. For more information about how to do this, and how we hold your data, please see our privacy policy
Thank you for signing up to . You will receive a verification email shortly.
There was a problem. Please refresh the page and try again.
Where do kids eat free and how can you get your hands on free food for your little ones? We've found lots of restaurants and eateries offering free food, and meals for £1, throughout the summer holidays.
Families are looking to save extra pennies and pounds where they can - so searching where do kids eat free? is more important than ever - even more so with the current energy crisis which has seen rising gas and energy prices (opens in new tab) at an alarming rate with many looking to save money on their electric bills (opens in new tab) after some providers went bust (opens in new tab).
So when looking to squeeze a little extra out of the weekly shop, parents can bag themselves some extra cash over the half-term holidays (opens in new tab) by finding out where do kids eat free near me? to help them feed the kids for less this summer.
As the holidays approach, the cost of living (opens in new tab) has gone up for many families as they try to pull out all the stops to keep the kids entertained (opens in new tab) and fed for the next few days, and now it's just got a bit easier.
Fear not, following on from Morrison's kids eat free in its cafe deal (opens in new tab) which ran over the summer holidays last year, they are just one of the eateries with more offers for families...
Where do kids eat free?
Kids can eat for free as the following restaurants, cafes and pubs have launched some incredible dining out deals for children this May half-term, according to KiddoAdventures (opens in new tab) blog;
Angus Steakhouse - Kids under 10 can eat free from the children's menu when an adult orders a meal. This is deal is available every day of the school holidays 12pm – 5pm.
ASDA cafe (opens in new tab) - Make the Big shop a little smoother and fill up first. As part of the 'The Kids Eat for £1 deal, kids can get a hot or cold meal for just £1, available all day long from July 25th until September 4th 2022. Baby food is also part of the new initiative, with infants able to enjoy a free pouch of Ella's Kitchen baby food
Brewers Fayre - Kids can enjoy a free breakfast with every adult breakfast ordered. Plus, they can also get a three-course lunch or dinner for just £4.95.
Dunelm - For every £4 spent in the Dunelm Pausa cafe kids can eat one mini main, two snacks and a drink for free. This offer is available now.
Dobbies - Purchase an adults meal and your kid can eat for FREE at Dobbies. The meal includes their kids lunch menu or pick 'n' mix' meal, plus a drink. Available daily from 12 noon daily.
Hungry Horse Pubs - Kids can eat a free breakfast every day of the school holidays, between 9am - 12pm, when with a paying adult.
IKEA - Choose from a 95p kids meal or £1.50 for a combination meal including hot meal, piece of fruit, jelly and a drink. Offer valid until 3rd September 2022.
M&S - Get a free kids meal with every £5 you spend in M&S Cafes this summer. Offer includes a breakfast main and drink, or lunch main, snack and drink. Valid until 12 August.
Morrisons - Kids eat free in the cafe when an adult spends £4.99 or more on a meal. This is an ongoing offer. And applies to kids under 16 years old. The offer includes Kids' meals, consisting of a piece of fruit and Tropicana Kids Orange or Apple drink or bottle of water.
Preto - Seems like this is an ongoing offer. Kids eat free everyday! Maximum of one child for full paying adult.
Tesco - Kids eat free at Tesco cafes this summer with any purchase. Clubcard holders can spend as little as 60p and claim a kids meal worth £3.25. Offer runs from 25th July - 26th August 2022, daily. The free meal includes kids breakfast, kids hot meal deal and kids cold pick and mix deal.
The Real Greek - Kids eat FREE every Sunday - a meal, drink, and ice cream or sorbet - for every £10 spent by an adult.
YO! - A favourite high street sushi place, kids can eat for free at with every £10 spent on meals by an accompanying adult. You can enjoy this deal from 3pm to 5:30pm, Monday - Thursday and it will be active until September 29 2022.
In addition kids can eat for £1 at the following places
Farmhouse Inns - From 25th July 2022 up to two kids can eat for a £1, sign up for an email exclusive voucher. Then your little ones can fill up on a Junior Carvery or any kids' meal and for each paying adult.
Sizzling pubs - Kids can eat for £1 Monday-Friday at Sizzling Pubs this summer. The deal is available between 3-7pm and each meal will be reduced to £1 with every adult main ordered. Pubs in Scotland will be offering this from June 30- August 17 2022. Pubs in England and Wales will be offering this from July 25- September 2 2022.
Café Rouge - Kids eat for £1 at Café Rouge when you order an adult's main meal. Monday 30th May until Friday 3rd June 2022.
Bella Italia - Kids can eat for just £1 at Bella Italia with the purchase of any adult main from 4-6pm Monday-Thursday. Kids can enjoy three courses as well as a Cawston Pressed Fruit Water for just £1. Meals are suitable for ages 4-11.
Alternatively, if you can't afford to eat out there are some great meal-saving ideas below that will help you shop well for less this summer.
How to feed the family for less
1. Make a list of household items you have
While making a list tells you what you need to get, it doesn't tell you what you don't need. You can shave a little off your shop each week by checking what you've already got at home. If you're looking for a cheap food shop, this is also a good way to plan your meals. Rather than going for something that will require you to buy a whole host of new ingredients, take a look at what's in the cupboard, fridge, or freezer, and base your meal plans around your existing ingredients.
2. Plan out meals for the week
Planning your meals is a must if you're trying to shop on a budget, try money-saving store cupboard meal (opens in new tab) recipes and look up clever food hacks (opens in new tab) to keep our food fresher for longer. Making these changes means you can buy only what you need and make sure you're not wasting money on food that will end up in the bin or uneaten. It enables you to focus on the items that you actually need rather than browsing the aisles and picking up whatever takes your fancy.
You can also add up how much the shop will be online and make adjustments if needed to manage your money using a spreadsheet, budgeting current account or app.
3. Stock up on the cheap basics
Most supermarkets now do their own brand or cheaper version of essential items such as tinned tomatoes, beans, rice and pasta. You can often buy them in bulk or in much larger quantities, meaning that you can use them as staples for your meals for many weeks to come.
Spices and dried herbs are another good shout when it comes to keeping your costs down, as they are relatively cheap and can save you from having to buy more expensive sauces or marinades. For an even cheaper shop, look for versions of these essentials in the world foods aisle.
4. Try to batch cook
Batch cooking is a great way to save money at the supermarket. Many people find this to be the case as batch cooking uses more individual ingredients, which tend to make for a much cheaper shop than ready meals. Ingredients will also stretch further in batch cooking with just a few simple additions, check out these best batch cooking recipes (opens in new tab).
Sometimes batch cooking can mean that you end up eating the same meal over and over again. If you want to avoid this, try freezing some of your portions to have another week. It will also save you time, giving you more chances to explore the great outdoors.
5. Search for money off coupons online
Weekly food shops can be very expensive no matter how much you budget and plan. To try and reduce the costs, have a search for any coupons or discounts for supermarkets in your area. Vouchercloud (opens in new tab) often has a list of the discounts available for the week ahead, and there are loads of other websites offering similar coupons or advice on how to get supermarket groceries for free (opens in new tab).
6. Use reduced sections in supermarkets
If you aren't too fussed about what you'll be eating in the week ahead, the reduced section could be your best friend when it comes to saving on your shop. Larger supermarkets will often have plenty of reductions on items set to expire, and so you can pick up a few things to last you the week at a fraction of the cost.
7. Try one meat-free day a week
Reducing your meat consumption can be beneficial for your wallet as well as your health and the environment. By switching out meat just one day a week, you could halve the price of one of your meals.
You might also like:
22 money-saving store cupboard meals (opens in new tab)
How to save money on food - 82 tips (opens in new tab)
This 11p lunch is perfect for saving money (opens in new tab)
Food prices predicted to jump up £380 over the next year (opens in new tab)

Video of the Week: