Aldi launches new luxury candle and diffuser range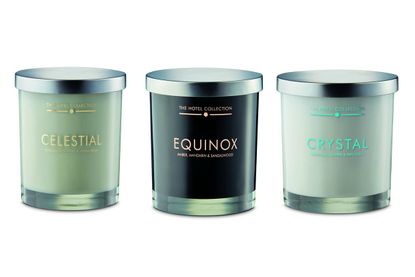 Aldi's new luxury collection of candles and diffusers are available to buy in store and online from tomorrow (Nov 29)!

We all love an Aldi Specialbuy. Whether it's their Jo Malone-inspired candle collection, or the not-to-be-sniffed-at award-winning Champagne or even their amazing Disney range - if there's a deal to be had in the Specialbuys aisle then we all want to know about it...
Which is why we're here to shout about the brand new hotel style. When it comes to burning our money, no one wants to see £60's worth of wick go up in flames, so cheap candles that smell like the pricey real McCoy are the way forward.
The new and luxurious Hotel Collection Candles are exquisite and come encased in a glass jar – handy for reuse and the fragrances are expertly curated, plus they're a steal at just £8.99 each.
At 700g these three-wick candles are huge and the ambient fragrance adds, not only a soft cosy vibe on these dark nights, but also a premium feel to any home.
Aldi describes the Crystal candle as 'a crisp scent of pure white geranium and juniper berry with florals at the heart'.
Whereas the Equinox, encased in a classy black glass jar is described as 'sophisticated scent of opulent amber with mandarin and sandalwood.'
And finally adding to this hat trick of candles is the Celestial, which Aldi proclaims is 'a luxurious scent of warm cinnamon and Tonka bean with hints of freshly ground coffee'.
In addition to the candles you can also treat yourself to The Extra Large Reed Diffuser for just £11.99 – great if you have children and don't fancy an open flame in the house.
The diffusers contain a high level of fragrance which emanates through the reeds to slowly infuse the surrounding air with a delightful and subtle scent.
Plus, whether it's a gift from you to you, or a gift for someone else, the packaging comes complete with an elegantly designed gift box in black, white or grey.
In the past many an Aldi fan has been quick to liken their candles to higher-priced brands, such as Jo Malone and Diptique… lets see if they spot any similarities with this new collection.
The huge candles and diffusers are on sale in Aldi stores from tomorrow (Nov 29), but be quick, as with all Specialbuys once they're gone they're gone!
Stephanie Lowe is Family Editor at GoodTo covering all things parenting, pregnancy and more. She has over 13 years' experience as a digital journalist with a wealth of knowledge and experience when it comes to all things family and lifestyle. Stephanie lives in Kent with her husband and son, Ted. With his love of choo-choos, Hey Duggee and finger painting he keeps her on her toes.