Aldi is selling squares of fabric decorated with Disney characters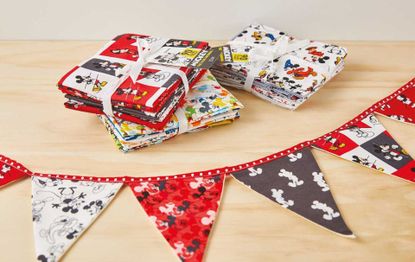 When you become a parent, arts and crafts suddenly become a big part of your life.
The kids pick up the creative bug at school and nursery and all of a sudden they bring the skill home with them and that's it.
They want to create things out of toilet roll tubes (opens in new tab) and cereal boxes and feel compelled to make all of the Halloween (opens in new tab) and Christmas decorations (opens in new tab).
And as a mum or dad, you get involved, help them out and sometimes actually find yourself enjoying it after a while.
Plus there is always a sweet satisfaction to seeing something that you've made with or for your children.
Easy craft ideas (opens in new tab)
And now one supermarket is giving you the chance to expand your creative repertoire with their new line.
Always on hand to provide us with everything we never knew we needed, budget supermarket Aldi has launched an Art and Crafts line that includes a range of decorative fabrics for you to use with the kids.
The bargain store is now selling fat quarters decorated with a number of different Disney designs.
For the little ones you can get the sheets of fabric in a Dumbo, Winnie the Pooh or Bambi design.
Or for Cinderella, Belle and Aurora fans you can get assorted sheet of Disney Princess designed fat quarters, emblazoned on with five different designs nodding to the iconic Disney damsels.
Or if your little one is a lover of Classic Disney, choose from three different Mickey Mouse designs that come in red, blue or grey.
Each packet of quarters comes with five different designs for only £4.99 per pack, or £3.99 for the Mickey Mouse ones.
Use the pieces of fabric to make a cute blanket, quilt (opens in new tab) or cushion (opens in new tab) for the kids, an outfit for fancy dress or a pair of pyjamas for home or even to make bunting (opens in new tab) for their next birthday party.
You can get the Disney fabric on Aldi's website or in stores across the country. But you'll have to be quick as this range is part of their Specialbuys aisle, which any Aldi enthusiast will know doesn't get replenished once it runs out!
Bibbidi-bobbidi-boo and it'll be gone!