How to make name bunting
This gorgeous bunting would look great in any child's bedroom. With a sewing machine and some scraps of fabric you can have this whipped up in an afternoon, we show you how.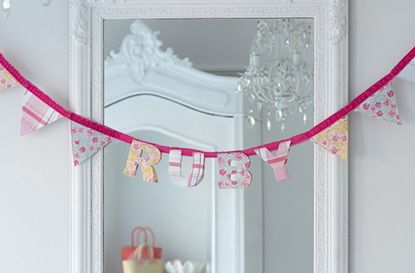 This gorgeous name bunting would go down a treat at a craft fair, we show you how to make it in just five easy steps.
You might just want to keep it for yourself, and that's ok, but if you do want to sell it, it'll fly off the shelves!
People buy bunting (opens in new tab) from really expensive, boutique shops these days so if you can make it and sell it cheaper they're sure to want it from you instead.
You could make up lots of letters and leave them unattached, allowing people to pick exactly what names they'd like at the time of purchase.
We love the floral patterns and colours in the example we've used but you could choose any theme. Bright colours would look fantastic strung along a plain white ribbon, or you could make a more toned down version using different, more muted colour palettes and patterns.
To make this name bunting you will need
Fabrics of your choice
Scissors
Pins
Sewing machine and threads
Ribbon
How to make this bunting
Step 1
Make a pattern for your name. Print out the outlines of each letter and cut them out.
Step 2
Put two pieces of fabric together with the printed sides facing outwards. Pin your letter pattern in place and cut out. Repeat for each letter, using a different fabric each time.
Step 3
Pin the fabrics for each letter together, then sew a zig zag around all the raw edges.
Step 4
Cut out triangles from the fabrics and pin two together, right sides facing outwards. Zig zag stitch around the bottom edges.
Step 5
Pin the letters and triangles onto the ribbon. The name should sit on the front of the ribbon and the triangles to the back. Sew a straight stitch along to hold in place.
Top tip: Use a thick ribbon in a strong colour to finish off this look.
Jessica Dady is Senior Content Editor at Goodto.com and has over 10 years of experience as a digital journalist, specialising in all things food, recipes, and SEO. From the best food hampers to cookbooks, from the best cake stands to baking sets, Jessica has a wealth of knowledge when it comes to must-have food products. A passionate baker, she spends much of her time creating celebration cakes for friends and family - particularly for her two lucky children.