We earn a commission for products purchased through some links in this article.
There's nothing as special as making your own soft furnishings for your home. This gorgeous cushion will look perfect plumed up on your sofa and can be treasured for years to come.
We've used a simple patchwork pattern here, so that you can get to grips with the basic shape before trying more advanced patterns. If you've got a sewing machine then you'll be able to whizz this up in a day, easily.
The straight lines and block pattern are perfect for a beginner and will help to strengthen any already accomplished sewing skills. The button in the middle gives it a really professional finish, pulling everything night and tight and drawing your eye to the beautifully contrasting fabrics.
Once you've mastered one cushion cover then there'll be no stopping you, you'll want to make more and more – we know we're hooked. You can make them in any colour, without a pattern or even mix up this version and use smaller triangle, sewn into squares – it's really up to you.
Cushion covers make lovely gifts for family and friends, you could even embroider people's names, initials or favourite quotes onto a cover for an extra special gift.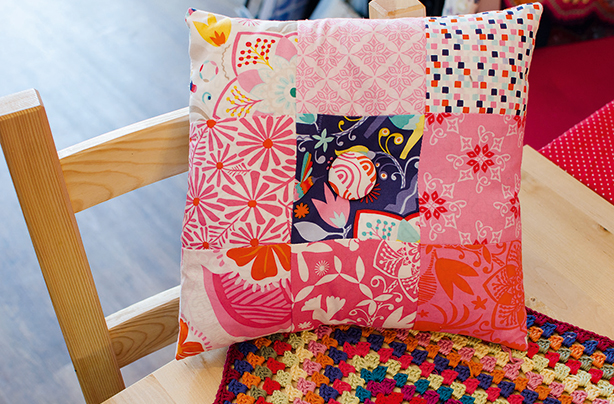 You will need
-Fabric squares
-Scissors
-Needle/thread
-Cushion pad
-Buttons
-Scraps of fabric
Step 1
You'll need 18 equal squares of different brightly coloured fabrics. We used pre-cut squares, but you can easily cut them yourself.
Step 2
Set the squares out, and sew them together in strips of three. You'll need six strips in total – three for the front and three for the back.
Step 3
Layout three strips (carefully matching up the seams) and sew together into a large 3×3 tiled square. Repeat for the back panel.
Step 4
Put the two panels together and sew along three sides, leaving an opening at the top. Put the cushion inside, then close up the final edge. Decorate with buttons and scraps of fabric, or just leave it plain.