Is Bed Bath & Beyond closing down? Full list of store closures in 2023
Is your local store closing?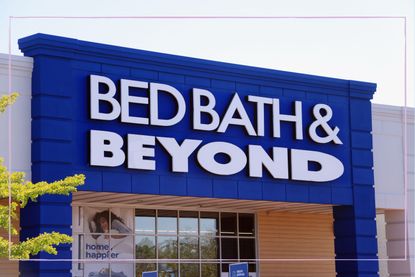 (Image credit: Getty Images)
The retail chain has announced bankruptcy, leaving many asking whether Bed Bath & Beyond is closing for good.
A harsh economic climate has left many companies struggling to make ends meet in recent months, with several chains forced to close their stores. Some Footlocker sites will be closing down, along with Burger King store closures, and several Walmart stores closing down too.
It's no secret that retail giant Bed Bath & Beyond has been facing financial problems, as the chain previously announced the closure of almost 150 stores. Now, the chain has filed for bankruptcy, and many want to know what that means for their local Bed Bath & Beyond site.
Is Bed Bath and Beyond closing down?
Bed Bath & Beyond has said it will be closing its remaining 360 stores, as well as 120 buybuy Baby locations. The news comes less than a month after the chain announced plans to close 149 stores across the US, and in January it was announced that 87 stores would be closing.
In a statement, the retailer has said that "the past twelve months have undoubtedly been the most difficult and turbulent in Bed Bath & Beyond's storied history," and that despite "painstaking, creative, and exhaustive efforts to right the ship along the way, Bed Bath & Beyond is simply unable to service its funded debt obligations while simultaneously supplying sufficient inventory to its store locations."
Which Bed Bath & Beyond stores are closing? Full list of previously announced closures
Florence: 356A Cox Creek Parkway
Daphne: 6850 US Highway 90 Anchor D
Mobile: 3250 Airport Blvd Suite 100
Dothan: 4863 Montgomery Highway Suite 200
Montgomery: 7971 Eastchase Parkway
Opelika: 2746 Enterprise Drive
Tucson: 9590 East 22nd St.
Tucson: 5225 South Calle Santa Cruz
Phoenix: 34750 N. North Valley Parkway
Queen Creek: 21258 South Ellsworth Loop Road
Mesa: 2039 N. Power Road
Mesa: 1834 South Signal Butte Rd
Chandler: Chandler Village Center
North Little Rock: 4122 McCain Blvd
Fort Smith: 3955 Phoenix Avenue
Hot Springs: 1454 Higdon Ferry Rd
Valencia: Valencia Marketplace, 25540 The Old Road
Chula Vista: 394 East H St.
San Jose: 5353 Almaden Expressway, Suite A-200
Buena Park: 8390 On The Mall #237
Santee: 9918 Mission Gorge Road
Redding: 1140 Hilltop Drive
La Habra: 1320 South Beach Blvd.
Lakewood: 75 Lakewood Center Mall
Larkspur: 2601 Larkspur Landing Circle
Palmdale: 39421 10th St. West
Antioch: 5719 Lone Tree Way
Sacramento: 3611 N. Freeway Blvd.
San Leandro: 15555 East 14th St., Suite 240
Burbank: 201 East Magnolia Blvd.
Marina: 117 General Stilwell Drive
Vallejo: 105 Plaza Drive, Suite 107
Palm Desert: 72459 Highway 111
Visalia: 3125 South Mooney Blvd.
Hawthorne: 14351 Hindry Avenue
Carlsbad: 1905 Calle Barcelona Suite 100
Upland: 1865 North Campus Avenue, Building #15
San Diego: 10537 4S Commons Drive, Suite 170
Culver City: 10822 Jefferson Blvd.
San Marcos: 165 S. Las Posas Rd.
Folsom: 2385 Iron Point Rd.
Glendora: 1405 East Gladstone Street
San Francisco: 555 9th Street
Yorba Linda: 23041 Savi Ranch Parkway
Santa Ana: 3900 South Bristol Street
San Luis Obispo: 317 Madonna Road
Elk Grove: 9145 W. Stockton Blvd.
Vacaville: 128 Browns Valley Parkway
Chico: 2101 Martin Luther King Parkway
Downey: Downey Landing Shopping Center
Beaumont: 1642 E. 2nd Street Marketplace
Vallejo: 5737 N. Elizabeth St.
Thornton: 16531 Washington Street
Loveland: 1605 Fall River Drive
Northglenn: 241 W 104th Ave
Dillon: 318 Dillon Ridge Way
Grand Junction: 2464 US Highway 6 & 50
Glenwood: Glenwood Meadows Shopping Center
Stamford: Ridgeway Shopping Center, 2275 Summer St.
Hamden: 2045 Dixwell Ave.
Waterford: 850 Hartford Turnpike
Southington: 835 Queen Street
Weathersfield: 1065 Silas Deane Highway
Fairfield: 2260 Kings Highway
Enfield: 20 Hazard Avenue
Norwalk: 542 Westport Avenue
Manchester: 169B Hale Road
Guilford: 1919 Boston Post Road
Wilmington: Brandywine Town Center, 1020 Brandywine Parkway
Sunrise: 12801 W. Sunrise Blvd., Anchor C
Orlando: 5295 International Drive, Suite 100
Oviedo: 1115 Vidina Place Suite 175
Sanford: 111 Towne Center Blvd.
Pompano Beach: Shoppers Haven, 3459 N. Federal Highway Space 16
Sebring: 1748 US 27 N.
Brooksville: 7187 Coastal Blvd
Homestead: 2595 NE 10th Court
Hialeah: 1460 W 49th St.
Brandon: 320 Brandon Town Center Dr.
Boca Raton: 20560 State Road 7
Boynton Beach: 371 N. Congress Ave.
Orlando: 397 North Alafaya Trail
Coral Springs: 4631 North University Dr.
Royal Palm Beach: 540 North State Road 7
Jacksonville: 6001 24 Argyle Forest Blvd
Jacksonville: 13221 City Station Drive, Suite 125
Delray Beach: 14824 South Military Trail
Apopka: 2239 East Semoran Blvd
West: 1555 West New Haven Avenue
Largo: 10500 Ulmerton Road Suite 310
Snellville: Presidential Market Center, 1905 Scenic Hwy Suite 5000
Suwanee: 2623 Peachtree Pkwy
Valdosta: 1700 Norman Drive, Suite 400
Atlanta: 1 Buckhead Loop
Duluth: 3675 Satellite Blvd.
Brunswick: 197 Golden Isles Plaza
Cumming: 1545 Marketplace Blvd.
Gainesville: 1025 Dawsonville Highway
Canton: 1810 Cumming Highway Suite 850
Twin Falls: 1933 Fillmore St.
Boise: 3615 S. Federal Way
Moscow: 1966 Pullman Road
Gurnee: Gurnee Mills Mall, 6132 Grand Ave.
Schaumburg: 915 East Golf Road
Fairview Heights: Fairview Center, 6611 N. Illinois
Champaign: Market View Shopping Center, 63 E. Marketview Drive
Carbondale: University Mall, 1265 E. Main St.
Joliet: 2850 Plainfield Road
Vernon Hills: 413 Milwaukee Ave Suite 300
Bourbonnais: 2056 North State Route 50
Quincy: 5110 Broadway St.
Wilmette: 3232 Lake Ave., Suite 125
Geneva: 1584 South Randall Rd.
Crystal Lake: 5786 Northwest Highway
Chicago Ridge: 9650 S Ridgeland Avenue
Forest Park: 215 Harlem Avenue
Normal: 1700 East College Avenue
Peoria: 4800 North University Street
Kildeer: 20505 N. Rand Road
Springfield: 3251 S. Veterans Parkway
Avon: 10350 East US Highway 36
Ft. Wayne: 4020 West Jefferson Blvd.
LaFayette: 3555 State Road 38 East
Valparaiso: 91 Silhavy Road
Bloomington: 731 College Mall Road South
Nobleston: 14139 Town Center Boulevard Suite 800
Waterloo: 1522 Flammang Drive
Dubuque: 2475 N.W. Arterial
Coralville: 2515 Corridor Way Suite 5
Davenport: 4022 E. 53rd Street
Cedar Rapids: 4840 1st Avenue
Sioux City: 5751 Sunnybrook Drive
Lawrence: 3106 S. Iowa St., Suite 215
Manhattan: 425 3rd Place
Olathe: 15335 W. 119th St.
Shawnee: Shawnee Station
Wichita: 2441 N. Maize Road
Topeka: Topeka Crossing
Elizabethtown: 1998 N. Dixie Ave.
Bowling Green: 2300 Gary Farms Blvd. Suite 400
Louisville: 4350 Summit Plaza Drive
Paducah: 5187 Hinkleville Road
Bossier City: 2900 Meadow Creek Drive
Alexandria: 3437 Masonic Drive, Suite #1060
Mandeville: 3414 Highway 190
Shreveport: 7070 Youree Drive
Houma: 1636 Martin Luther King Blvd.
Lake Charles: 1768 W. Prien Lake Road
Monroe: 4239 Pecanland Mall Drive
Brunswick: 147 Bath Road
Bel Air: 559 Baltimore Pike
Annapolis: 200 Harker Place Suite 200
Westminster: 200 Clifton Blvd
Ocean City: 12641 Ocean Gateway Suite 240
Hagerstown: 17716 Garland Groh Blvd.
Germantown: 12940 Middlebrook Road
California: 23415 Three Notch Road
Seekonk: 35 Highland Ave.
Dorchester: 8B Allstate Road, Suite 1
Milford: 230 Fortune Boulevard
Burlington: 3 Abbott Park
Raynham: 600 South Street West, Suite 13
North Dartmouth: 458 State Rd, Rt 6, Suite 100
Pittsfield: 665 Merrill Rd
Dedham: 820 Providence Highway
North Attleboro: 1360 South Washington Street
Leominster: 76 Orchard Hill Park Dr.
Hadley: 337 Russell Street
Hudson: 17 Highland Commons East
Farmington Hills: 31075 Orchard Lake Road
Northville: Northville Retail Center, 17223 Haggerty Rd.
Auburn Hills: 4780 Baldwin Road
Ann Arbor: 3645 Washtenaw Ave.
Muskegon: 5540 Harvey St.
Brighton: 8467 W. Grand River
Lansing: 5845 W. Saginaw Highway
Walker: Green Ridge Square, 3410 Alpine Ave. NW
Chesterfield: 50551 Waterside Drive
White Lake Township: 9050 Highland Road
Troy: 650 John R. Road
Westland: 35615 Warren Road
Okemos: 1982 West Grand River Ave.
Holland: 3050 Beeline Road Suite 30
Saginaw: 4420 Bay Road
Flint: G-3605 Miller Road
Portage: 5930 S. Westnedge Avenue
St. Cloud: 3959 Second St. South
Bloomington: 7961 Southtown Center
Rochester: 40 25th Street
Minnetonka: 11240 Wayzata Boulevard
Roseville: 2480 North Fairview Ave. Suite 115A
Hattiesburg: 6143 US Hwy 98
Tupelo: The Shoppes at Barnes
Lake St. Louis: 4 Meadows Circle Drive
Osage Beach: 4627 Osage Beach Parkway
St. Louis: 10770 Sunset Hills Plaza
Independence: 19950 East Jackson Drive
Kansas City: 8201 N.W. Roanridge Rd.
St. Louis: The Meridian at Brentwood 8340 Eager Road
Lee's Summit: 1648 N.W. Chipman Road
Joplin: 409 South Geneva Avenue
Columbia: 205 North Stadium Blvd.
Great Falls: 1200 10th Ave. South
Helena: 2027 Cromwell Dixon Lane
Grand Island: 3416 W. State Street
Keene: 32 Ash Brook Road
Plaistow: 58 Plaistow Road
Amherst: 123 Route 101A #E
Paramus: 34 E Ridgewood Ave.
Flanders: 30 International Drive, Suite 1
Manalapan: 13 Route 9 South
Bridgewater: 155 Promenade Blvd.
Mays Landing: 190 Hamilton Commons
Mt. Laurel: 8 Centerton Road
Kinnelon: 1160 Route 23 North
Matawan: 1121 Highway 34, Suite A
Flemington: 276 Route 202/31
Elizabeth: Jersey Gardens Mall
Watchung: 1511 U.S. Highway 22
North: 871 Route 1 South
Marlton: 740 Route 73 South
Ramsey: 225 Interstate Shopping Center
Paramus: 300 Ikea Drive
Manahawkin: 205 Route 72 West
Las Cruces: 2200 East Lohman Avenue
Middletown: 470 Route 211 East, Suite 3
Mt. Vernon: 500 East Sandford Blvd.
New Hartford: 4805 Commercial Drive
Kingston: 1187 Ulster Ave.
Plattsburgh: 73 Centre Drive, Suite 100
Farmingdale: 251 Airport Plaza Blvd.
Ithaca: 131 Fairgrounds Memorial Parkway, Suite 100
Staten Island: 2795 Richmond Ave.
Brooklyn: 459 Gateway Drive
Brooklyn: 850 Third Avenue
Elmsford: 251 East Main Street
East Elmhurst: 72 15 25th Avenue
Saratoga Springs: 3064 Route 50
Poughkeepsie: 2020 South Road, Suite 3
Bohemia: 5131 Sunrise Highway
New Hyde Park: 1490 Union Turnpike
DeWitt: 3409 Erie Blvd. East
Amherst: 1583 Niagara Falls Blvd.
New York: 1932 Broadway
East Northport: 3083 Jericho Turnpike
Newburgh: 1399 Route #300
West Babylon: 825 West Montauk Highway
Henrietta: 720 Jefferson Road
New York: 97 Warren St
Victor: 20 Square Dr.
New York: 460 3rd Ave
Carson City: 911 Topsy Lane, Suite 104
Sparks: 195 Los Altos Pkwy
Las Vegas: 7175 Arroyo Crossing Parkway
Charlotte: The Arboretum, 3413 Pineville-Matthews Road
Wilson: 3401 Raleigh Road Pkwy W. Building 5A
Gastonia: 401 Cox Road
Hickory: 1835 Catawba Valley Blvd. S.E.
Raleigh: 9521 Strickland Road
Greenville: 3160 Evans Street
Burlington: 1463 University Drive
Bismarck: 1455 East Lasalle Drive
Hamilton: Bridgewater Falls, 3451 Princeton Road
Huber Heights: North Heights Plaza, 8284 Old Troy Pike Road
Cincinnati: 3681 Stone Creek Blvd.
Perrysburg: 10027 Fremont Pike
Strongsville: 16700 Royalton Road
Sandusky: 4020 Milan Road, Unit# 910
Columbus: 3750 Easton Market
Fairlawn: 3750 West Market Street
Mentor: 9700 Mentor Ave
Brooklyn: 4766 Ridge Road
Upper Arlington: 1717 West Lane Ave.
Lawton: 421 NW 2nd St.
Norman: 620 Ed Noble Parkway
Tulsa: 5352 East Skelly Drive
Tulsa: 7410 South Olympia Avenue
Moore: 2150 S. Service Road
Beaverton: 2780 SW Cedar Hills Blvd.
Corvallis: 1725 N.W. 9th Street
Medford: 1600 North Riverside Ave. Ste. 1094
Clackamas: 12535 SE 82nd Ave. Suite A
Wynnewood: 70 E. Wynnewood Blvd.
Erie: 6720 Peach St., Suite A
Altoona: 197 Falon Lane
Stowe: 170 Upland Square Drive
Bethel Park: 1700 Oxford Dr.
North Wales: 1261 Knapp Rd.
Pittsburgh: 160 Quinn Drive
Monroeville: 3739 William Penn Highway
King of Prussia: 224 W. DeKalb Pike
Wyomissing: 2771 Paper Mill Road Space D
Cranberry: 20111 Route 19
Mechanicsburg: 6416 Carlisle Pike Suite 2500
Florence: 2853 David H McLeod Blvd, Suite C
Columbia: 10136 Two Notch Road, Suite 109
Spartanburg: 205 West Blackstock Road
Columbia: 6090 Garners Ferry Road
Aiken: Hitchcock Plaza 339 Fabian Drive
Memphis: 870 South White Station Road
Hixson: 5523 Highway 153, Suite 112
Knoxville: The Centre at Deane Hill
Madison: 2156 Gallatin Road North
Jackson: 1081 Vann Drive
Hermitage: Oakwood Commons
Bristol: 442 Pinnacle Parkway
Clarksville: 2829 Wilma Rudolph Blvd
Wichita Falls: 3201 Lawrence Road Suite A
Lake Worth: 6038 Azle Ave.
Port Arthur: Central Mall 3100 Highway 365 Suite 114
Harker Heights: 201 East Central Texas Expressway Suite 250
Plano: 6400 West Plano Parkway, Suite 125
Temple: 2112 SW HK Dodgen Loop
Lewisville: 420 East FM 3040 Suite 300
San Antonio: 522 Northwest Loop
El Paso: 1327 George Dieter Drive
Pasadena: 5636 Fairmont Parkway
Beaumont: 3975 Dowlen Road
Sherman: 3710 Town Center Street
Texarkana: 4248 St. Michael Drive
Victoria: Victoria Crossing
Pearland: The Crossing at 518
Weatherford: 225 Adams Drive Suite 235
Mansfield: 1551 North US Hwy 287 Suite 701
Park City: 1678 W Redstone Center Drive
Lynchburg: 4026-N Wards Road
Christiansburg: 135 Shoppers Way NW
Gainesville: 8135 Stonewall Shops Square
Leesburg: 532 Fort Evans Road
Fairfax: 12100 Fairfax Towne Center
Chesapeake: Greenbrier MarketCenter, 1324 Greenbrier Pkwy
Springfield: 6642 Loisdale Rd.
Williamsburg: 4900 Monticello Ave, Suite 4
Winchester: 2540 S. Pleasant Valley Road
Dulles: 24670 Dulles Landing Dr Unt150
Harrisonburg: 283 Burgess Road
Roanoke: 1421 Towne Square Blvd. N.W.
Alexandria: 7690 B Richmond Highway
Auburn: 1101 Outlet Collection STE 1260
Lakewood: 5830 Lakewood Towne Center Blvd., S.W.
Vancouver: 7809B Vancouver Plaza Dr #102
Walla Walla: 1630 W Poplar Street
Kennewick: 1220 N. Columbia Center Blvd.
Bellingham: 4255 Meridian Street
Issaquah: 775 N.W. Gilman Blvd.
Morgantown: 395 Target Way
Mequon: 11110 N. Port Washington Road
Wausau: 3575 Rib Mountain Drive
Grand Chute: 4721 W. Grande Market Drive
Madison: 4275 Lien Road
Kenosha: 7450 Green Bay Road Suite A
Casper: 601 SE Wyoming Boulevard Suite 1124
Cheyenne: 5214 Rue Terre
Bayamon: Plaza Del Sol, 725 West Main Ave.
Tucson: 7475 North La Cholla Blvd.
Royal Palm Beach: 550 North State Road 7
Chicago: 1419 N. Kingsbury Street
Princeton: 601 Nassau Park Blvd.
Rockaway: 327 Mount Hope Ave. Suite 1003
Rochester: 790 Jefferson Rd., Suite 300
Port Chester: 441 Boston Post Road
Brooklyn: 850 Third Ave.
North Charleston: 5930 Rivers Ave
Lewisville: 719 Hebron Parkway
Fredericksburg: 1320 Carl D Silver Parkway
Pasadena: 3609 E Foothill Blvd.
Los Angeles: 10561 West Pico Blvd.
Jupiter: 17450 N Alternate A1A Ste 101
Las Vegas: 2315 Summa Drive Suite 110
Rockaway: 399 Route 46 West
Parsippany: 3189 Route 46 Morris Hills S/C
Wayne: 1595 -1 Route 23 South
Wayne: 580 Valley Road
East Hanover: 392 Route 10 West
West Caldwell: 36 Clinton Road
Closter: 123 Ver Valen Street
Hackensack: 370 W. Pleasant View Avenue
Manalapan: 357 Route 9 South
Succasunna: 275 State Route 10 E. STE 350
Paramus: 145 Route 4 West
Totowa: 465 Route 46 West
Raritan: 300 US Highway 202
Matawan: 359 Route 34 North
Franklin: 100 D Route 23 North, Franklin Shopping Center
Newton: 10 B Route 206 North
Greenbrook: 303 Route 22 East
Carlstadt: 675 Paterson Avenue
Westfield: 335 South Avenue East
Short Hills: 720 Morris Turnpike
Shrewsbury: 550 Broad Street - Route 35
Westwood: 700 Broadway, Suite 32
Ocean: 2309-200 Route 66
Holmdel: 2145 Highway 35 - Holmdel Plaza
Iselin: 675 Route 1 South, Suite 2
Clifton: 390 Route 3 West
Brick: 479 Route 70 East
Morris Plains: 1711 Route 10 East
East Brunswick: 300 Route 18 East
Edgewater: 725 River Rd.
Deptford: 1765 Deptford Center Rd.
Gillette: 977 Valley Rd.
Massapequa: 806 Hicksville Road
Melville: 925 Walt Whitman Road, Route 110
New Rochelle: 77 Quaker Ridge Road
Plainview: 1119 Old Country Road
Hartsdale: 165-171 Central Park Avenue
Yonkers: 2131 Central Park Avenue
Mineola: 530 Jericho Turnpike
Poughkeepsie: 2600 South Road
Nanuet: 46 Rockland Plaza / Route 59
Carle Place: Carle Place Commons 167 Old Country Road
Commack: 8 Veterans Memorial Highway
New York: 675 6th Avenue
New York: 2171 Broadway
Brooklyn: 850 Third Ave.
Brooklyn: 245 Atlantic Ave.
Why is Bed Bath and Beyond closing?
Bed Bath & Beyond has filed for bankruptcy, and have said that all their remaining stores will be closed by the end of June. The chain has struggled with the rise of online shopping, having previously closed hundreds of stores as part of cost-saving measures.
In addition, the chain issued a number of warnings about potential bankruptcy this year, including saying in January that it was in default of its loans.
Related features:
Ellie is Goodto's Feature Editor, having joined the team as a Junior Features Writer in 2022, and covers everything from wellbeing for parents to the latest TV and entertainment. Ellie has covered all the latest trends in the parenting world, including baby names, parenting hacks, and foodie tips for busy families. She has a distinction in MA Magazine Journalism from Nottingham Trent University and a first-class degree in Journalism from Cardiff University, and previously Ellie has worked with BBC Good Food, The Big Issue, and the Nottingham Post, as well as freelancing as an arts and entertainment writer alongside her studies.