Fans think Prince Harry and Megan Markle's baby gender may have been revealed by Serena Williams
The tennis star tried to cover up the slip, but it was too late…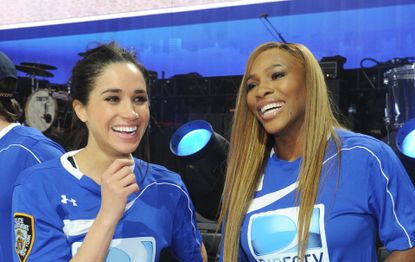 (Image credit: Getty Images for DirecTV)
Tennis star Serena Williams tried to cover up her slip, but fans think she was talking about Meghan Markle and Prince Harry's baby...
In an interview with E! on Friday, Serena Williams started talking about a pregnant 'friend'.
And it's not that big a leap to assume that Serena might be talking about Meghan Markle. After all, Serena reportedly splashed $200,000 on throwing the Duchess of Sussex a baby shower in New York – complete with personalised cake topper – so it's safe to say the pair are close.
The presenter asked the 37-year-old tennis champion, who has a one-year-old daughter herself, if she had any advice for new parents.
'Accept mistakes and don't expect to be perfect,' Serena replied. 'We put so much pressure on ourselves. My friend is pregnant and she's like, "Oh, my kid's gonna do this," and I just looked at her and I was like, "No, she's not."'
She, eh? Possibly realising her mistake, Serena quickly amended her last sentence to, 'No, you're not,' before changing the subject. Interesting…
Last year, Serena revealed that she wouldn't be celebrating her daughter Olympia's first birthday (opens in new tab) because she is a Jehovah's Witness.
Interestingly, the top three baby name predictions (opens in new tab) for the new arrival are all girls' names. Diana is now the frontrunner, followed by Victoria and Alice. But the odds on Harry and Meghan calling their little bundle of joy Elizabeth have been slashed since it was rumoured that the baby may be born very close to the Queen's own birthday, on 21st April.
Arthur and James are the current favourites if the baby is a boy. Back in February, odds were slashed on the royal baby being a boy after a flurry of bets were placed, but now almost three-quarters of punters are staking their cash on the appearance of a little princess.
But not everyone was convinced. 'Well, she's got a 50/50 chance of being correct!' one Twitter user joked.
'Just as Venus did, they used to using "she" cause all sisters in the family,' said another.
Samantha is a freelance writer at Goodto who has been with team since 2019. Initially trained in psychology, she specialises in health and wellbeing and has additionally written for magazines such as Women's Health, Health & Wellbeing, Top Santé, Healthy, Refinery29, Cosmopolitan, Yahoo, CelebsNow, Good Housekeeping and Woman&Home.