Kelvin Fletcher and Eliza Marsland have welcomed their second child together
Their new addition arrived back in December!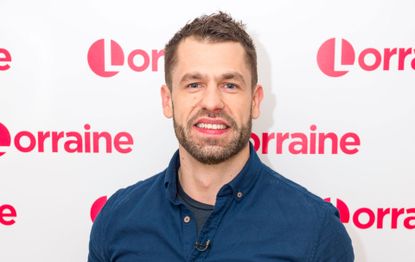 Kelvin Fletcher and Eliza Marsland have welcomed a little boy to their family and he arrived back in December!
Actor Kelvin Fletcher, perhaps best-known for his stint on the popular ITV soap Emmerdale, announced he was going to become a father-of-two back in August. (opens in new tab)
Kelvin and Eliza hadn't confirmed if they were expecting a little boy or girl (opens in new tab) and although they documented the pregnancy on social media, they kept their little one's arrival pretty low key.
Kelvin only confirmed the news on his Instagram in January, posting a photo of Eliza holding their new addition and wearing elephant shaped glasses from what looks like the popular kids game Doh Nutters. (opens in new tab)
The couple recently shared with fans on Instagram that they had bought a farm together, with many fans asking where is Kelvin Fletcher's farm? (opens in new tab)
Eliza actually broke the news back in early December when she posted a selfie with their new little boy. She captioned the picture: 'This little one has finally arrived to join the family and our hearts are filled with so much love 💙 he is everything 💙😍 #thankyoumidwife'.
The new baby's arrival has come as a shock to Kelvin and Eliza's fans and followers with several sharing their surprise underneath the post.
One person wrote: 'Welcome to the world little man xxx Well done babes love you xxx 💙💙💙'.
Another said: 'Aww congratulations!! Didn't know you had welcomed your new addition ❤', while a third added: 'Awwwww. Amazing!!!! 💜💜💜 Congratulations. Also, you look stunning'.
Kelvin and Eliza are already parents to two-year-old Marnie but they haven't shared any pictures as a family of four just yet. The couple have decided to call their little boy Milo but haven't revealed if he has any middle names.
They haven't explained any special meaning behind the baby name but according to the Baby Centre Milo is the Latin form of Miles and could be linked to the Slavonic word milu, which means merciful.
We don't know Milo's exact birthday but we are sure Kelvin and Eliza will let us know nearer to the time…
Have you ever done a low-key baby announcement? Perhaps one of your friends only told you they were expecting when the baby arrived? We'd love to hear your craziest stories over on our Facebook page! Head over to the GoodtoKnow page to join the conversation…
Jessica currently works as a Senior Food Writer at Future. She writes food and drink-related news stories and features, curates product pages, tests, and reviews equipment, and also develops recipes that she styles on food shoots. An enthusiastic, self-taught cook Jess adores eating out and sharing great food and drink with friends and family. She has completed the Level 1 Associate course at the Academy of Cheese and is continually building on her knowledge of beers, wines, and spirits.