Kym Marsh has become a grandmother at the age of 42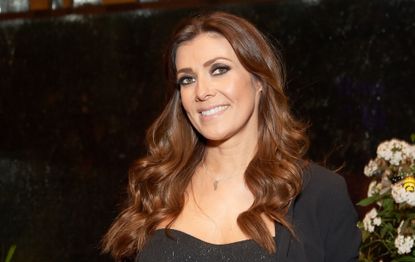 (Image credit: Nick Harvey/REX/Shutterstock)
Coronation Street atress Kym Marsh says her 22-year-old daughter Emilie was 'an absolute warrior' during the birth.
Kym revealed that Emilie was expecting her first child back in November, saying that she was looking forward to being a young grandmother and excited about being one of her daughter's birthing partners.
And now she's taken to Instagram to share her joy at becoming a 'Loli' for the first time, after her first grandson was born on Saturday.
She shared a beautiful black and white image of the baby's tiny hand resting in her palm, writing: 'Last night was a night I will never forget. I became a "Loli" for the first time!!! My beautiful daughter was an absolute warrior and her partner and I were the best birthing team we could be!!!'
'I was so honoured to have been a part of bringing him into the world,' she added next to the sweet image. 'My beautiful grandson, I love you I will always love you and I promise to help guide you through life as best I can. Welcome to the world "Baby Hoz" #name to follow'.
'Hoz' is short for Hoszowskyj, which is the surname of the baby's dad, Emilie's partner Mike. The new parents have reportedly moved in with Kym ahead of Baby Hoz's arrival to make it even easier for the new 'Loli' to pitch in.
When Kym and Emilie appeared on Loose Women in February, Kym revealed that she had chosen her new nickname because she couldn't stand the thought of being called granny. 'I can't… no way I'm being a grandmother or granny or nanny,' she confessed. 'We looked up names on the internet. I'm going to be Loli.'
Emilie is Kym's second eldest child. She also has a 24-year-old son called David from her relationship with Dave Cunliffe, as well as Polly, 8, with actor Jamie Lomas. In February, she paid tribute to her late son Archie, who was born prematurely in 2009 and died just moments after he was born.
Kym is taking a break from her role in Coronation Street to help out with her first grandchild. 'I'm looking forward to having more time to spend with him and Emilie after he's born this summer,' she said in a statement earlier this year. But she reassured devastated fans that: 'This isn't the last you've heard of Michelle Connor – she'll be back!'
We hope she enjoys every minute of her well-earned break!
Samantha is a freelance writer at Goodto who has been with team since 2019. Initially trained in psychology, she specialises in health and wellbeing and has additionally written for magazines such as Women's Health, Health & Wellbeing, Top Santé, Healthy, Refinery29, Cosmopolitan, Yahoo, CelebsNow, Good Housekeeping and Woman&Home.