Meghan Markle could do royal first as she gives birth to royal baby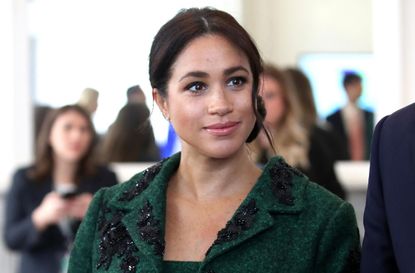 Meghan Markle will be giving birth to her first child very soon, and it seems like she might experience a royal first.
Last week, Prince Harry and Meghan Markle announced (opens in new tab) that they were going to keep us all guessing about the royal baby's arrival for a little while longer, as they took the decision 'to keep the plans around the arrival of their baby private'.
But luckily for us, not everyone has been so tight-lipped. Last week, a source told Vanity Fair that Meghan's mum Doria was encouraging her daughter to have a natural home birth (opens in new tab), like the Queen – but now it looks like she might be taking it one step further, by having the first royal water birth (opens in new tab).
Royal births traditionally took place at home, until the Queen's daughter Princess Anne broke with tradition in 1977 when she gave birth to Peter Phillips in the Lindo Wing of St Mary's Hospital.
Queen Elizabeth II had all four of her children at home – three were born at Buckingham Palace and one at Clarence House. And while those post-birth baby photos outside the Lindo Wing might seem like standard practice now, Prince William was actually the first future monarch to be born in a hospital, after Princess Diana followed Princess Anne to St Mary's Hospital in 1982. Diana also made royal history by giving birth to William standing up.
Of course, William's wife Kate went on to follow in Diana's footsteps. She has given birth to all three of her children with Prince William in the Lindo Wing, no doubt making the most of the post-labour massages, luxury toiletries and gourmet food on offer to new mums at St Mary's.
But while giving birth at home might be traditional, a home water birth would be a royal first.
'Obviously Meg's into all the homeopathy, so none of us was shocked when we found out she'd been talking about a water birth,' a friend of Prince Harry's told the Daily Star Sunday. 'Apparently she wants it to be as natural as possible: no drugs, no caesareans and so on.'
The source added that barring medical necessity, 'a water birth is absolutely her plan.'
In a water birth, the mum-to-be spends the last bit of her labour in a birthing pool and the baby is born underwater. It's meant to be more relaxing for both mum and baby.
But while we're sure Meghan has all the help she could need on hand, last year experts warned that home water births could be dangerous and have a higher risk of complications.
Well, we can't wait to see the new arrival, however they make their way into the world!
Have you had a water birth or did you consider having one? Head over to our Facebook page and let us know!
Samantha is a freelance writer at Goodto who has been with team since 2019. Initially trained in psychology, she specialises in health and wellbeing and has additionally written for magazines such as Women's Health, Health & Wellbeing, Top Santé, Healthy, Refinery29, Cosmopolitan, Yahoo, CelebsNow, Good Housekeeping and Woman&Home.