Mike Tindall reveals family heartbreak over his dad's Parkinson's battle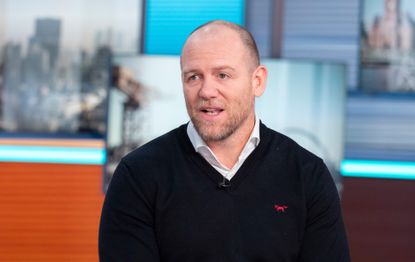 (Image credit: Ken McKay/ITV/REX/Shutterstock)
Mike Tindall has opened up about his father's battle with Parkinson's Disease.
The former rugby player discussed his dad's condition on Good Morning Britain to raise awareness of Parkinson's disease for the charity Cure Parkinson's.
Mike revealed that his dad Phillip Tindall was diagnosed with Parkinson's in 2003.
'He had this tremor for a couple of years before that and being a typical bloke didn't address the issue early enough,' he admitted. 'He was good for a long period of time and then sort of been in the last year – and the last five years – you've seen it catch up on him.'
He explained that his dad had deteriorated rapidly over the last 12 months, losing almost four stone in weight.
'He had a really bad year last year,' he said. 'He was sitting at 12 stone and over 12 months he went down to eight stone one. All that strength's taken out of him'.
Mike, who has two children with his wife Zara Tindall, heartbreakingly confessed that his father struggled to be the grandfather he wanted to be because of his condition.
'He taught me to play rugby, he taught me to tackle,' he shared. 'He's still that guy who wants to be playing with Mia and Lena but he needs to question how far he can go with it because he's not the same.'
Mike and Zara, who is the queen's granddaughter, welcomed their second daughter Lena (opens in new tab) in June last year. In July, they told Hello! that their famously cheeky older daughter Mia, now five, was 'very happy to be a big sister'.
But sadly, Phillip's illness has cast a shadow over the happy family.
'It's a nightmare disease because there are over 40 symptoms of what Parkinson's can look like,' Mike explained. 'People think they're drunk or people can freeze in the middle of the street but that's the difficult part of it.
'You have to be patient with them,' he advised. 'Doorways have been a big problem for my dad – he just can't get through a doorway.'
Samantha is a freelance writer at Goodto who has been with team since 2019. Initially trained in psychology, she specialises in health and wellbeing and has additionally written for magazines such as Women's Health, Health & Wellbeing, Top Santé, Healthy, Refinery29, Cosmopolitan, Yahoo, CelebsNow, Good Housekeeping and Woman&Home.