Prince Harry discusses how his impending fatherhood has motivated him to seek change in the world
Prince Harry will welcome his first child in spring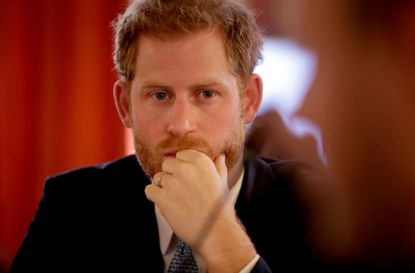 Prince Harry has opened up about the concerns he has around becoming a father for the first time in spring
Prince Harry has revealed that he's a little nervous about becoming a father but he's putting all that energy to good use and is determined to make the world a better place for young people.
The father-to-be has had a very busy few months and a whirlwind romance with his now wife Meghan Markle.
The couple tied the knot in May (opens in new tab) last year and announced they were having a baby just a few months later, (opens in new tab) having stressed from the start of their relationship that they were keen to have a family together.
Most parents will agree that the prospect of welcoming a new little one into the world, and your relationship, can feel incredibly daunting, albeit exciting too.
And it seems even a prince isn't exempt from this sudden feeling of responsibility and pressure.
Why Prince Harry and Meghan Markle will spend Valentine's Day apart (opens in new tab)
Prince Harry made an emotional speech at a roundtable discussion with Common wealth young leaders at Lancaster House, London yesterday (30 January), where he stressed his desire to tackle some of the big issues facing young people in the modern world.
He explained: 'As someone who is about to become a father, I am acutely aware of our shared responsibility to make this world more resilient and its inhabitants more accountable for the next generation. The only way to see real progress is not by chance, it's by change.'
Prince Harry continued: 'As I have spoken to young people on my travels, one of the recurring themes is the lack of mental health support for those under 30 and the remaining stigma and absence of services available…
'We do not survive, and certainly do not thrive without the acknowledgment and understanding that in addressing one problem, we are paradoxically solving another. That is the power you hold in your hands.'
Prince Harry's father Prince Charles and brother Prince William are also passionate about using their influence to make the world a better place for their children and grandchildren.
If you could give Prince Harry one piece of advice for parenthood what would it be? Perhaps it was the same advice someone gave you? Head over to our Facebook page to join the conversation! We look forward to reading your responses…