Royal fans spotted Prince Harry 'telling off' Meghan Markle at Trooping the Colour
Eagle-eyed viewers took to Twitter to discuss the 'fight' between Harry and Meghan on the Buckingham Palace balcony.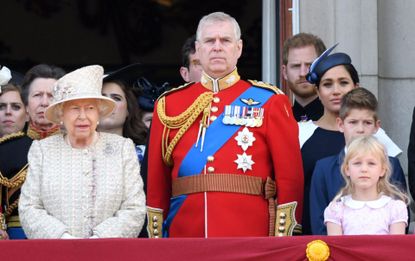 Prince Harry and Meghan Markle may have had a row during Trooping of the Colour, as eagle-eyed viewers took to Twitter to discuss their 'fight' on the Buckingham Palace balcony.
While some fans were left wondering why Harry and Meghan were standing at the back (opens in new tab) of the balcony during the Trooping of the Colour last weekend, others noticed something even more interesting - what appeared to be a public tiff between the couple.
While the royal couple had warmed the hearts of onlookers with their romantic carriage ride earlier in the day, things didn't look quite so rosy between the pair when they joined the rest of the royals on the balcony later on.
One viewer shared a video of the moment in question, which was, of course, caught on camera. They captioned it: 'Prince Harry telling Meghan Markle to turn around at #TroopingOfTheColour'.
The so-called row happened just before the singing of the national anthem. Meghan, who was standing just in front of Harry at the time, is seen turning back to talk to her husband twice. The second time, Harry appears to frown and tell Meghan to 'turn around' before the national anthem starts, which she does.
Lip reader Tina Lannin confirmed fans' suspicions, telling The Sun that Harry had said: 'No he hasn't. Oh fine. Turn around.'
Several fans noted the 'chilly' atmosphere between the new parents.
'I see Meghan still doesn't follow protocol,' one viewer tweeted. 'Harry had to correct her and tell her to face forward.. TWICE. She eventually turned around and looked like she was going to start crying.'
'She looked like she was trying not to start crying,' another agreed. 'It was the second time when she turned way around that he shot a stern look like "Stop!"'
Harry and Meghan welcomed their first child, Archie, last month, meaning the Duke of Sussex will celebrate his first Father's Day (opens in new tab) as a dad this Sunday.
Fingers crossed they'll be sharing another cute picture of their new baby...
Samantha is a freelance writer at Goodto who has been with team since 2019. Initially trained in psychology, she specialises in health and wellbeing and has additionally written for magazines such as Women's Health, Health & Wellbeing, Top Santé, Healthy, Refinery29, Cosmopolitan, Yahoo, CelebsNow, Good Housekeeping and Woman&Home.