Princess Charlotte is obsessed with Disney Princesses
Very cute and a little ironic!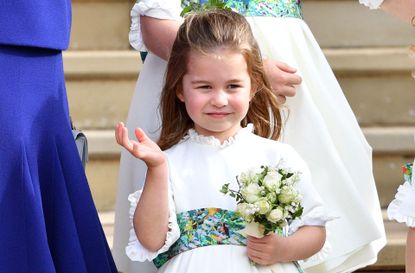 Princess Charlotte might be fourth in line to the throne and real life royalty but she's still completely obsessed with the fantasy-world of Disney princesses!
Princess Charlotte and her big brother Prince George have a long list of hobbies. Despite being just three and five-years-old the little royals can boast to have dabbled in horse riding, skiing, tennis, football, cycling, ballet and even some arts and crafts.
But like all children, Princess Charlotte and Prince George have their favourite toys and for the Cambridge's only daughter, it's anything Disney that gets her all excited.
According to a source that spoke with Us Weekly, little Charlotte loves Disney and has a special soft spot for the fantasy-world of the Princesses.
Just imagining little Charlotte dressed in her own Disney princess outfit is almost too cute to think about!
Despite her obsession, it's thought that Princess Charlotte hasn't yet had the realisation that she's a real life princess.
The source explained: 'I don't think it's quite dawned on her that she's a princess herself.'
This isn't surprising given that Prince George probably still doesn't know he is third in line to the throne.
When it comes to Prince George's favourite toy the source revealed he loves anything on wheels and we know he is obsessed with emergency vehicles.
But despite being royalty mum and dad Kate and Wills are keen to make sure their children are not spoilt and do not allow them to have too many toys.
In addition to this, certain things are off the cards such as iPads, which are very strictly categorised as 'adult toys' and not for children. Prince William also recently opened up about his cyber bullying fears for his children.
Kate and William have always been open about their desire to give their children a normal upbringing and having both grown up without technology, they want their children to enjoy the innocence of classic toys too!
A source told Us Weekly that it is the Cambridge's 'worst nightmare' to have spoilt children so they are keen to do everything they can to prevent this.
What tips would you give Kate and William for keeping Prince George, Princess Charlotte and even little Prince Louis grounded? Head over to our Facebook page to have your say…
Jessica currently works as a Senior Food Writer at Future. She writes food and drink-related news stories and features, curates product pages, tests, and reviews equipment, and also develops recipes that she styles on food shoots. An enthusiastic, self-taught cook Jess adores eating out and sharing great food and drink with friends and family. She has completed the Level 1 Associate course at the Academy of Cheese and is continually building on her knowledge of beers, wines, and spirits.