Sophie Ellis-Bextor welcomes fifth son with husband Richard Jones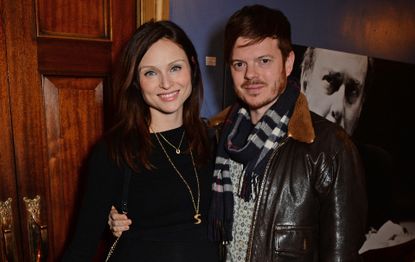 (Image credit: Getty)
Sophie Ellis-Bextor has welcomed her fifth child with husband Richard Jones.
The singer, who announced that she was expecting a baby back in August, took to social media to reveal the happy news that she had given birth to her fifth son, named Mickey Jones.
Alongside a sweet photo of the newborn baby being cradled in his father's arms the mum-of-five wrote: 'He's here! Mickey Jones born today weighing 7lb 1oz and he's absolutely gorgeous.
'Welcome to our quirky little family, sweet boy. We're so glad you're here safe. Xxxxxxxxxxxx'
Fans rushed to congratulate the gushing mum, with several commenting on how active she is, writing: 'It's unbelievable that you are an artist singer who has a real normal human family I salute you' and 'Blimey you were only on Sunday Brunch looking fantastic yesterday!
While others commented on the fact that she has birthed so many sons, writing: 'Congratulations on another healthy baby destined to produce boys obviously', 'Congratulations, surrounded by lovely boys xxxx' and 'You're so lucky to have five beautiful boys! I have three and would love one or two more! Xx'
The Murder on the Dancefloor singer and her The Feeling bassist husband, who married back in 2005, are also parents to Sonny, 14; Kit, nine; Ray, six and three-year-old Jesse, who was born back in 2015 (opens in new tab).
In the past, Sophie, who has suffered from pre-eclampsia (opens in new tab) during previous pregnancies, has opened up about how she dealt (opens in new tab) with the premature births (opens in new tab) of her first two sons.
'There's no point me dressing it up,' she said to The Telegraph back in 2017. 'You definitely haven't had the baby in the way you wanted, and they're not supposed to be born that early. So the first week or so is pretty scary.'
'I didn't hold either of my babies straight away, and then I remember being wheeled down to see him, having only seen pictures all day, and being totally overwhelmed.
I didn't really see the box and the machines – I just saw this baby and felt the love for this little person who was now part of our lives, and you just know, don't you, in that second that everything's changed.'
Congratulations Sophie and Richard on your latest arrival!