Stacey Solomon brings baby Rex along as she returns to work at Loose Women - and fans loved it!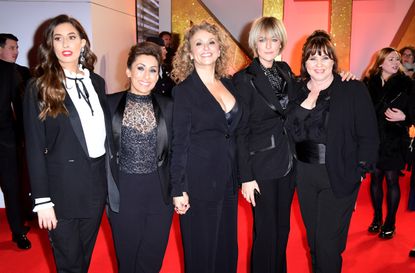 (Image credit: Ian West)
X-Factor's Stacey Solomon returned to ITV panel show Loose Women, and brought baby Rex along to work with her.
As she joined co-hosts Christine Lampard, Brenda Edwards and Janet Street-Porter, the audience was delighted to see that baby Rex was joining Stacey for presenting duties. Cutest host ever?
The Loose Women Twitter account shared a video of Stacey's return, with a caption that read: 'Our Loose royal baby is here, it's baby Rex! Lovely news as @StaceySolomon is back with us today 😃'
Mum of three Stacey Solomon smiled and stroked Rex's head as the crowd cheered. Christine joked 'thank you for bringing in our mascot', then asked how Stacey was feeling.
She replied: 'Do you know what, I'm really excited but I'm actually a little bit nervous to be back! It's been a while!'
Later on in the show, it was revealed that baby Rex got his name from T-Rex. Stacey shared her naming story with the panel, saying: 'Yeah my middle son said "should we call him T-Rex?!" and I thought "well I've got none left, no names left, so yeah let's go with that"'.
Read more: Stacey Solomon praised for sharing bikini photo after taking baby Rex swimming (opens in new tab)
Fans loved seeing Stacey back on their screens, with one writing 'So cute @StaceySolomon is a great mum!! 💛'
Read more: Stacey Solomon opens up about 'gut wrenching' day sending her son to secondary school (opens in new tab)
Another added: 'Wonderful to see Stacey back, thanks so much for letting us see baby Rex, he was an absolute delight! He's gorgeous!'
A third said: 'So lovely to have you back on the panel, you've been missed', while a fourth wrote: 'I'd like to add firstly what a gorgeous little baby you have and secondly your hair looks lovely.'
We're so happy that we get to see more of Stacey Solomon on our screens! Even though baby Rex was a great co-host, we're not sure if he's old enough to have a permanent position on the panel just yet. Which is a shame really.
What did you think of Stacey's return to the panel? Let us know on Facebook!