Stacey Solomon has opened up about her fear of postnatal depression
The Loose Women star says she felt 'disconnected' when her first son was born.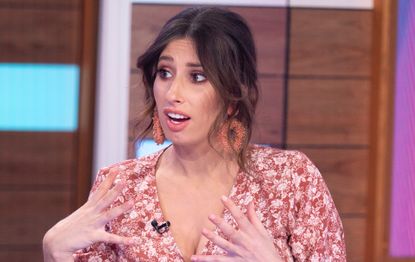 (Image credit: S Meddle/ITV/REX/Shutterstock)
Pregnant Loose Women star Stacey Solomon says she felt 'disconnected' when her first son was born.
Stacey told OK! magazine that postnatal depression was 'a worry' and that the reason she had left big age gaps between her children was that she was 'so worried about putting myself back in that difficult place, mentally'.
'I was 18 when I had Zach and felt so disconnected from him,' Stacey confessed. 'My mum sent me on holiday to Kos when he was 12 weeks old and it was the best thing she could have ever done.
'I missed him so much and when I came back I felt bonded to him and could get on with being a mum.'
But although she was worried that she would have similar problems again, Stacey had 'a completely different pregnancy again, a much better experience' with her second son Leighton, now six.
'So you just never know how your body, and your hormones, will react,' she explained.
But while Stacey and her partner Joe Swash are over the moon to be expecting their first baby together, Stacey admitted that she didn't know if she'd feel able go through another pregnancy.
'And I want to be able to give every child the same amount of love,' she added. 'I'm not sure my love could split any more ways!'
Last week, Stacey and Joe revealed that the couple have found out the gender of their baby-to-be but are planning to keep it a secret. However, some Loose Women viewers think that Stacey's fellow panelist Coleen Nolan has already spilled the beans (opens in new tab)…
But even though they know the baby's gender, Stacey and Joe have decided to meet their new son or daughter before they settle on a baby name (opens in new tab). 'I'd rather just wait and see what they look like and then decide,' Stacey explained. 'We've floated some names, but we don't want to put anything in stone.'
Samantha is a freelance writer at Goodto who has been with team since 2019. Initially trained in psychology, she specialises in health and wellbeing and has additionally written for magazines such as Women's Health, Health & Wellbeing, Top Santé, Healthy, Refinery29, Cosmopolitan, Yahoo, CelebsNow, Good Housekeeping and Woman&Home.