New study reveals whether you're more likely to prefer a son or daughter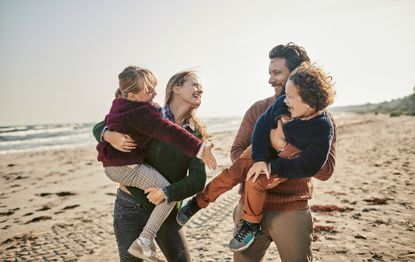 (Image credit: Getty)
Most parents love all their children equally, regardless of gender.
Although some parents-to-be may secretly have a preference leading up to the birth. That's why they'll look into how to conceive a girl or boy, or will use nub theory and birth predictors to find out which gender their baby will be.
Even Prince Harry has revealed what gender he's hoping for the royal baby.
But usually once the bundle of joy arrives, most parents seemingly forget about gender preferences and are happy with their new-born baby.
However, a new study has revealed parents' subconscious feelings on the gender of their children and how it can affect family life.
Research by Finnish and American scientists has suggests that women prefer daughters and men prefer sons.
And while men's preference towards sons was only slight, the female bias proved to be strong with women significantly more likely to see girls as 'good' who they're more likely to invest money in.
To come to their conclusions, study leaders tested 347 women and 423 men, using a simple test to gauge their subconscious preferences.
They showed participants a series of rapid-fire images of baby boys and girls, which they then had to categorise using subtly positive or negative adjectives.
Findings confirmed that women do prefer daughters, and men sons.
The study suggested that it could be due to females historically having less access to 'social resources' than males.
'Our finding that females exhibit a preference for daughters may be the consequence of females having lower access to shared resources than males,' says lead study author, Dr Robert Lynch of the University of Turku in Finland.
Conclusions also suggest that parents prefer to have daughters because statistics in the US show that girls are more likely to attend higher education than boys.
But we wouldn't worry about the findings too much.
If the terms daddy's girl and mummy's boy are anything to go by, we'll sure you'll be okay.
Just one look at David and Harper or Kate and George proves that!
Aleesha Badkar is a lifestyle writer who specialises in health, beauty - and the royals. After completing her MA in Magazine Journalism at the City, the University of London in 2017, she interned at Women's Health, Stylist, and Harper's Bazaar, creating features and news pieces on health, beauty, and fitness, wellbeing, and food. She loves to practice what she preaches in her everyday life with copious amounts of herbal tea, Pilates, and hyaluronic acid.