The internet hits back as mum claims, 'Wrapping your child in a towel poolside could prove fatal'
Parenting hacks on TikTok can be useful but some mums and dad's argue 'let kids be kids'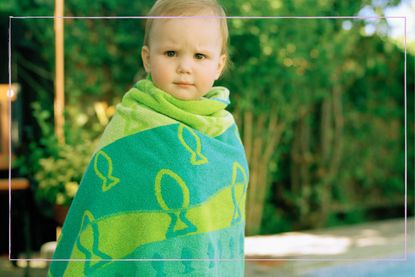 (Image credit: Getty)
Goodto Newsletter
Parenting advice, hot topics, best buys and family finance tips delivered straight to your inbox.
Thank you for signing up to GoodTo. You will receive a verification email shortly.
There was a problem. Please refresh the page and try again.
The Internet has hit back after a mum claimed 'Wrapping your child in a towel poolside could prove fatal'.
As the summer holidays are on the horizon, and the heatwave sending more families to cool off at their local swimming pools and paddling pools, one parent has taken to TikTok to warn families about the dangers of wrapping children tightly in towels when exiting the pool.
You might have wondered how to keep your paddling pool clean and safe for your kids but how about keeping them safe pool side? The warning comes after another mum warned of the dangers of the popular headband baby craze.
A TikTok user, who goes by the name @springhill.isr admitted she had made the common towel mistake in the past but now stuck by a new method, of keeping her children dry and safe.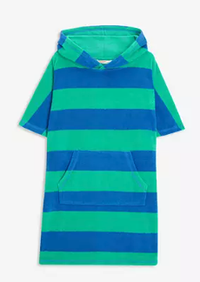 John Lewis ANYDAY Kids' Striped Towelling Poncho, Blue/Green - Was £13.44-£15.36 NOW £11.20-£12.80 - save 20% | Johnlewis.com
This popular swim towel poncho is flying off the shelves, with ages 3-4 and 4-5 years still in stock, but you'd better be quick.
Made from 85% cotton and !5% polyester. Machine washable, this timeless style is perfect to throw over your little one and keep them warm while they dry off after getting out of the pool or sea.
Using her daughter Clara to demonstrate the different wrapping techniques, she explained, "I see it happen so many times and I, myself as a parent, did it without even realising that it was a thing."
She began to wrap a towel around her daughters shoulders and showed how if she was to fall into the water, she would be more likely to get trapped.
"When your child gets out of the pool naturally we want to cover them like this, right? No, because if they were to fall in the pool this way all of their limbs are going to be restricted underneath a wet towel."
She continued by suggesting a safer way, "When you get them out of the pool dry their arms off and put the towel underneath their arms, that way if they end up in the water they still have access to their limbs to self rescue and they're that much safe."
Alternatively, you could get them to wear a towel with arms and a hood like this Anyday Kids' Striped Towelling Poncho.
While the advice has been praised by some as a 'great tip', others have hit back at the warning, with one parent commenting, "On the other hand, you could wrap your children completely in cotton wool, fit them with crash helmets, kevlar knee pads, and keep them in a fireproof box... For christ's sake let kids be kids, and find out about the world by experience."
Another parent said, "As an instructor of 18 years teaching all over the world I've never seen one kid fall in with a towel round them. Safeguard your pool."
And a third added, "Both ways are proper. I'm a keep wrapping them and been doing it for years and they never have ended up in the water."
While there are many benefits to drinking water, it can also pose as a drowning risk to anyone who should find themselves submerged under it - there's even risks of secondary drowning but do you know the signs?
The latest towel warning is to highlight the danger children could face if they fell back into the water or onto the pavement poolside, as if they trip with their arms out of the towel they would be able to catch themselves before hitting the ground.
As one user called Karma, admitted, "I can confirm this is true. When I was 2 I fell into the deep end of a recreational pool with my towel on around my arms, and I had to be rescued."
For other parenting tips check out Goodto.com.